Welcome, entrepreneurs, to the exciting journey of creating your own medical spa business! The medical spa industry is filled with unique challenges and opportunities. With the right approach and business plan, success is within reach.
In this guide, we'll walk you through the essential steps to create a comprehensive business plan for your medical spa, covering everything from market research to choosing the right software solutions.
By the end of the article, you will have the tools to create a plan that positions your business for long-term success in this growing industry. Essentially, this is a med spa business plan template.
Before we dive in and explore the key ingredients to creating successful medical spas' business plans check Appointible scheduling software for medical clinics →
Step 1: Define Your Medical Spa Services.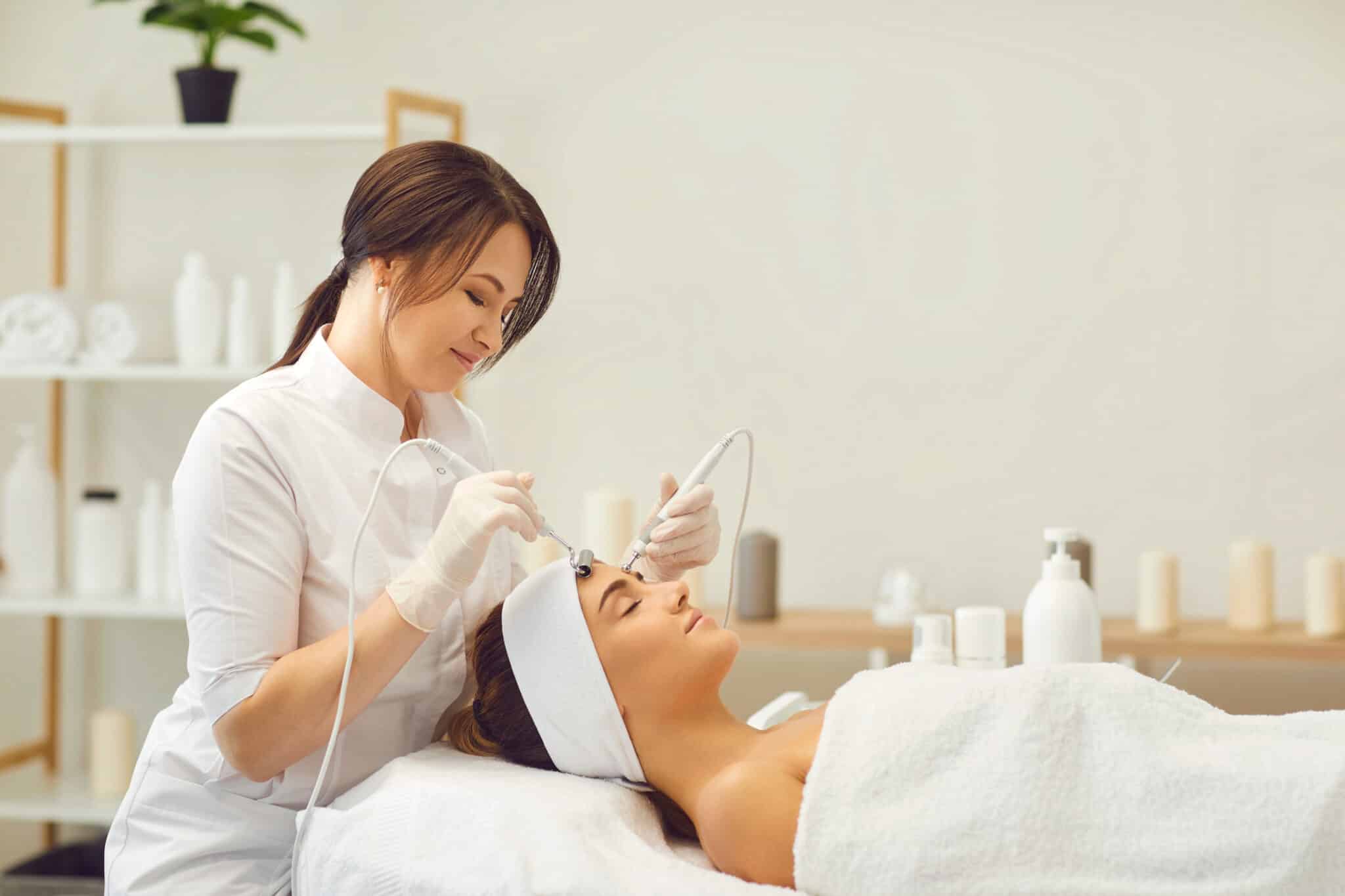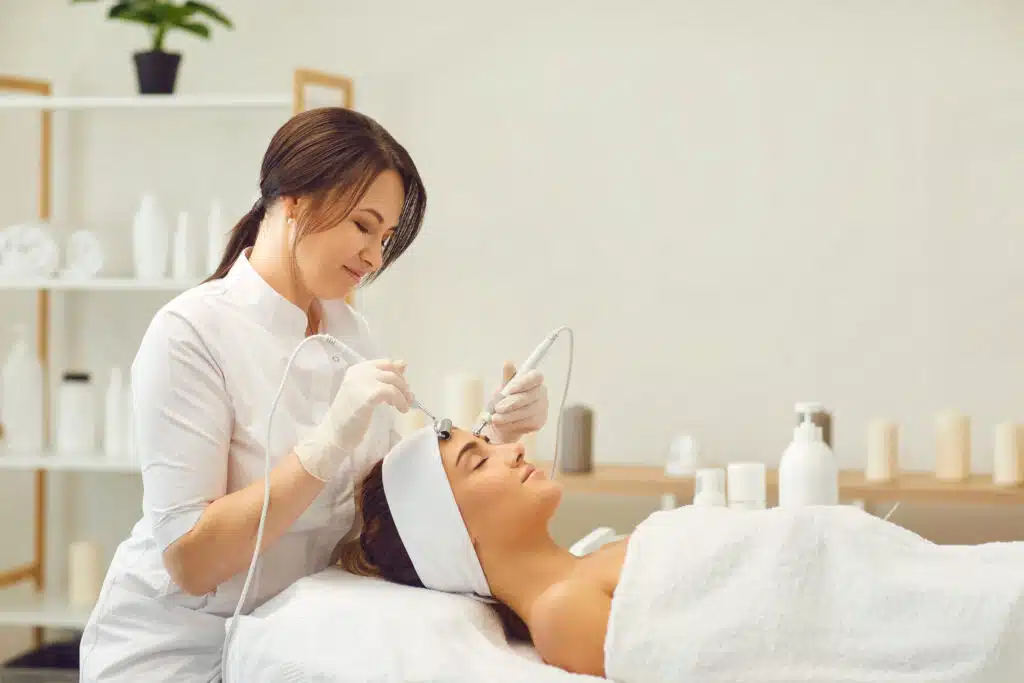 As with any business, it's essential to clearly understand the services you will provide. Your services will ultimately be the foundation of your medical spa. They should be chosen strategically based on your target market and your competition.
Here is what you need to pay attention to when listing your services.
Identify the services you will provide
Start by brainstorming a list of possible services that you could offer. Consider what services are in high demand in your area – laser hair removal, botox, etc. – and what would set you apart from your competitors. It's good to have a mix of both popular services and unique offerings that make your business stand out.
After you build your list, consider the following questions:
Are there any services that are particularly profitable or in high demand?

Are there any services that require specialized training or equipment?

Are there any services that your competitors do not offer?
Narrowing down your list and choosing the services that will be most successful for your business. Here are a few ideas:
Cosmetic services

Vein treatments

Botox and dermal fillers

Laser hair removal

Chemical peels

Microdermabrasion

Microneedling

Skin rejuvenation treatments

Body contouring

Medical weight loss

Other skin care services
Regulations and licensing
Medical spas are subject to many regulations and licensing requirements. They vary depending on location and services offered. Research the rules in your area and ensure that you are in compliance.
Some standard regulations and licensing requirements for medical spas include the following:
Obtaining a license for medical practice or nursing;

Getting a business license for medical services;

Complying with health and safety regulations;

Meeting requirements for medical waste disposal.
Connect with like-minded entrepreneurs on Facebook groups or forums. Most medical spas have undergone the same process and can give tips and advice.
Another place to look for more information on the topic is the American Med Spa Association website. They have a wealth of knowledge about existing medical practices and new businesses.
List the staff you will need to hire
You can be the best of your craft, but even if you decide to provide services on your own, you will need at least a management team behind you.
Go back to the list of services you decided to provide and determine what staff you will need to hire in the short term. Consider what skills and experience you will be looking for in each role, and consider what training or certifications they need.
Assess your competition
Analyzing your direct competition – those in your vicinity – is one of the most critical steps when writing a successful medical spa business plan. Research other medical spas in your area and take note of the services they offer, their prices, and their marketing strategies.
Consider what sets your business apart from them and what you offer that gives a competitive advantage.
Are you offering lower prices?

Is your medical clinic specialized in some way?

Do you offer a thematic or different experience that other local businesses don't have?
You may want to focus on a specific niche or offer services that are not commonly available in your area. Understanding your competition allows you to make more informed decisions about the services you offer and how you market your business.
Step 2: Structure your medical spa finances.
In the end, a business can be dissected into the money that gets out and that gets into your business. A financial plan is a mandatory part of any medical spa business plan. In fact, any new business that kicks off without financial statements is likely doomed.
We will not dive too deep into the ins and outs of cash flow statements, financial projections, or bank loans. In this article, we want to highlight that the "money out" has to start with budgeting and the "money in" with pricing.
A: Budgeting
"A budget is telling your money where to go instead of wondering where it went." The quote from Dave Ramsey's pictures really shows that budgeting is all about planning and keeping track of your money so that you know how much you can spend and where you need to save.
Here are the key lines you will need to include in the budget part of your medical spa business plan:
For rent, water, electricity, and other utilities: A physical location is essential for your medical spa, which means paying rent or a mortgage, as well as utilities like water and electricity. Research the average costs for these expenses in your area to budget appropriately.
For equipment: Medical spas require specialized equipment such as lasers, microdermabrasion machines, and other high-tech devices. These can be expensive, so budget carefully. Consider leasing or financing equipment to spread out costs.
For medical and cosmetic supplies: Skincare products, injectables, and other medical devices are necessary for your medical spa. Budget for these supplies and factor in markups or discounts you plan to offer.
For marketing costs: Attracting new clients requires investing in marketing your medical spa. This may include advertising, social media campaigns, and promotions. Set aside a budget for these expenses and consider hiring a marketing professional to maximize your budget.
For hiring your staff: Your medical spa will require a team of highly skilled professionals, including licensed aestheticians, nurses, and physicians. Budget for competitive salaries and benefits to attract top talent.
For business insurance and license: Liability insurance and appropriate licenses and certifications are essential for a medical spa. Budget for these expenses and consider legal or regulatory costs associated with starting a medical spa.
For learning: The medical spa industry is constantly evolving, so stay up-to-date with the latest trends and techniques. Budget for ongoing education and training for yourself and your staff.
Prices and rates: Balancing covering expenses with competitive prices is critical. Research other medical spas' prices in your area and consider your unique value proposition. Consider offering package deals or memberships to encourage repeat business.
B: Prices and rates
Setting your prices has everything to do with your physical location and who is your target market. These are things we will discuss in greater detail further down in the article. For now, it's important to know how to strike a balance between affordability and profitability. Here are some tips to help you set prices for your medical spa services:
Research your competitors: Find out what other medical spas in your area are charging for similar services. This will give you an idea of what the market can bear and help you avoid pricing yourself out of the market.
Factor in your costs: Make sure you're covering all of your expenses, including rent, utilities, equipment, supplies, and staff salaries. Include a profit margin to ensure that your business is sustainable.
Unique value proposition: What sets your medical spa apart from the competition? Is it your expertise? Your customer service? Your state-of-the-art equipment? Your prices should reflect the value you offer.
Offer package deals: We will also elaborate on this further at a later stage in this article. For now, consider offering package deals or membership programs. Packages are a great way to build customer loyalty and increase sales.
Stay flexible: Don't be afraid to change your prices as needed. If you're not getting enough clients, you may need to lower your rates or offer special promotions to attract new clients. If you're consistently booked up, however, you may need to raise your prices to adjust for the demand.
Setting prices is both an art and a science. Do your research, factor in your costs, and stay flexible. You can find the sweet spot that allows you to grow your business while keeping your clients happy.
Step 3: Choose a physical location.
As the British real-state mogul Lord Harold Samuel coined, "There are three things that matter in property: location, location, location."
Accessible to your target customers
The first thing to pay attention to when choosing your medical spa business location is how accessible and reachable it is to your target customers – again, this is something we will discuss in more detail later in the article. For now, all you need is a general idea of where your ideal clients are.
You will also need to consider the transportation options in the area. Is there ample parking available? Are there public transportation options nearby? If your customers can get to your venue easily, it is way more likely that they'll visit you regularly.
Finally, pay close attention to the competition in the area. This a double edge sword, as it can indicate that it is a good place to set up your medical spa, just as much as it can indicate intense competition.
Ambiance, design, and style
Consider how you can tailor the design and ambiance of your medical spa to attract and retain those customers – and yes, you guessed it, we will talk about it in more detail in step 4.
If you're targeting busy professionals, you may want to choose a location near their offices and create a sleek and modern environment that appeals to their aesthetic.
Venue size
The size of your medical spa venue will depend on your target market and the services you offer. Consider factors such as the number of treatment rooms, waiting areas, reception areas, and staff facilities.
For example, if you plan to offer a range of services, including massages, facials, and body wraps, you'll need more space. Medical spas just starting out and only offering a few services can make it with a smaller space. Ideally, your spa size will feel spacious and inviting to your clients while also being practical for your staff.
Step 4: Build your med spa brand.
Yes, this is the step I mentioned a few times earlier in the article. Building your med spa brand is crucial for creating a strong business identity and attracting clients. Here are some steps you can take to build your med spa brand.
Come up with a mission statement.
Your med spa's mission statement should capture the essence of your business and communicate your values and goals. Think about what you want your med spa to stand for and what sets you apart from your competitors.
A strong mission statement can help guide your business decisions and resonate with your target market. For example, if your med spa specializes in holistic wellness, your mission statement might be something like this:
"Our mission is to provide personalized, natural treatments that promote whole-body health and rejuvenation."
Define your target market.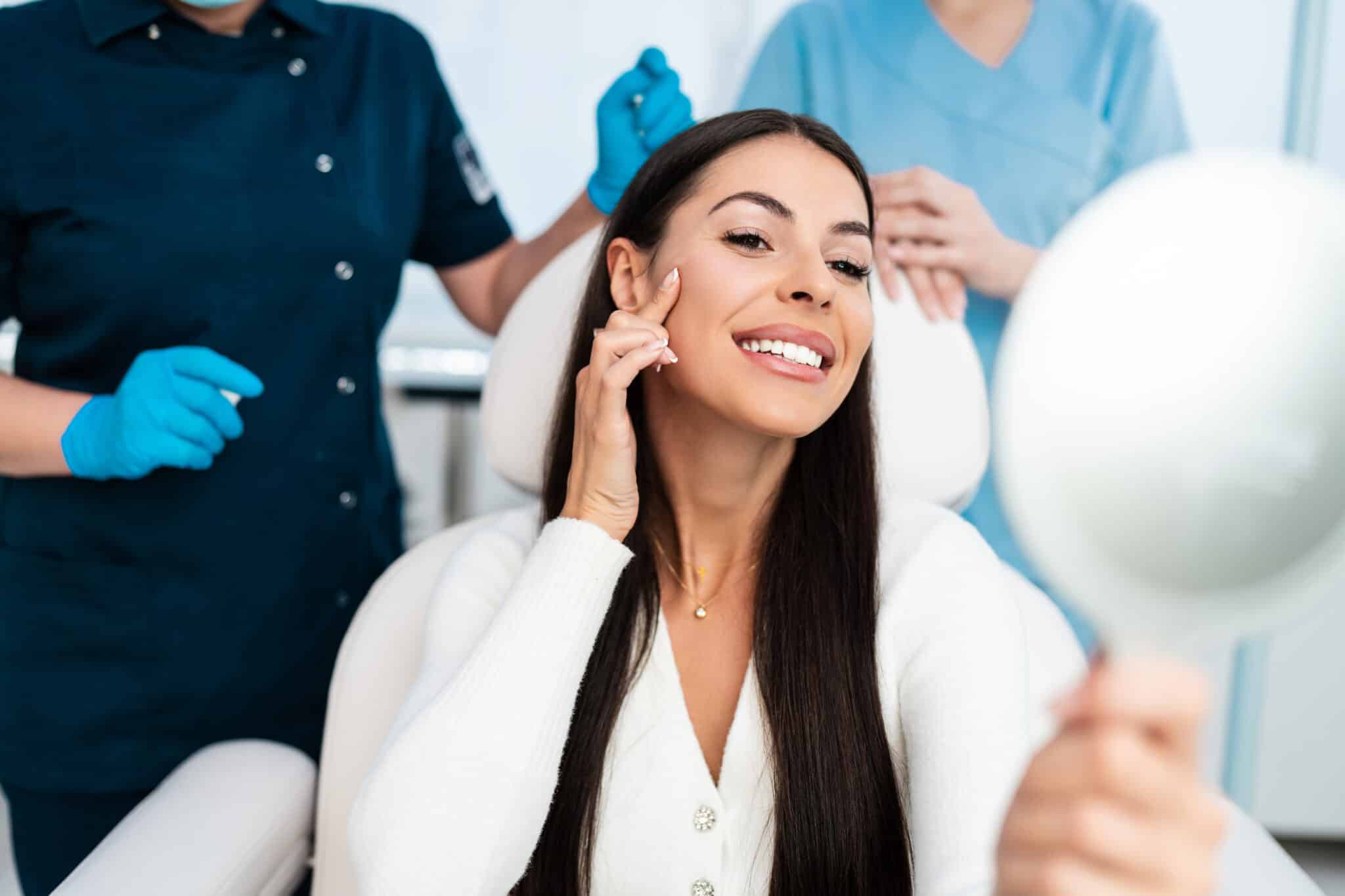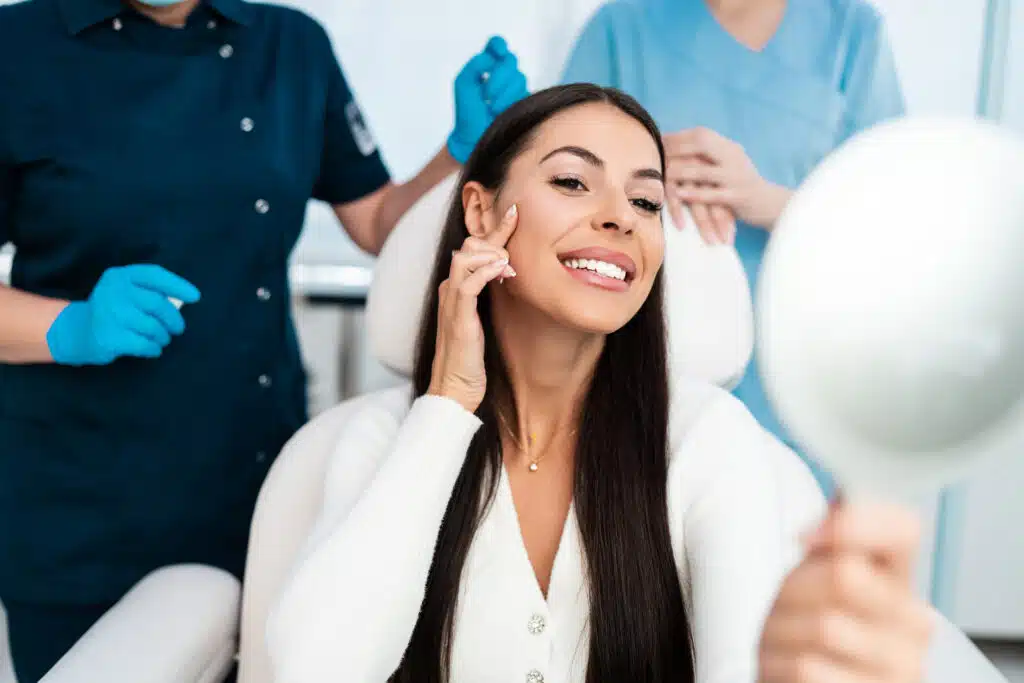 Defining your target market is essential for building a successful med spa business plan; Knowing your target market can help you build your services and marketing strategies to better meet their needs.
Who are your ideal clients?

What are their needs and preferences?

What are their age, gender, and social position?
As we already saw a few times in this article, it's not just making a fuss over nothing. This will set the direction to define your services, choose your physical location, set your prices, and even make financial projections.
Take your time to address target customers with due care in your business plan.
Define your med spa name.
If you have followed the business plan template so far, you already have your ideal client defined, a mission statement, your services, and a cash flow statement draft. All of this should make it much easier for you to pick the right name for your med spa.
Consider what values and qualities you want to communicate through your name and how it fits with your target market.
For example, a med spa that focuses on luxury and high-end services might choose names such as
Opulence Med Spa;

Regal Rejuvenation;

Prestige Wellness Center.
A med spa that emphasizes natural, organic treatments might choose names such as
Pure Bliss Wellness Spa;

Nature's Touch Med Spa;

EcoSkin Wellness Spa.
Med spa logo and visual identity
Your med spa's visual identity should be aligned with your brand's mission statement and target market. We have an entire article on tips to design a logo; here I will give you a summarized version of what is in that in-depth guide.
For a luxurious and high-end med spa, you might consider using rich, sophisticated colors such as deep purple, gold, or silver. Pair these with elegant serif fonts, such as Baskerville or Garamond, to create a refined and premium look.
If you decide your med spa will provide natural treatments, earthy or muted colors – such as sage green, soft brown, or pale blue – might be a better option. Modern fonts, like Helvetica or Lato, can also help you create a fresh and natural look.
Spas that focus on medical treatments and procedures can benefit from colors such as navy blue, white, or light gray. Bold, modern sans-serif fonts help build a clean and professional logo. You can consider Futura or Avenir, for example.
For a med spa that focuses on relaxation and wellness, calming colors such as pale pink, lavender, or light blue, paired with soft, flowing script fonts, such as Pacifico or Allura, will create a relaxing and calm look.
Sync your online and offline branding.
Nowadays, most small business owners create brands digitally with tools such as Canva or Adobe Spark. It's great having your site, social media accounts, and e-mail signature have the same cool design, logo, colors, and font. But what about your spa?
Consistency is key when promoting your medical spa brand. It can feel strange, and maybe even strange, to have one impression of a brand from the online world just to see something completely different in the offline one.
Use the same visuals, messaging, and tone of voice across all channels. Make sure that your physical location reflects the same personality as your online presence.
For example, if your med spa's branding is focused on relaxation and calm, your physical location should be designed to create a peaceful and welcoming environment, with the right background sounds, colors, staff uniform, etc.
Step 5: Marketing your medical spa treatments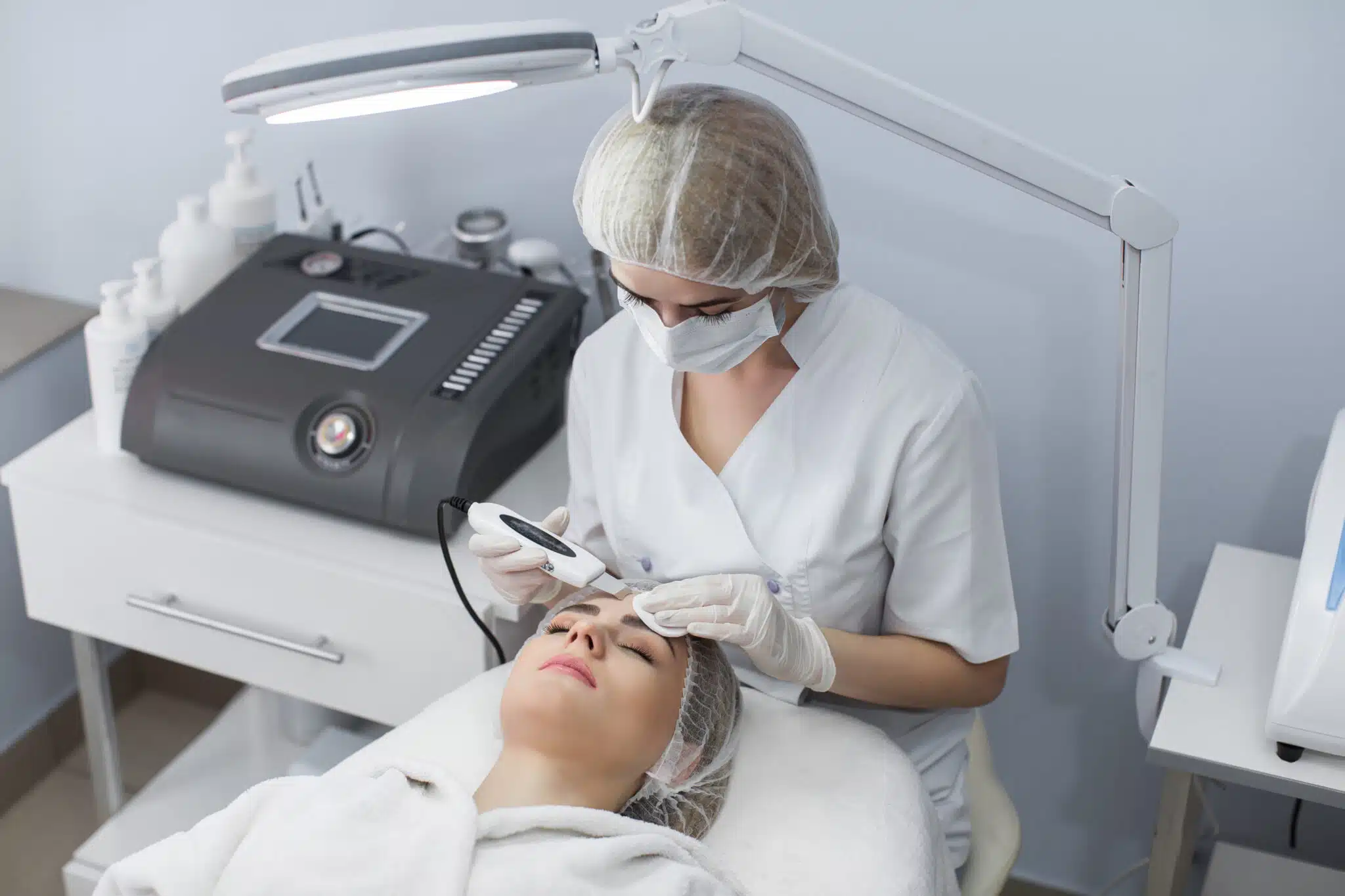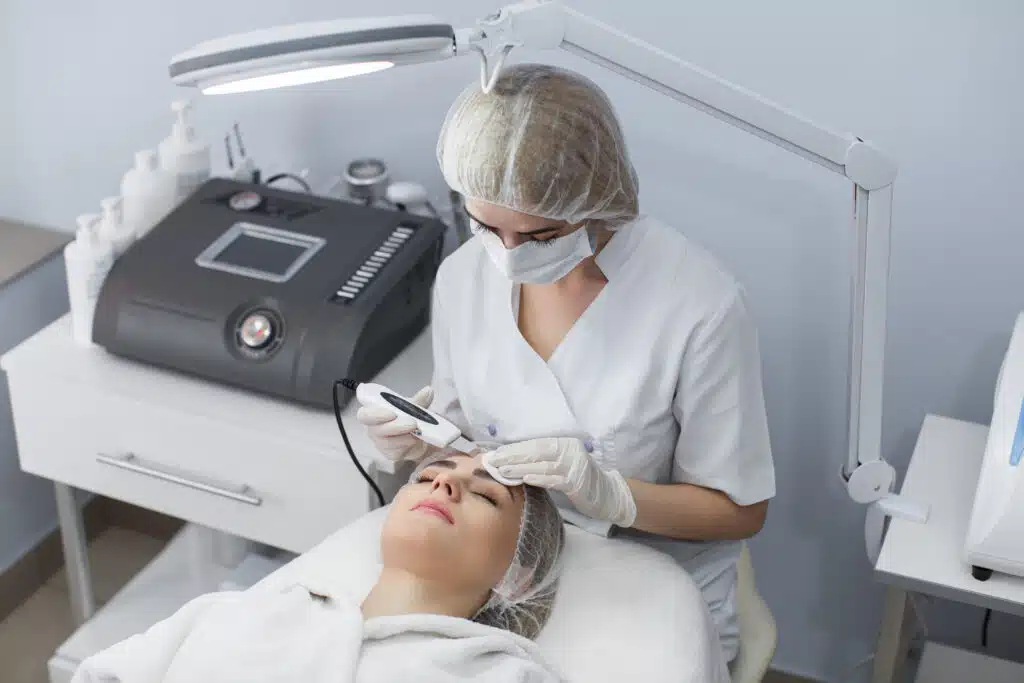 Let's recap: you have defined your services, built a financial plan, created a brand, and learned what sort of venue you need to pick. We are over with more than half our business plan template, so let's talk about promoting your medical spa. Let's talk marketing!
Below we will present some of the main strategies for you to consider initially to attract clients and build a marketing plan.
Social media, social media, and then some more
Social media marketing is an incredibly powerful tool for promoting medical spa treatments. Instagram, TikTok, and Facebook are a few of your best allies when attracting new customers. Here are a few ways you can promote your medical spa on social media:
Before-and-after photos: Sharing photos of successful treatments is a great way to showcase your expertise and attract new customers.

Testimonials: Ask satisfied customers to leave reviews with testimonials on your social media accounts. Testimonials are very powerful when potential customers are weighing which medical spa to pick for their treatments.

Educational content: Share informative and educational content on your social media. This is how your following gets the most value from your content and the main reason for them to stick around. Include tips on skincare, diet, exercise, and stress management, for example.

Behind-the-scenes: Give your followers a behind-the-scenes look at your medical spa. Share photos and videos of your staff, new equipment, and procedures to give an idea of how your business runs daily.

Live Q&A sessions: Host live Q&A sessions on social media to answer questions from potential customers.

Contests and giveaways: Encourage engagement on your social media platforms by hosting contests and giveaways, such as a free treatment to followers who share your post or tag a friend in the comments.
Have a website. Period.
Having a website for your medical spa is non-negotiable. It's the first place potential clients will go to learn more about your services, pricing, and location. It is also the best place to tell your clients the qualifications and professional background of you and your staff.
Besides, with services like Wix, Zyro, and Squarespace, building a new website got easier than ever. They have pre-set templates that allow you to get your business online in minutes.
On your site, include high-quality photos, descriptions of your services, and a booking system like Appointible. You can also use your website to share blog posts or articles on specific procedures so your clients get answers to their questions before starting a treatment.
Create a promotional calendar.
Having a promotional calendar is the best way to plan and execute marketing campaigns throughout the year, and it is super easy to get started. You can even build it on a notebook, or a free Google spreadsheet.
Your promotional calendar can include what times of the year you will have marketing campaigns, such as discounts on laser hair removal in the summer or hydrating facials in the winter.
Your promotional calendar is also the best place to define what days of the week you are posting on social media and what the post is about. Also, it is a great way to remind yourself to print marketing materials, if you are doing a campaign at your salon.
Network and attend events
Networking and participating in events is a great marketing strategy for medical spas. Health fairs or trade shows are excellent places to put your clinic in front of potential clients. You can also host your own events in your clinic, such as open houses or educational workshops.
You can also offer exclusive promotions or discounts to attendees to encourage them to book an appointment with your medical spa.
Step 6: Get software for managing bookings
As you start your medical spa business, you might not initially focus on technology and software – particularly when it comes to client management.
However, as your business grows, having a reliable appointment scheduling system will become crucial. This is where medical spa booking software comes into play!
WITHOUT a booking software
This is how your day as a medical spa business owner looks without a dedicated booking system.
You waste precious time taking phone calls: Time is money, especially in the medical spa industry. If you're constantly on the phone, booking appointments, and answering client questions, it takes away from your ability to manage your business effectively.
You make a mess with pen and paper: In the beginning, it might seem simpler to rely on pen and paper for appointment scheduling. But as your client base grows, this method quickly becomes unmanageable and error-prone, leading to missed appointments and unhappy clients.
Google Calendar works… kinda: Google Calendar can be a helpful tool for small businesses, but as your medical spa grows and appointments, staff schedules, and client management become more complex, it can quickly become overwhelming and inefficient.
Client management often gets out of control: As your client list expands, managing their information and appointment history manually becomes increasingly difficult. Doing so manually can lead to poor customer service and difficulty in accessing essential information when needed.
It's hard to market services to your clients: Marketing is essential for attracting new clients and maintaining your medical spa's growth. However, without the right tools, coordinating your marketing efforts with appointment management can be a major challenge.
WITH a booking software
Behold, the booking software. This is how a typical day at your new business can look like with an appointment scheduling tool:
New clients book treatments 24/7: Medical spa booking software allows clients to book appointments online anytime, anywhere – even at 3 am on a Sunday. This convenience leads to increased bookings and less work for you.
Marketing becomes second nature: Integrating your marketing campaigns with appointment scheduling software creates a seamless experience for clients, improving the effectiveness of your marketing efforts. For instance, promotional messages and appointment reminders can be sent using the same software, ensuring consistency and relevance.
Reminders and follow-ups are automatic: No-shows can negatively impact your revenue and scheduling. With medical spa booking software, you can set up automated appointment reminders and follow-ups, reducing no-shows and keeping your schedule running smoothly.
Managing your medical and management staff gets super easy: Booking software streamlines staff management by allowing you to create and manage schedules, appointment bookings, and performance tracking. This ensures the right staff members are in the right place at the right time, improving overall productivity and efficiency.
Appointible: The go-to medical spa appointment scheduling software
The key is finding the right software to handle online bookings and automate appointment scheduling. Introducing Appointible: a powerful, user-friendly solution for medical spas in the beauty and wellness industry. Appointible features a modern online appointment booking system designed to help your business grow.
We highly recommend you start a free account with Appointible and experience the benefits of seamless appointment scheduling and management for your medical spa business.
Step 7: Growing your medical spa
If you've done everything right, there will come a time when growth will be inevitable for your medical spa.
Even though we're talking about creating a business plan, it's important to consider growth from the very beginning. You'll be better prepared if you have a good idea of where your business is headed.
There are two paths for medical spas to grow:
Horizontal spa growth
Horizontal growth means that, over time, your medical spa expands its services, hires additional staff, and potentially opens new locations. This approach aims to broaden your service offerings and reach a wider client base.
If you want to pursue a horizontal growth business model, start by incorporating it into your branding and facility size. For example, you might plan for future expansion by investing in a larger space and equipment to accommodate additional services or retail offerings.
Vertical spa growth
Vertical growth, on the other hand, involves specializing in a select number of services and striving to become the best in those areas. By focusing on a few core services, you can deliver exceptional quality, which may allow you to charge premium prices and keep payroll, supplies, and overhead costs to a minimum.
As you can see, there are multiple ways for your medical spa to grow, and you should choose the one that best aligns with your vision. Research your options, plan carefully, and ensure you adhere to the regulations in your area.
Most importantly, don't forget to review your efforts and adjust your strategies as needed. With the right mindset and approach, it's possible to create a thriving medical spa business.
That's all you need to know about creating a business plan and growing a successful medical spa this year. We hope that this article has been helpful to you and wish you the best of luck in your endeavors!
Don't hesitate to leave us your opinion in the comment section below.