Back in the pre-internet days, marketing and sales professionals had to deal with a lot of repetitive, costly, and laborious tasks – daily. Everything, from reaching out to prospects to following up on marketing campaigns was analogical.
Even the most mundane of administrative tasks, such as reminding clients they had an appointment at a certain time, had to be dealt with by phone calls. These days are far behind us and – thankfully – today most digital marketing can be automated.
And today, one of the biggest players in the field of marketing automation – for its simplicity, ease of use, low cost, and high engagement rates – are SMS.
Today we will tap into the potential of SMS automation and see how you can boost your marketing strategy using text messages.
What is SMS marketing automation;
Why run SMS automation;
5 ways SMS automation can boost your marketing strategy;
Let's get it started.
What is SMS marketing automation?
SMS automation is a system that delivers text messages to one or more mobile phones automatically. Relying on SMS automation means severing immensely the time spent manually preparing and sending individual messages.
A few examples of SMS automation are:
Setting reminders;
Running promotional campaigns;
Sending out weekly tips;
Setting welcome messages.
In marketing, SMS automation can generate great results. In the next section, we will see why many businesses should run SMS marketing automation.
Why run an SMS marketing automation
Running SMS marketing automation is one of the best ways to get directed text messages to the right people at the right time.
And there are a couple of reasons why you should start considering running such automation as well.
SMS has great open rates
There are, of course, many other ways marketers can create automated campaigns and messages. Emails, for example, have been used for a long time for this purpose.
What might be surprising is that while emails have an open rate of around 20%, SMS sits at a whopping 98% mark.
With open rates as high as that, your automated text message will most certainly be seen.
SMS are practical
Another huge plus for using SMS as part of your automated text message strategy is that SMS is very practical.
This means that sending reminders, important notifications or special coupons will not get lost in social media or cluttered email inbox. More importantly, if there is any information there that your recipient needs to have in handy – like an address – SMS are easy to reach and doesn't require writing things down with pen and paper
Next, let's dive deep and see some examples of SMS text marketing being used in practice.
1. Text-to-win campaigns
Sweepstakes are an engaging, fun, and effective way to give life to marketing campaigns. One particular way sweepstakes work immensely well with SMS marketing is through text-to-win campaigns.
Text-to-win campaigns are very straightforward SMS marketing campaigns. It starts with people sending a special pre-defined word to your number or shortcode to indicate they want to participate.
SMS Automation magic begins from this point on. Once the special word is sent, an automated confirmation text message will be triggered: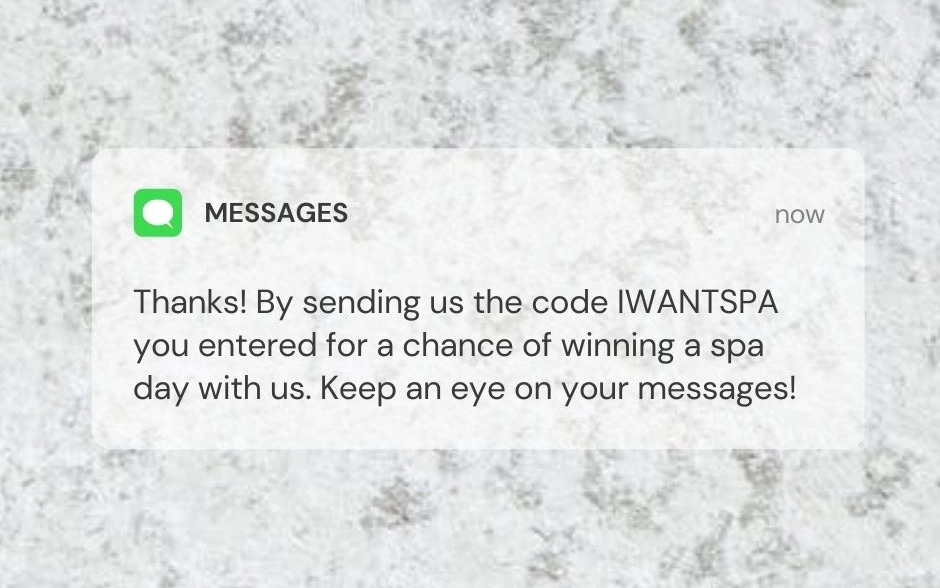 The rest of the process is also fully automated – from the draw of the winning phone number to the delivery of an automated "you are the winner" message.
Needless to say, the non-winners can also get an automated SMS stating it was not their lucky day.
2. Recovering cart abandonments
Cart abandonments are a major setback when it comes to e-commerce businesses' sales. Recent researches suggest that almost 70% of online shopping carts are left wandering during checkout.
The rate is even higher when considering only mobile phone devices: 86%. That is almost 9 in every 10 potential shoppers!
SMS automation is a powerful ally in getting some of those payment processes back on track. A text message automation can be triggered after a person left their mobile phone number with the link to the checkout with the shoppers' items waiting.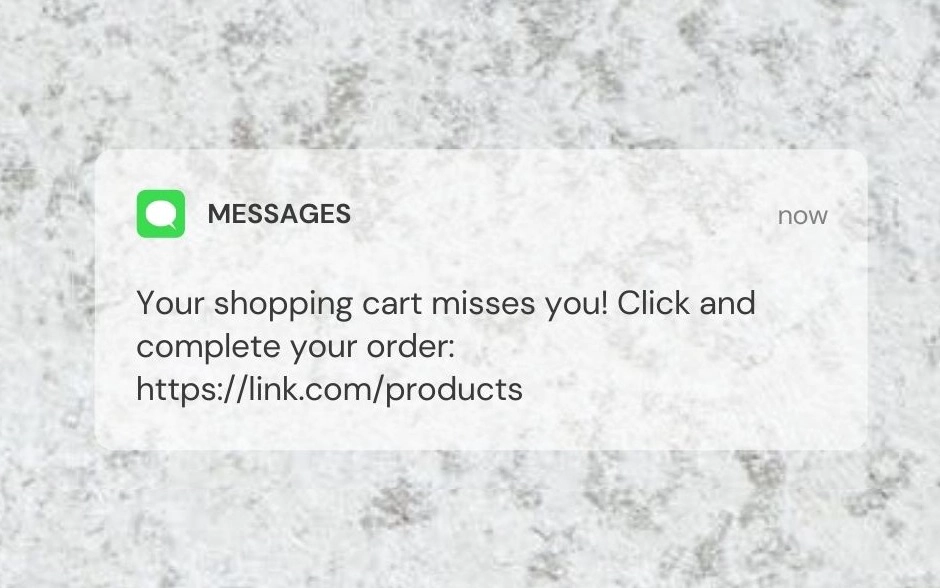 3. Text-to-vote surveys
If you are looking for getting feedback from your audience, sending users a directed message based on what they reply to you or creating engaging quizzes, text-to-vote, aka SMS polling campaigns, are the way to go.
With text-to-vote SMS automation, it is possible to create engaging conversations with customers while also gathering powerful insights from your audiences.
Let's take a look at some examples of automated SMS polling campaigns in action:
Collecting feedbacks
One of the most forthright ways of working with SMS polls is to collect feedback. Let's say you are running an online course. When a student finishes the course, an automated text message can be triggered asking the user to rate the experience in the course from 1 to 10.
Each answer is registered, so you can keep an internal database of how people are rating your course.
On top of that, additional SMS automation can be put in place so that, depending on the rating the student gave, another message follows: if the feedback is negative, maybe ask for more information. If positive, maybe a link to your site where the student can leave a testimonial.
All of this automatically, of course.
Creating engaging content
Another very interesting way to use text-to-vote campaigns is to create helpful and directed content based on your audience's answers.
For example, a therapy practice business could send a text message poll asking people to share how their mood is today. The options could be GREAT, GOOD, AVERAGE, or BEENBETTER.
Based on each of these answers, and informative article from your blog could be sent their way on how to benefit – or improve – their mental health situation.
In this particular case, such SMS poll automation could also start two-way messaging, which could evolve into the user booking a therapy session.
Quizzes
Quizzes are popular on almost all social media platforms and there is a good reason why: people love to be tested and find more information about themselves.
From an SMS marketing standpoint, quizzes are amazing ways to segment and categorize clients based on their interests.
Imagine you run a local mountain bike trail guide business. You could quiz your audience to understand how experienced they are in mountain biking – all in a fun and engaging way.
Based on their interactions with your SMS poll, they can be categorized by levels. This way, when you are sending more promotional material about your events and guiding services, you would not waste a precious message about a technical and hardcore trail to a cyclist who just entered the sport.
4. Automated SMS reminders
SMS automation works well for reminding purposes. Because of the already mentioned great open and engagement rates, they are the top pick for people who can't miss time.
Here are a couple of situations in which Automated SMS reminders can work well.
Payment reminder text messages
Businesses are different and diverse, but all of them have one thing in common: they need to get paid.
Among some service providers, collecting a payment might happen just after the client benefited from it. Gyms, accounting offices, landlords are some examples.
SMS automation works great in this scenario because every month it will send the right people in your audience a message reminding them that their pay is due shortly. Additionally, overdue messages can also be set up.
We covered this topic in greater detail in our SMS Payment Reminder article. Make sure to take a look
SMS appointment reminders
For many businesses, clients must come in presence to get a service done. Whether it is a car repair, a haircut, or a veterinary for a pet, some services simply can't be done remotely.
In such cases, SMS reminders are essential to keep clients as aware as possible of their upcoming appointment.
An automated SMS appointment reminder makes sure clients get the right notification at the right time. We talk more in-depth about this specific issue in our SMS Appointment Reminder article.
5. Date based SMS automation
There are specific dates of the year that can't be missed, like birthdays or other important events. When we look from a business perspective, dates are interesting opportunities to get closer to your audience by sending date-based SMS automation.
A very common way to implement this marketing tactic is by sending happy birthday messages with exclusive discount codes.
If you are an event promoter, this is naturally one time of SMS automation you will want to use, as you are going to want to make sure everyone remembers the date, address, and other details about your great day.
But we can find opportunities to use automated date-based text messages. Car repair businesses can benefit a lot from setting automation to customers after a certain period their cars have been served. This way they make sure they take the vehicle back from time to time for the necessary repairs and inspections.
Do you use SMS marketing automation as part of your business strategy? Let us know in the comments.