One must wonder: "Why should I still bother with SMS marketing??".
Granted.
It's not an obvious assumption that SMS and text marketing is still a force to behold in an era with Metaverse and NFTs. After all, messaging has been around us for so long, right?
Well, right. And the answer to this question lies in itself: SMS is still around after all these years. And there are good reasons why that is.
In today's article, Appointible is going to take you on this tour to explain:
What is SMS marketing?
Why is it still relevant?
Who is SMS and texting marketing for?
How to get the most out of SMS marketing services based on your industry.
We hope at the end this small business SMS marketing guide helps you grow your business. Let's get to it.
What is SMS marketing?
SMS equals Short Message Service. SMS Marketing is the use of texting to transmit a transactional or promotional message to an audience. Another way to define SMS marketing is the envelope notification we receive at our smartphones.
SMS marketing can be geared externally or internally, reaching both potential customers as well as current clients.
It has been present in our lives ever since the first Nokia phone beeped a "Merry Christmas" message in the distant month of December 1992.
Fast forward 30 years, and there is an enormous likelihood that you either already received at least one SMS today or will get one before you go to bed. Whether it is to get a promo code from a brand you love, a delivery status notification about your dinner, or a second-factor authentication to log into your bank account.
Why are SMS and texting still relevant?
SMS marketing is an essential channel for your company. Here is some evidence: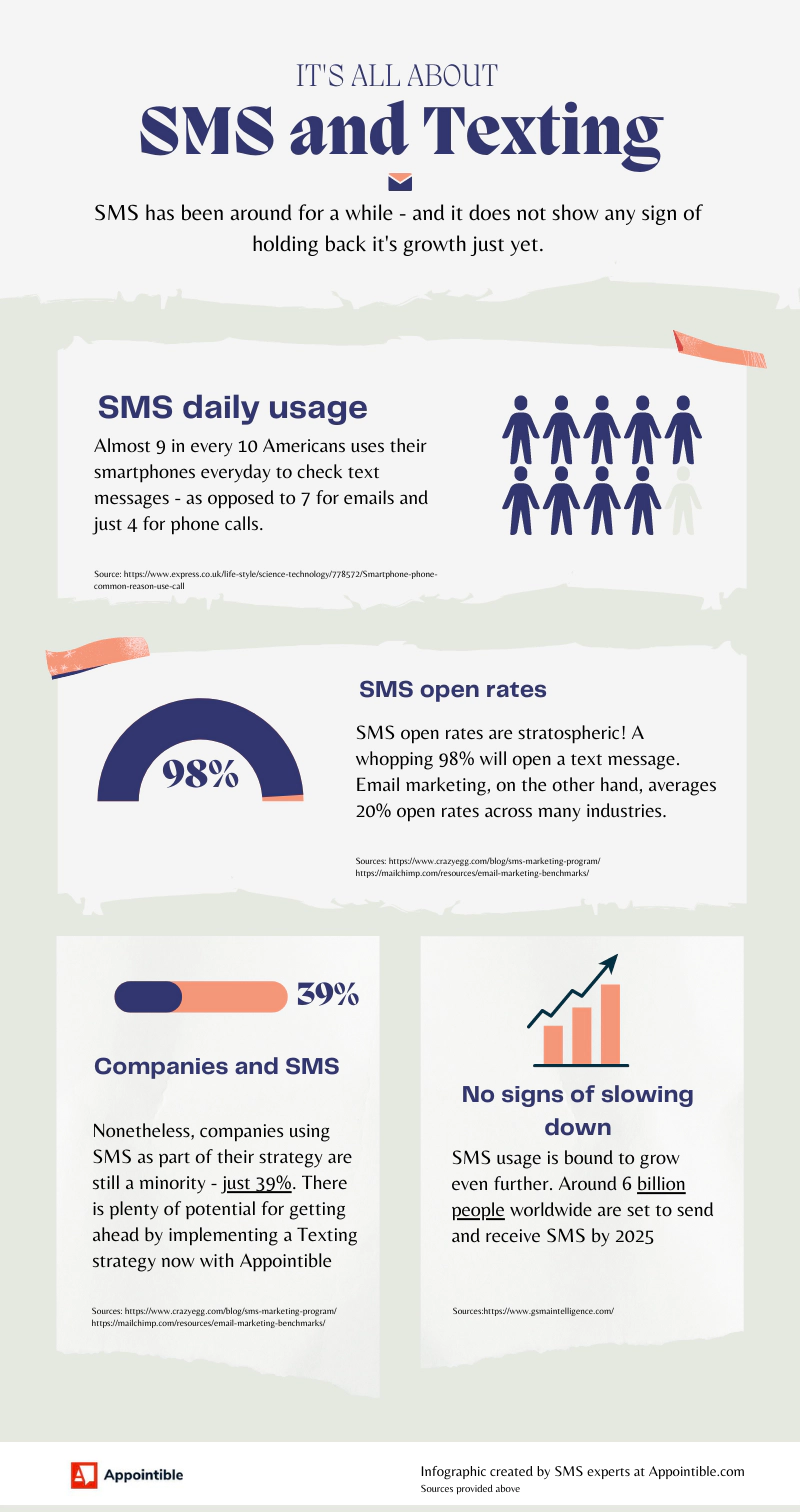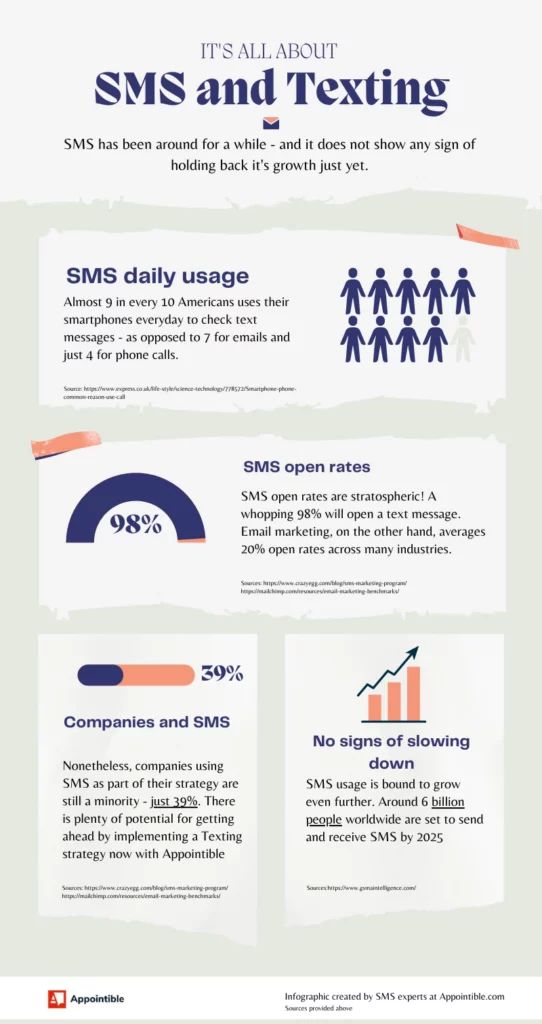 SMS marketing applications (in 3 ways)
As with every piece of communication a company sends out, SMS marketing can operate in 2 different ways (internally or externally) and with 2 different aims (promotional or transactional).
When we use the term "SMS marketing", we are actually referring to campaigns that are external and promotional.
Campaigns can also be external and transactional, internal and transactional, and, ultimately, internal and promotional.
Let's dive a bit deeper into each one of them.
I. SMS for marketing and promotions
As mentioned above, this is what is meant when talking about external and promotional campaigns. Basically, SMS for marketing and promotions is the holy grail of texting as a communication tool.
Here are some of the most straightforward ways SMS marketing can be used:
Sending promo codes;
New product launches;
Invitation to events;
Discounts on special occasions;
And while SMS is definitely valuable when approaching your potential customers for sales, the potential for text message campaigns doesn't end there.
Another very important way to keep people engaged with your brand is by sending them useful information about your industry and your business, as well as messages that work towards building a deeper relationship with your audience.
For example:
Cross-referencing your social media accounts;
Sending links to newly published blog posts;
Sending anniversaries or other date-based messages;
Anything that not only gets them to buy – or keeps buying from you – but also that will close the gap between them and the "buy" button.
II. Notification messages
The second application for SMS marketing goes to show how extensive and vast texting can be. SMS should be used not only to have people go all the way from lead to customer but also to take care of what happens after they purchased.
This is what external transactional messages are for – they notify customers about the purchase they already made or for using your product. For example:
Appointment reminders. Send a reminder before a client arrives for their visit. These reminders will reduce no-shows.
Client follow-ups. Send automated follow-up messages to clients after their visit to check on their experience and request a review.
No-show notifications. Send a message to clients who did not show. This is a great opportunity to encourage them to rebook.
Rebooking reminders. Send a message to clients to reconnect with them after you've not heard from them in a while.
As you can see, there is no more effective way to send notification messages than through SMS. It is as close to "guaranteed" as possible when it comes to making sure your users will open the message and read that important information.
III. Internal uses
The utility of SMS campaigns doesn't end when you communicate with people outside of your organization. There are plenty of utilities for text messages to people inside your organization as well.
Internal SMS campaigns are extraordinarily fruitful when addressing employees, investors, or recurring customers about an array of different things. Here are a few of them:
Holiday and non-working day reminders;
Payroll information for employees;
Product updates;
Who can benefit from SMS and text marketing?
With such a broad and deep range of applications for SMS marketing and texting campaigns, it goes without saying that there are a few industries that can benefit immensely from employing SMS in the aforementioned cases.
We name a few of our favorites, remembering that Appointible itself is built to provide customers in the following niches with the best SMS marketing service:
Beauty clinics
Health clinics
Laser clinics
Cosmetology salons
Hair & Beauty salons
Barbers
Nail salons
Makeup artists
And many more
The SMS for health and medical practices article shares more about how patients can be reminded about appointments.
Top SMS marketing best practices
As with any other means of digital communication, there are a few boxes to check before implementing your SMS marketing campaign. You will find a few of them listed below.
Respect your contact's privacy
There is no more straightforward way to put it: if your contact hasn't subscribed to receive an SMS from you, do not reach out to him or her with a text message!
This might seem a great strategy if your aim is to get your message across as many people as possible. Nonetheless, the long-term side effect of sending unwelcome text message campaigns to people far outranks the benefits.
Furthermore, most countries have strict opt-in regulations in place, meaning one should only ever be receiving your message if it chooses to.
It all starts with a great start
As redundant as that may sound, SMS marketing does start with a great start. That is because, in contrast with Email Marketing, SMS campaigns don't have a title associated with them.
In the lion's share of cases, it is also unlikely that your audience will have saved your number. It means that a good start to your text campaign will unquestionably be the main factor for its success.
One useful piece of advice would be – mainly if this is the first-ever campaign this particular contact receives from you – to personalize the send to start with your company's name.
Cross-reference your marketing channels
As much as SMS marketing messages are effective and have astoundingly high open rates, it is also worth noting that they should be used as part of a digital marketing strategy.
Cross-reference your social media accounts, send links to your newsletter, and share your blog posts. In other words, use your SMS marketing program as a way to get your audience to engage with you in as many different channels as possible.
Do not use abbreviations
We text message daily – a lot. A way we cope with so much SMS going back and forward is through abbreviation. Granted: it is a fast and acceptable way of talking among friends, but nothing more than that.
When sending business SMS text messages, abbreviations must be avoided at all costs. Not only it is highly unprofessional, but it also can confuse your audience. Shortening words like "text" to TXT might not be understood by everyone, which can lead your message to frustrate your audience and not achieve the desired goal.
Grow your SMS text list
Growing your SMS list is key to getting your message across to as many people as possible. And this should be done consistently and frequently. Needless to say, even if you are just starting in SMS marketing, there are many ways that you can grow your SMS list.
Here are a couple of them:
Register current and past clients
People that are currently your customers or that have purchased or hired you in the past should be the first ones to be added to your SMS list (again, with their consent).
The rationale is straightforward: if they bought from you, they are likely to return as customers and even want to hear your updates, launches, organizational changes, and more.
SMS for marketing proves to be a fast and concise way to gather these people around your brand – and keep them that way.
Provide value
Another great way to get people to want to listen to you – or in this case, to want to read your SMS – is to provide them with value first.
Examples are limitless. But here are a few you can test to get some phone numbers going your way
Provide a free and useful "how to ________" guide that is relevant to your industry;
Promote a set of SMSs that run daily with discounts and promo codes;
Bring quick news from a specific topic that is interesting to your audience.
Moving forward, we will analyze more advanced topics in SMS marketing, such as timing, bulk sending, scheduling text messages, text reminders, and more.
What is the best time to send an SMS?
The best time to send SMS campaigns is from 10 AM to 1 PM during working days. That is the short answer.
How many times have you deliberately woken up at 2 AM to open your SMS inbox and clicked a link in a campaign?
Not only timing the clock correctly for your SMS marketing campaign is vital, but also some days of the week are better than others for trying to engage with potential buyers.
One study from Sprout Social shows just that. It measured engagement across a variety of marketing channels – from social media to email marketing – and spotted the following behavior: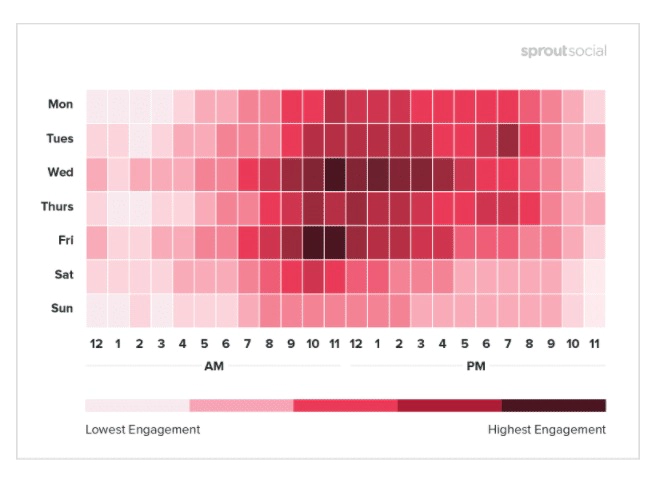 Needless to say, however, that engagement varies immensely from industry to industry. That is why testing different times and days of the week to try to find the best send moments is a key factor in SMS marketing success.
At this stage, you might be wondering, "doesn't SMS have one of the best open rates across all text message channels? What is the point of sending it at one specific time rather than another"?
Yes, your SMS will most likely be open eventually. But its engagement is a whole other story. The table above presents the best time engagement wise.
This is why having a professional tool with unlimited text marketing plans is vital for a great text message campaign. With a professional tool, you will be able to schedule SMS to be sent at the exact best time for your audience to engage with your message.
How to schedule SMS to send anytime you want?
You can schedule SMS to be sent at any time you want with a professional SMS marketing software.
The greatest advantage of using a text message marketing tool for businesses is that you can compose, prepare and schedule SMS for whole audiences, instead of just a single person at a time.
One way in which scheduling works great is with reminders. Text reminders are great to keep your audience alert for important upcoming events. Let's take a look at a few next.
What are SMS reminders?
SMS reminders are pre-scheduled or automated text messages that are sent to certify that a person doesn't miss an upcoming event. Some examples of what SMS reminders can target are appointments for medical clinics or beauty salons. Let`s dive a bit deeper into two of the main formats SMS reminders work best.
SMS appointment reminders
SMS appointment reminders are scheduled automated text messages that are sent when an appointment date is approaching.
As we covered in our recent SMS Appointment Reminder Guide, four in every ten patients miss medical appointments due to forgetfulness. If only they would receive a simple text message reminder to counter that. That is where text message appointment reminders come in. With its high open rate, it is almost a certainty that clients will engage with the notification.
This is not the only reason why text messages work great as a reminder, however.
Roughly 80% of all adult Americans don't pick up incoming calls from unknown numbers. The percentage is even greater among millennials and gen-z. Moreover, SMS are private. Considering that certain appointments might be sensitive topics, confirming it with a real person – many times in public around other people – is not the best idea.
What is two-way SMS?
Two-way SMS is when you send and receive text messages from your audience, creating an SMS conversation. It is also called two-way texting or conversational SMS. This conversation is profoundly beneficial and can purpose for many different areas across varied businesses.
Two-way SMS for customer support
Customer support is one way in which two-way SMS works fantastically well. Your clients can simply reach out to your text number and ask questions, make complaints or get more information, or you can initiate a conversation.
One example is what we saw above for text message payment reminders. Maybe a client is having some issues making a payment link you sent. By replying to that message, your client will be able to make contact with you and clear out how they can proceed with payment.
SMS customer service can have very positive impact on your business.
Two-way SMS to generate more sales
But two-way SMS doesn't work great just for supporting customers you already have. It is also a great tool for those wanting to sell more. One way this works is with upselling. To upsell is to promote a complement or an upgrade to a service or product you already sold to your customers.
One way this works great is with a massage saloon, for example. You can follow up on your customer's purchase and send an SMS offering an additional 30 minutes massage per session at a discount. By interacting with your business through two-way SMS, your client will be able to accept your offer, make a payment, clear any doubts and much more.
You can check on our site one use case of two-way texting for beauty businesses.
Who SMS marketing is for?
SMS messages are a fantastic marketing tool that show no sign of slowing down. Instead of declining with the surge of new technologies, it just solidified its presence in the text messaging world with growing numbers of adoption with each passing year.
Even if you already have an email marketing or social media marketing strategy in place, SMS marketing is a great complement to those approaches and can even help those channels grow, by cross-referencing these platforms through text messages.
That being said, SMS marketing campaigns are perfect for any business that is looking to connect with its audience and create highly targeted and robust campaigns. It is a perfect mechanism for any business that wants to:
Sell more and attract new customers;
Remind clients about upcoming appointments;
Reconnect with old clients after you've not heard from them in a while;
Announce new product releases;
And much, much more;
There is a high chance that you would benefit greatly from SMS as a tool of communication, even if you are not included in the examples above.