Social media strategy is an essential part of running a successful hair salon.
From posting their work to advertising new services, hair salon owners have plenty of opportunities to use Facebook, Instagram, Twitter, and others to attract new clients and increase brand awareness.
Having the right social media strategy can help you make the most out of your online presence and reach new clients.
In this article, we'll provide 20 ideas for social media posts for your business that will help you get started on creating a strong social presence for your business.
Let's get it started.
1. Showcase before and after photos of your clients' transformations.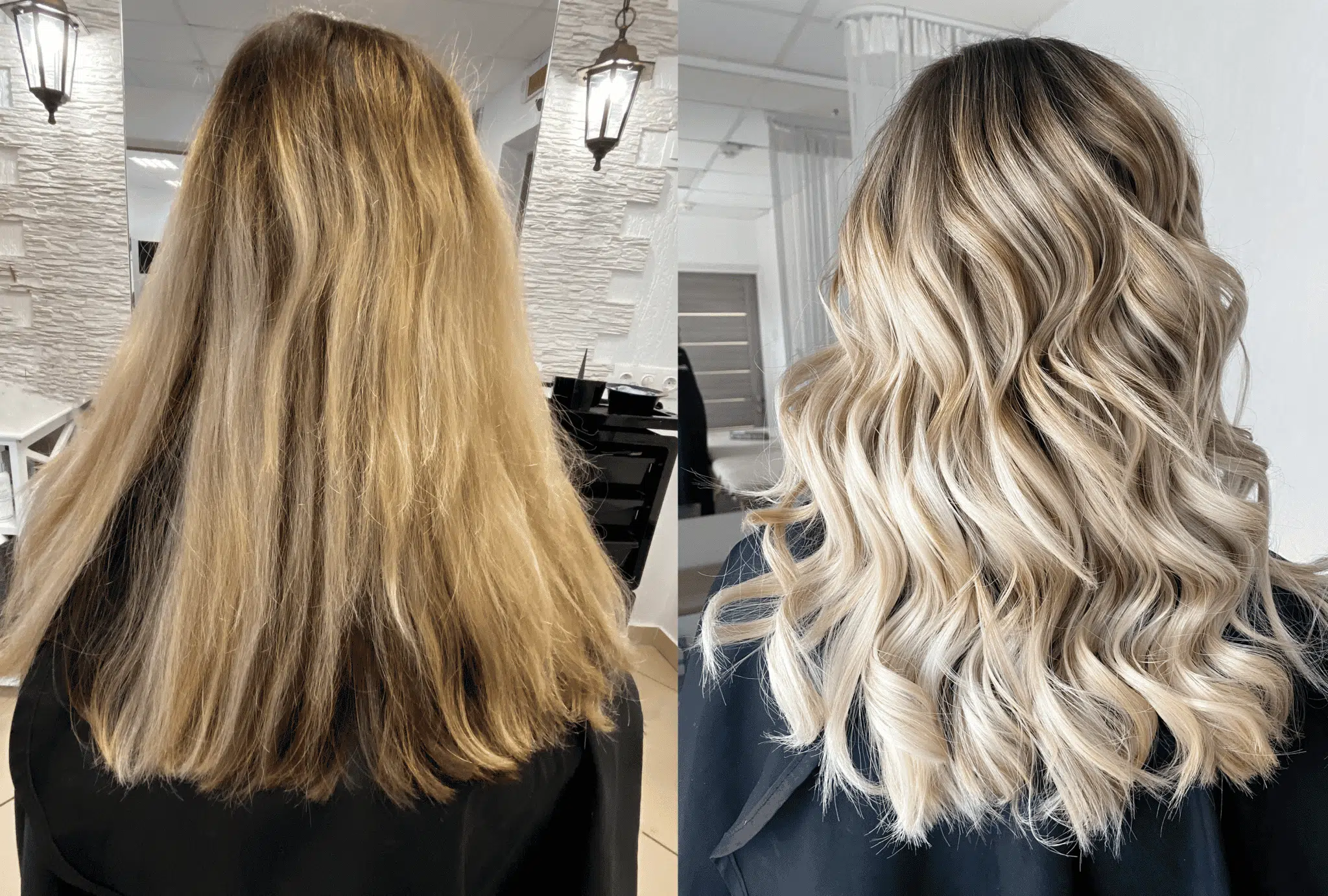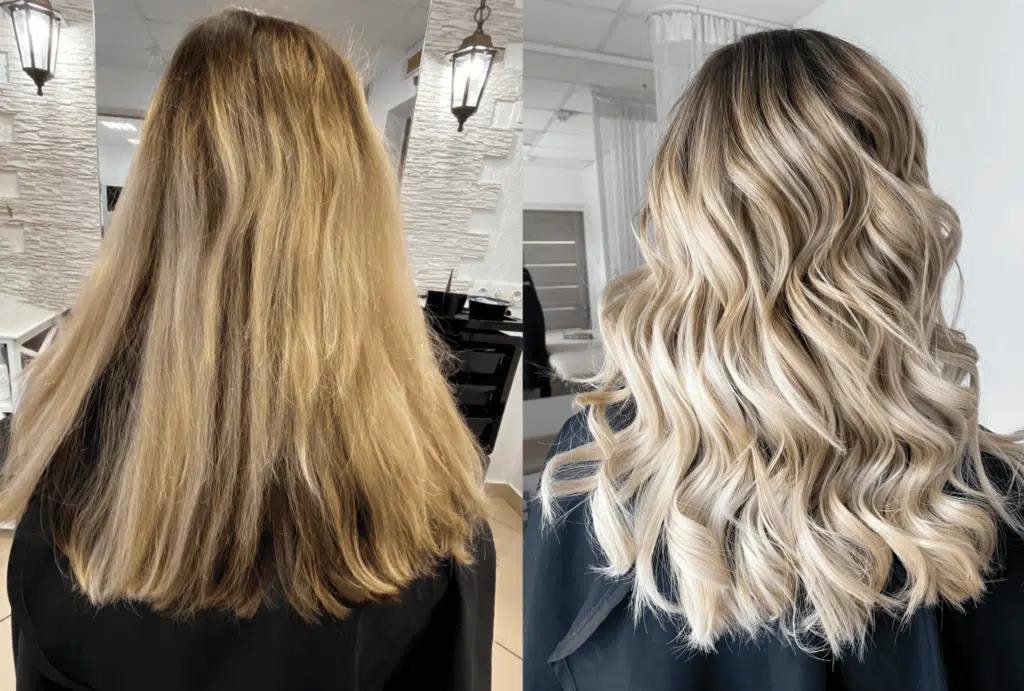 Showcasing before and after photos opens our post ideas for hair salons – and for a good reason: it is one type of content that thrives in the beauty industry and engages your target audience like no other type of content.
Firstly, showing transformation photos is a great way to demonstrate the skills of your stylists, which can encourage potential customers to book a hair appointment.
Secondly, it's a great way to build trust among social media followers who may be considering booking an appointment with your salon. Seeing the amazing results of your services can help customers feel confident that you will do a good job and make them look their best.
Finally, having before and after photos is perfect for enhancing social media presence because it is eye-catching and engaging. It also keeps the content in your profile fresh.
Don't forget, before creating such posts, to ask for your client's permission to share the photos on Facebook, Instagram, and other social channels. Gain consent before sharing how great they look!
2. Help followers care for their hair at home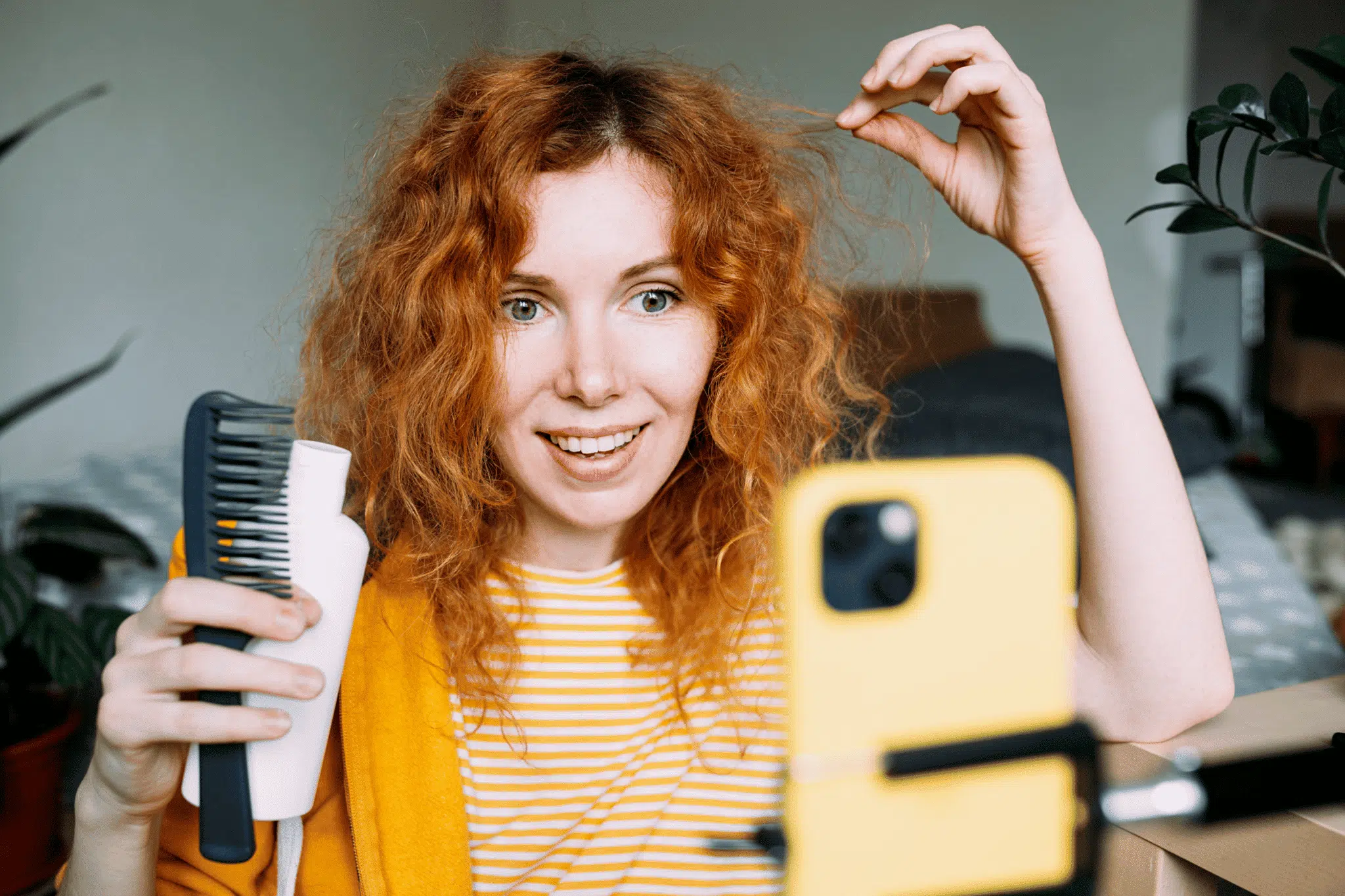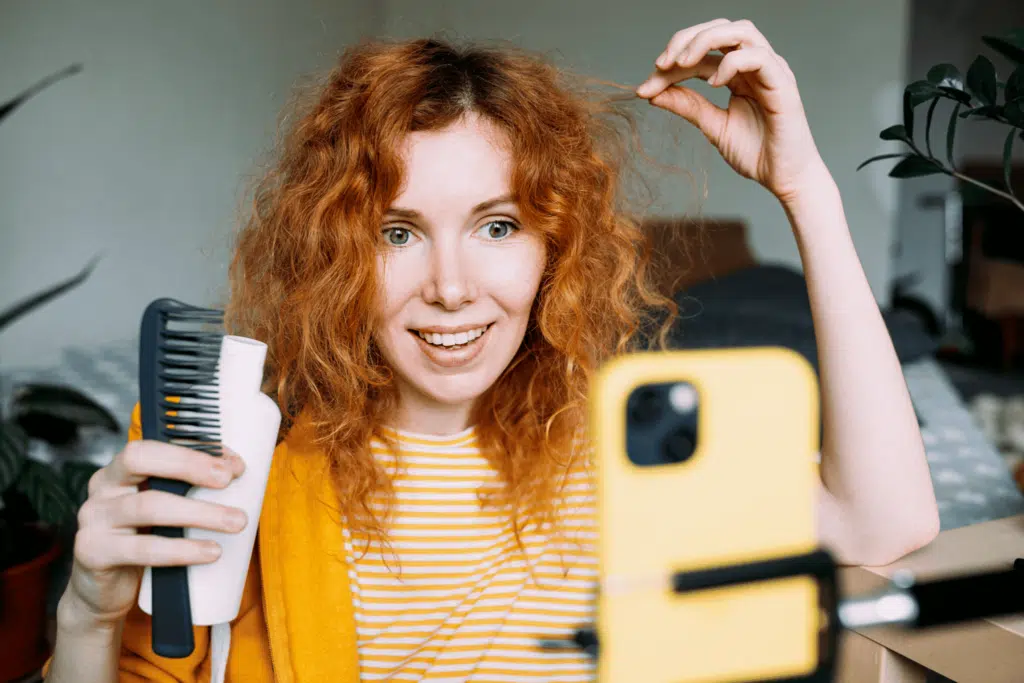 Educating potential clients about how to care for their hair at home can help them keep their hair looking great until they book an appointment to visit your salon.
You could create blog posts that provide useful hair care tips, as well as social media posts that showcase different hairstyles and offer advice on how to achieve them.
You could also share online advice on a few ways to use hair products and tools to get the best results. You can even show followers what not to do to help them avoid making mistakes that could damage their hair.
Educating followers is a great social media strategy. By doing so, you can ensure that they are taking proper care of their hair and provide them with the information they need to come
3. Celebrate the successes of your team with shoutouts.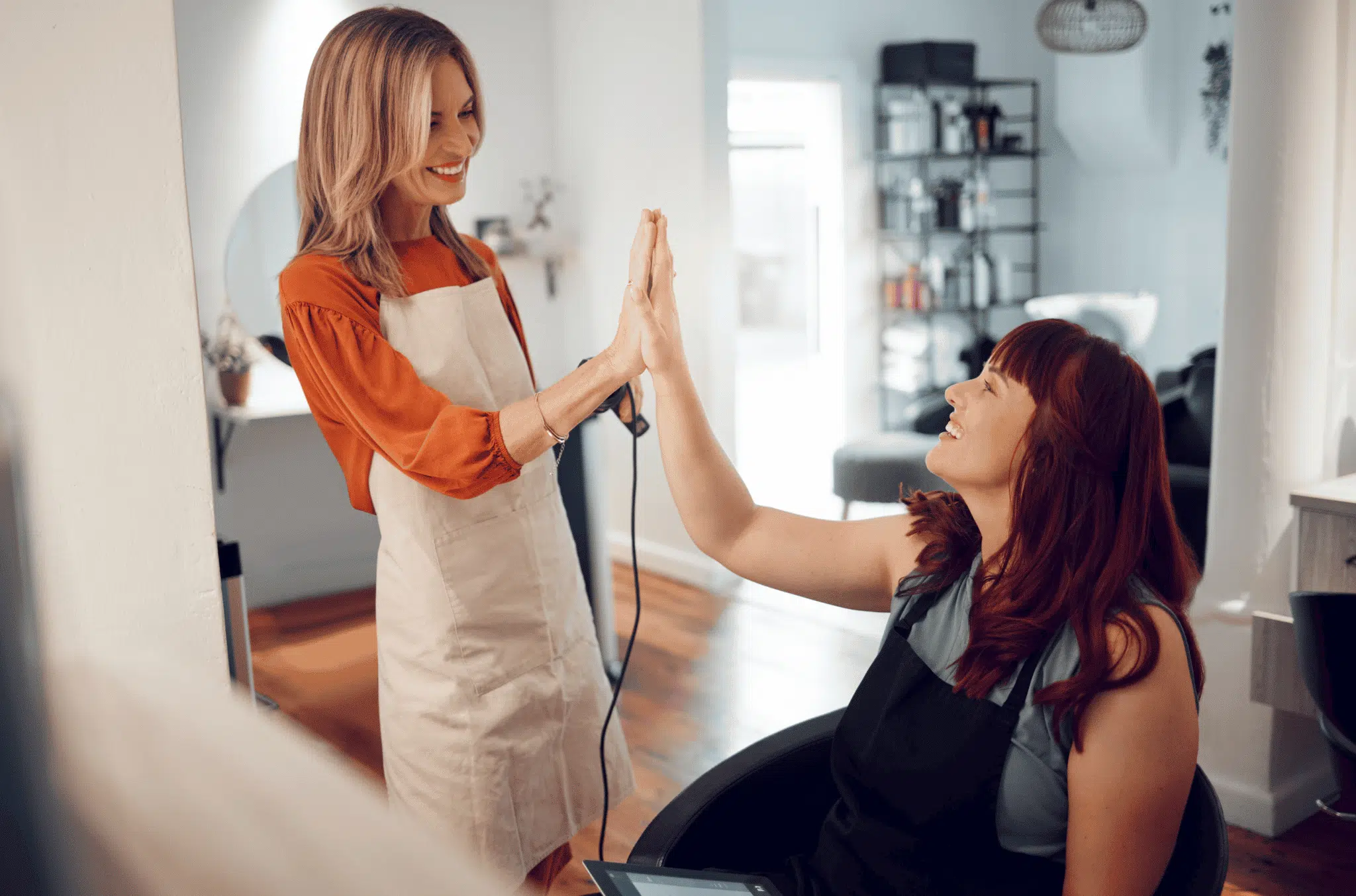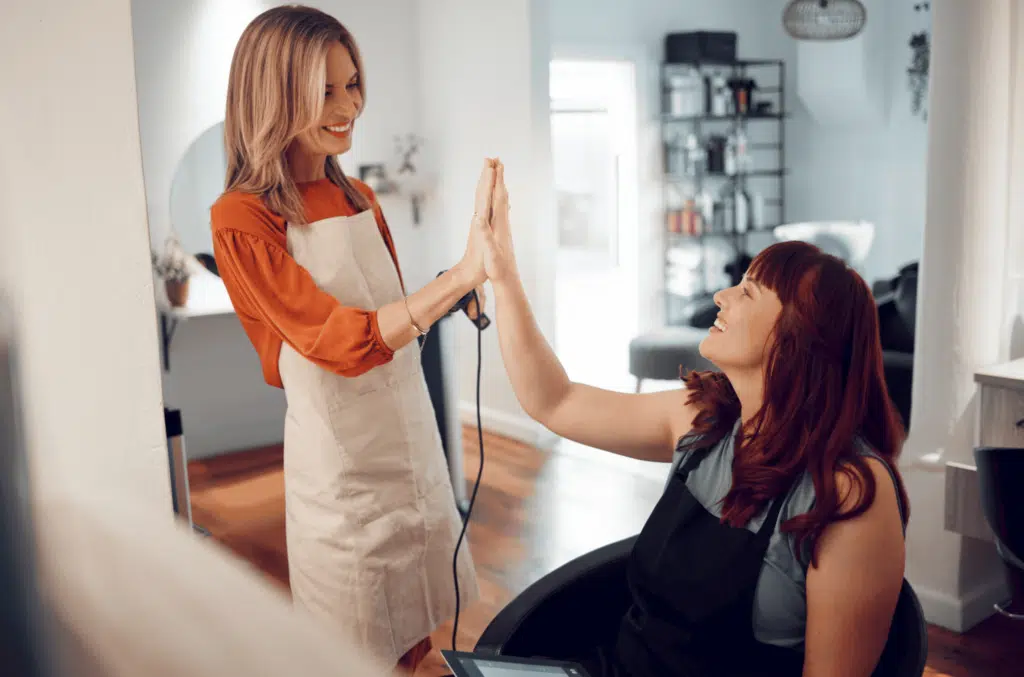 Without a team, you'd go nowhere, right? What better way to share that with your clients than by celebrating your staff's successes with shoutouts? Your posts can be used as an opportunity to recognize and applaud the hardworking stylists and staff at your salon.
You could post about their latest achievements, from awards they've won in contests or events, to incredible transformations that they have created. You can also post about how their individual talents contribute to the overall success of your salon.
Shoutouts are a great way to show social media followers that you appreciate your team, and it will make them feel appreciated as well. Plus, shoutouts can be a great recruitment tool for your business and encourage other talented stylists and staff to join your team.
4. Feature new hair products for sale in your salon.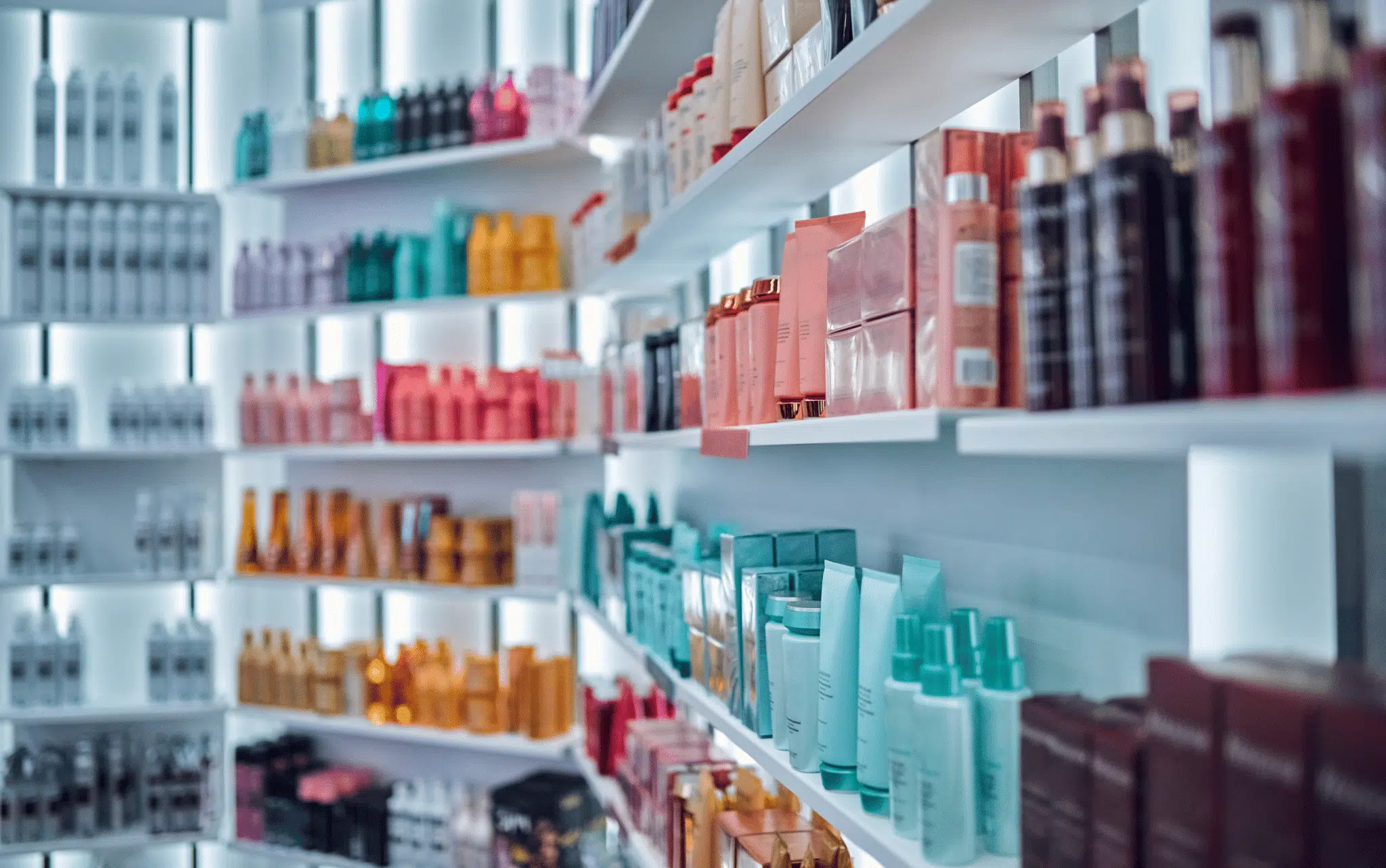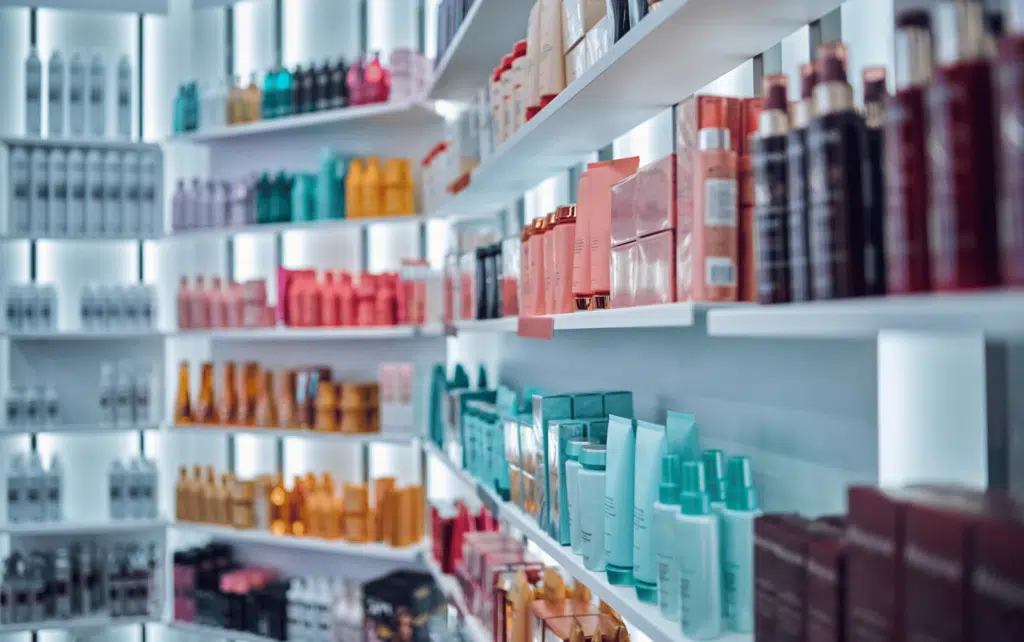 Featuring new hair products for sale in your salon is a great way to let your clients know about the latest haircare products that they should try out.
When you introduce new hair products, you could create video content highlighting their features and benefits. You can also include photos of the product in use to instigate social media followers to what it looks like using them.
Don't forget to include any special promotions or discounts that you may be offering on the products as well. This can encourage new clients to purchase the product and help you boost sales.
5. Organize hair styling-related product giveaways.
People love free stuff, so why not give followers the chance to win hair styling-related products from your salon?
Organizing product giveaways is a great hair salon social media strategy to boost engagement and attract potential customers. You could choose one product or multiple products from your salon announcing the giveaway.
You can also use encourage people to tag their friends in the comments or share your giveaway.
Product giveaways are a great way to attract new clients and reward existing ones for being loyal customers. Plus, it can be an effective way to get people interested in the products that your salon has to offer.
6. Provide advice on event-related hairstyles.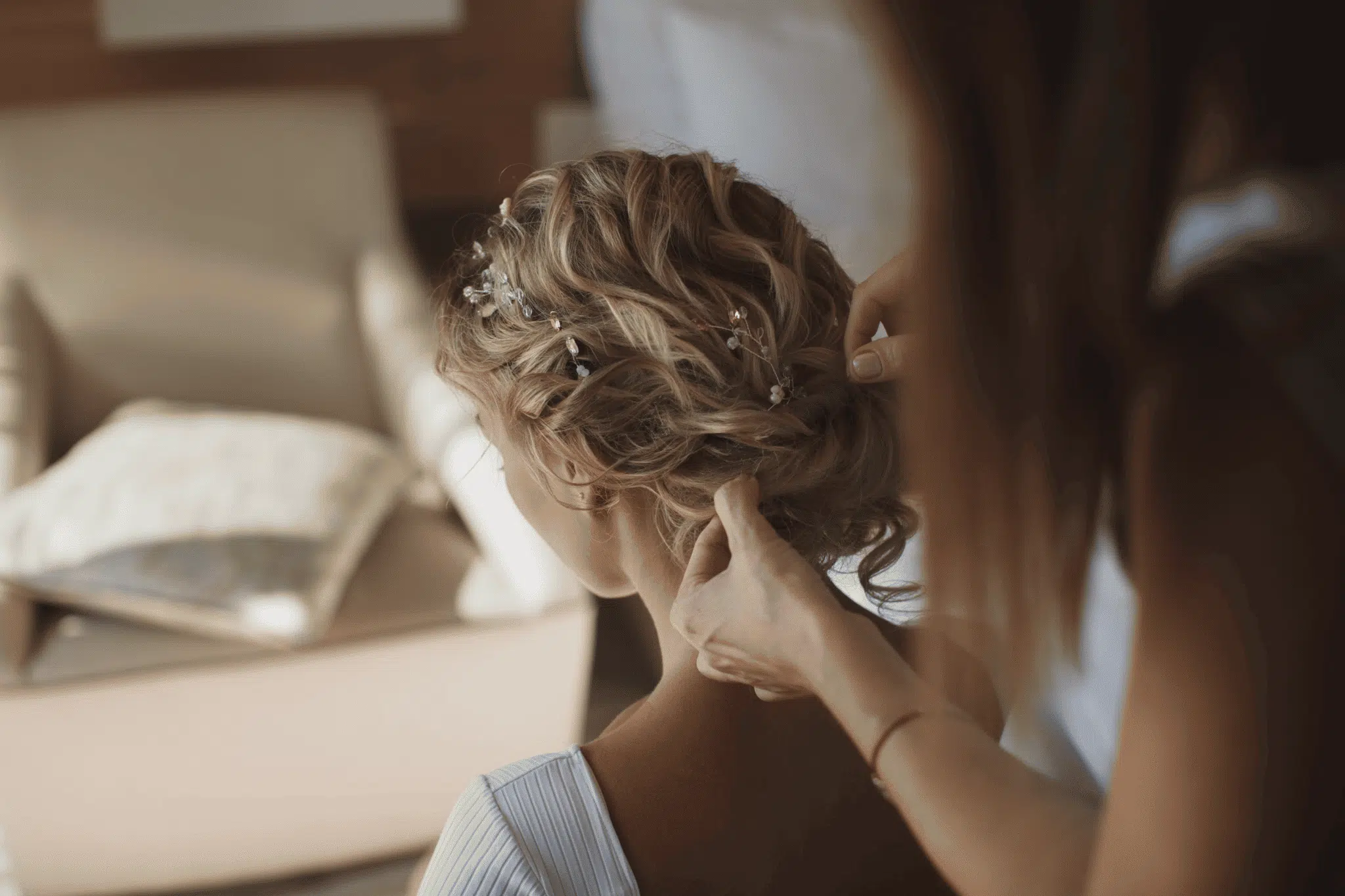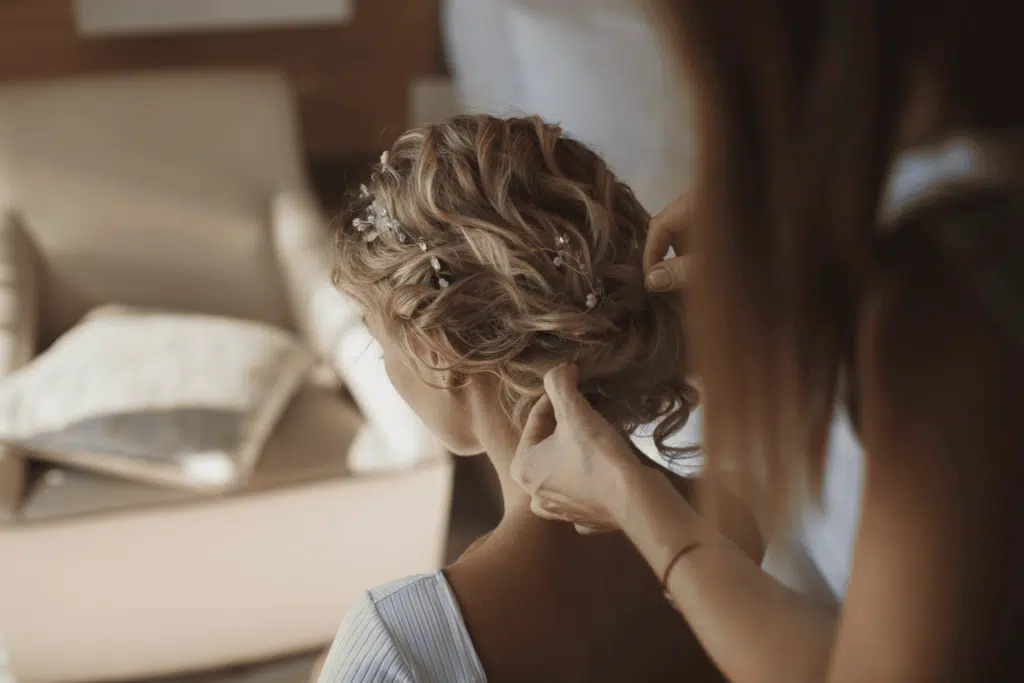 Choosing the right hairstyle for a special occasion can be overwhelming. You can use Facebook, Instagram, and others to provide followers with useful advice on how to choose the perfect hairstyle for any look or event.
You could post about different hairstyles and showcase the looks you have created in your salon. You could also create posts with advice on how to style hair according to face shape or occasion.
Providing social media followers with the information they need to choose a hairstyle that's right for them can give them confidence and make sure that they look great when they attend special events.
7. Share photos of the behind-the-scenes action.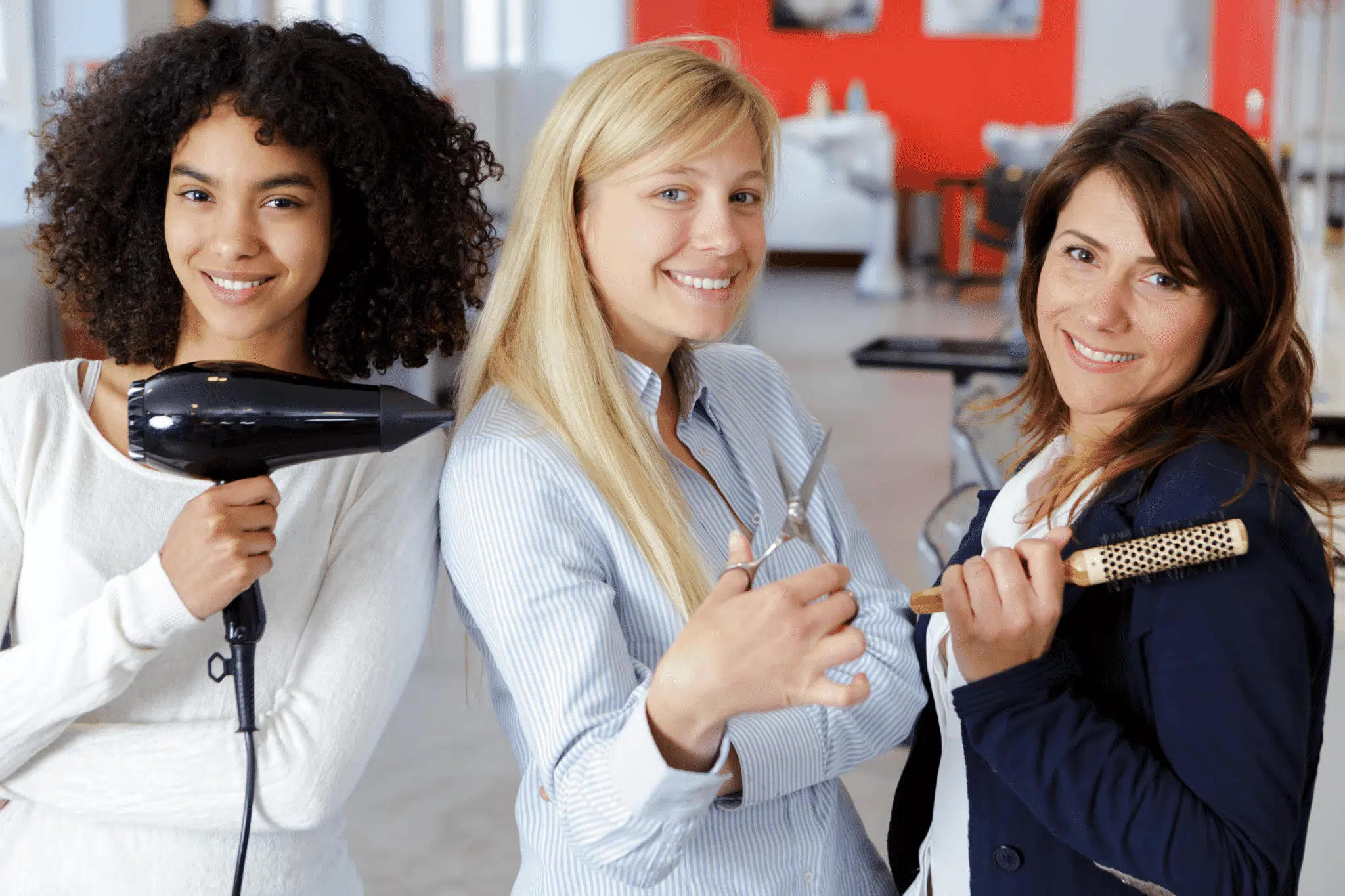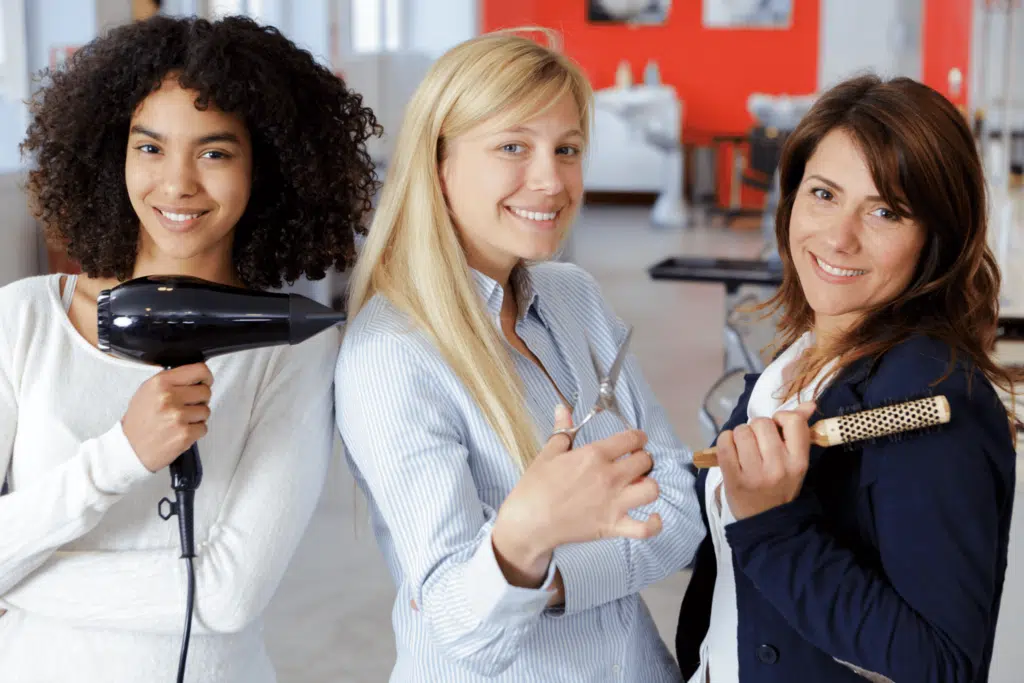 Some beauty professionals – like makeup artists – build entire YouTube channels based on sharing behind-the-scenes action. Let's face it: who doesn't love to see what goes on behind the curtains? You could post photos of hairstylists at work, team buildings, and time-off, showcase different looks you or your team created, or videos of clients having treatments done.
Sharing these photos and videos will give social media followers an insight into your business and help them get to know your team. It will also explain to followers an idea of the types of services that you offer and the results they can expect.
By showcasing the work that goes on in your salon, social media followers are more likely to come to you for their hair needs or book an appointment for a treatment.
8. Share customer reviews on social media.
Our eighth social media marketing tip falls along the lines of a before x after transformation. The difference is, this time it isn't you talking about it. It's your clients.
Sharing customer reviews is the fast lane to demonstrating that your salon provides quality services. You could share testimonials from new clients or existing ones who have been pleased with their hair styling experience at your salon, or even photos of the results they achieved.
You can also post positive comments from Facebook, Instagram, or TikTok that have experienced great services at your salon. This will help followers develop trust in your salon, and make them more likely to visit or book an appointment.
9. Post tips for achieving a trendy style.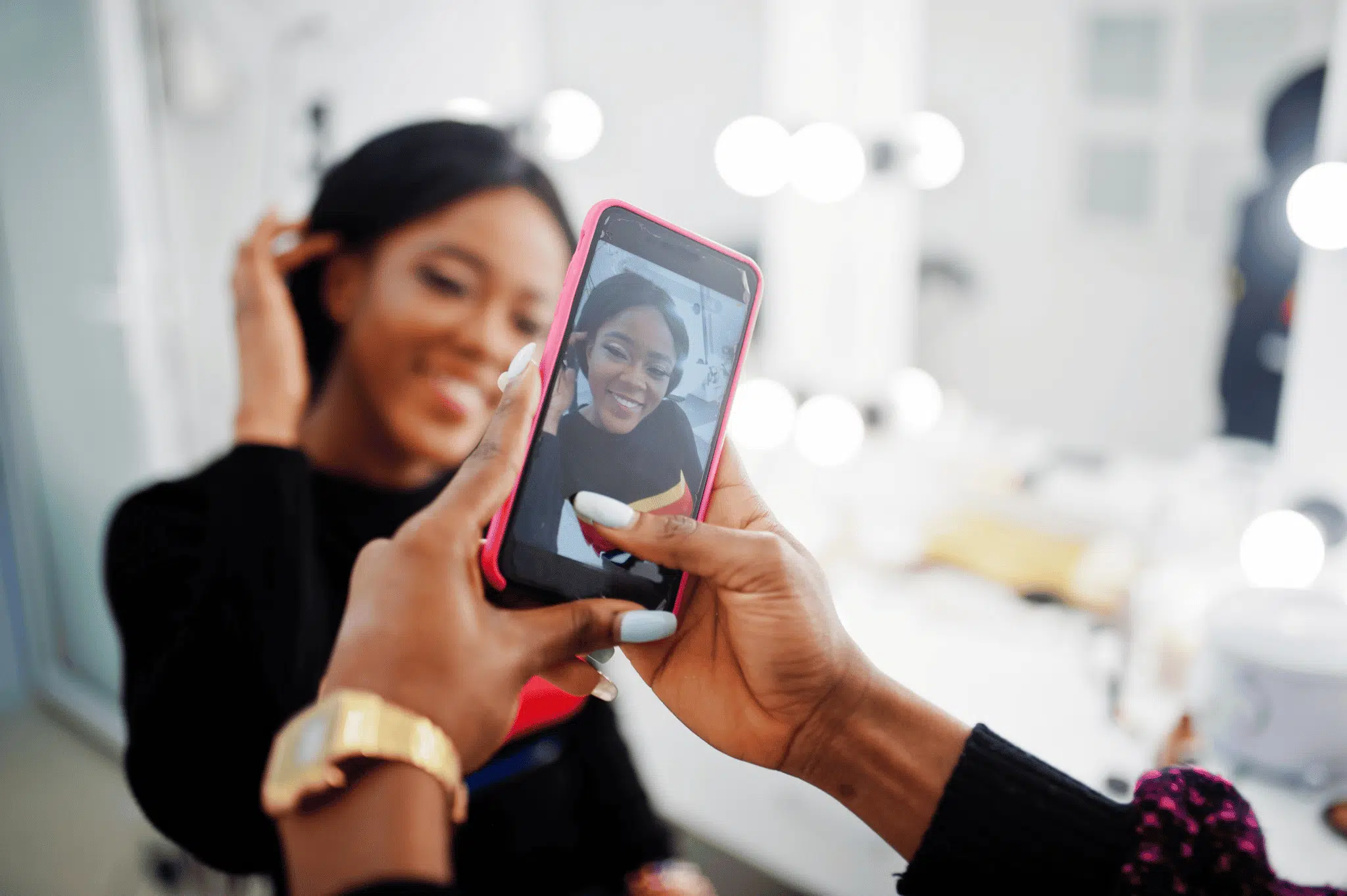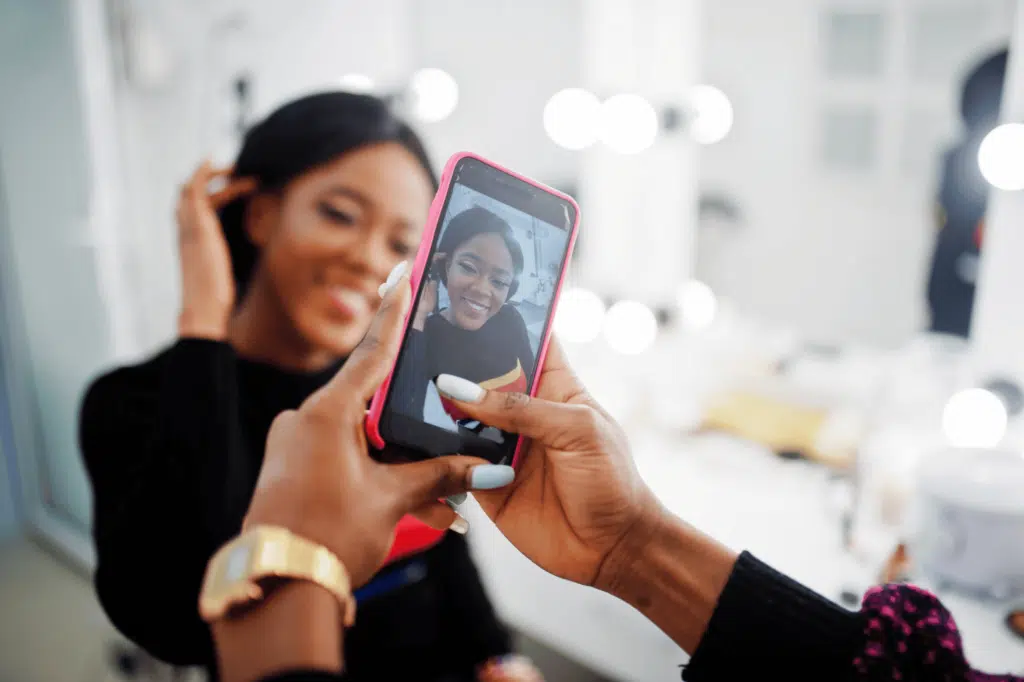 It can be difficult to stay up to date with the latest hair trends, so why not provide useful beauty tips? You could post tutorials or guidance on how social media followers can achieve a particular look.
You could also create posts with different hairstyle looks and inform about what products they need to achieve the look. By helping your audience learn how to style their hair, you can draw attention to your salon and give new confidence in choosing a hairstyle.
These salon social media marketing tips will help you effectively promote your hair salon business.
10. Create social media quizzes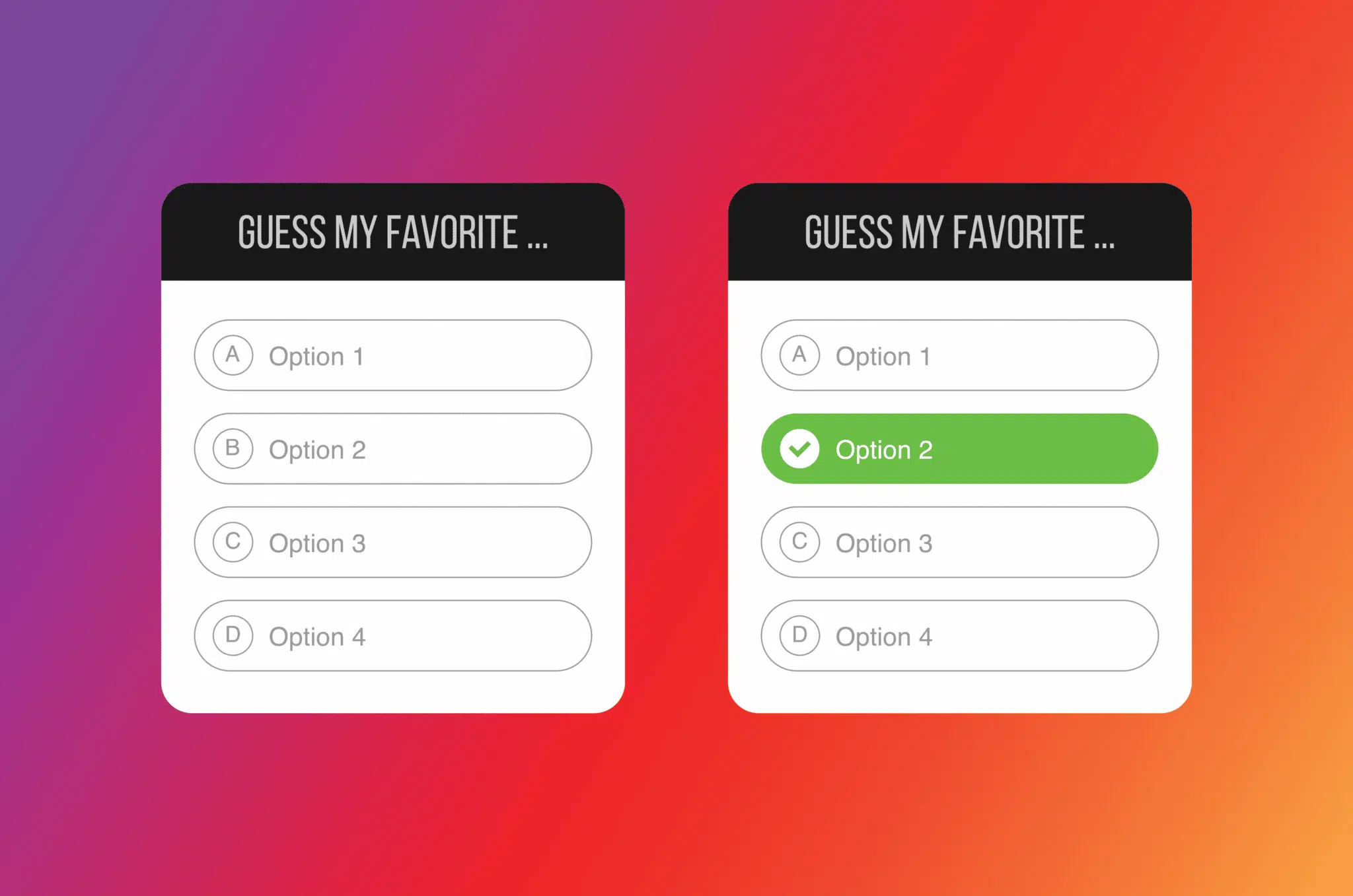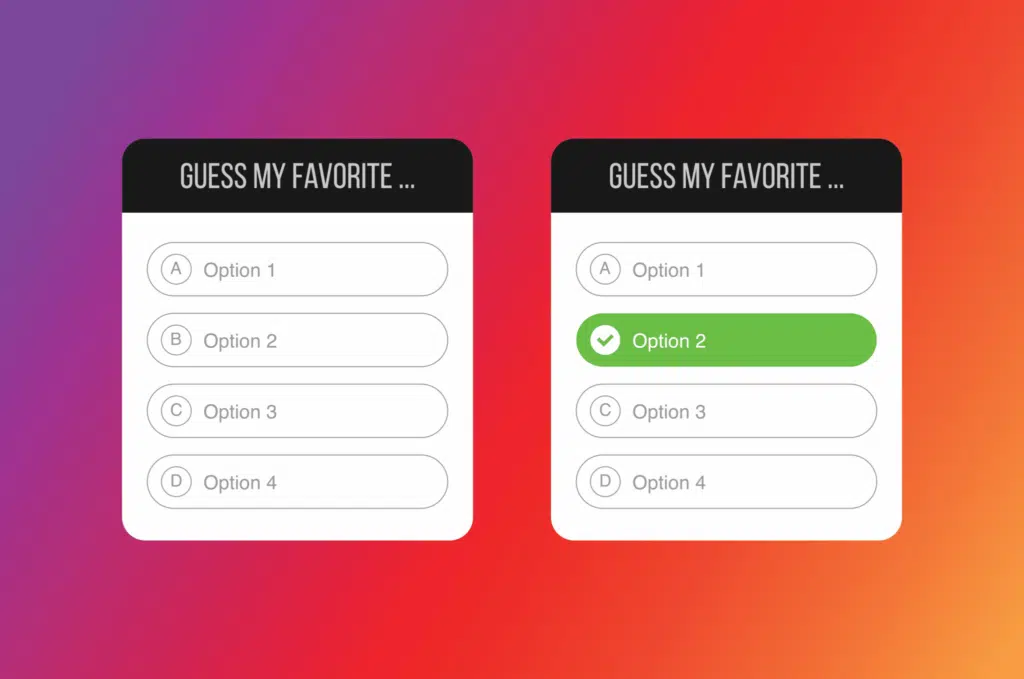 Who doesn't like to be able to speak their mind online? A great way to encourage your clients to engage with your social media channels is to create quizzes.
These days, many social media platforms allow the creation of quizzes. Facebook started it out, but the feature is very popular on Twitter, Instagram, Youtube, and TikTok.
Quizzes are a great way to engage with followers and give them an opportunity to interact with your salon in a fun, light-hearted way. You can create quizzes about hair styling and maintenance tips, or even have your audience guess the latest trends.
Creating social media quizzes will not only get followers interested in your salon but also help spread awareness of your services to their friends. This way, you'll be able to reach out to new potential customers and keep existing clients.
11. Post about events that your salon is hosting or participating in.
Another social media marketing tip for hair salons is to post about events that your salon is hosting or participating in. This could include trade shows, special promotional days, workshops, charity events and more.
By posting about these events on your social media pages, you create a sense of community among followers and show them what type of activities are going on in your hair salon. You can also invite clients to come and attend these events or participate in any promotional offers that you may have.
By doing this, social media followers will be able to get more involved with the activities at your salon and will be more likely to return for a visit or book
12. Share user-generated content.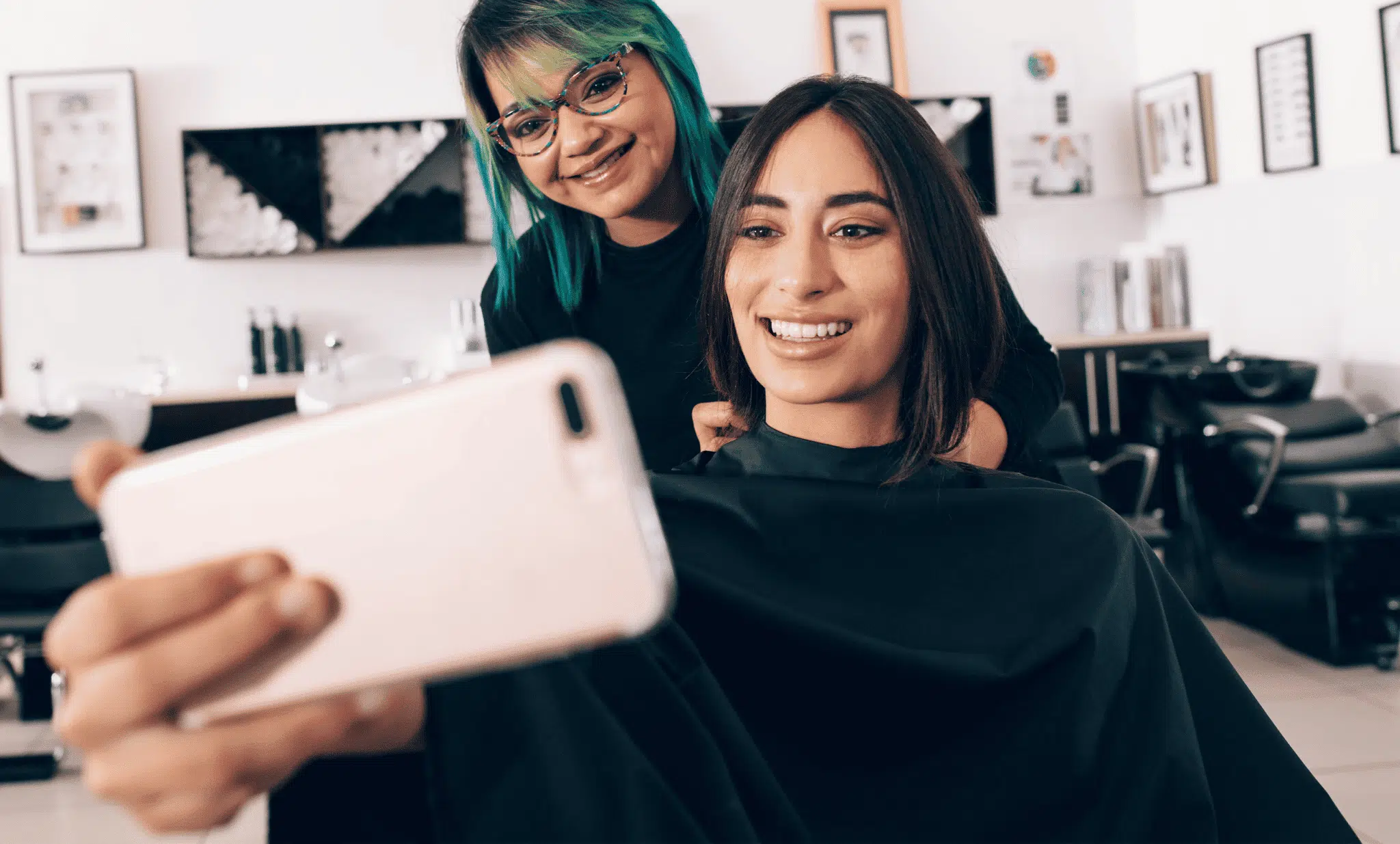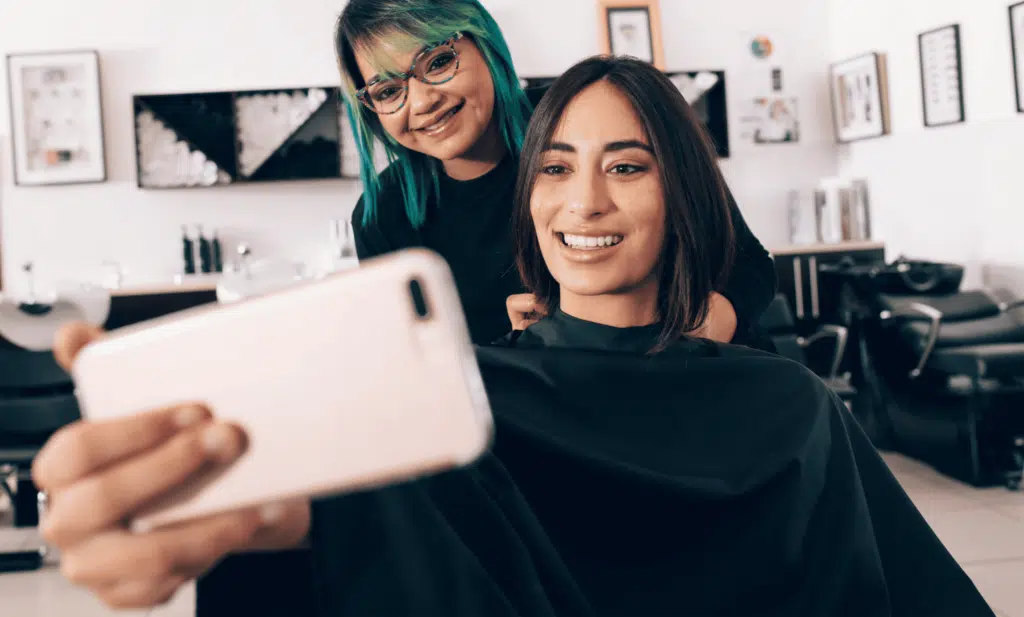 Next in line for our 15 salon marketing ideas for hair salon social media is user-generated content – also known as UGC.
Essentially, user-generated content is information created by social media followers. It can be pictures, stories, reviews and other types of content that your followers create themselves.
User-generated content that is relevant to your target audience – such as a step-by-step guide to a certain style a follower created based on tips you gave – when shared on social media platforms, creates a twofold effect.
First and foremost, it provides value to your followers and clients because the content itself is something that can help your clients. Second, it helps boost brand image and word-of-mouth- effect, as it showcases how happy and engaged social media followers are with the services you offer. This can lead to more bookings and visits by potential customers.
When sharing user-generated content, be sure to give credit where credit is due and thank the person or persons involved for creating the content.
13. Highlight social causes and charities that your salon supports.
We all want to be part of social causes and charities that are important in our life.
This is why it's important to highlight social causes and charities that your salon supports on social media. By doing this, a broader audience can gain an insight into the values and beliefs of your hair salon business and will be more likely to engage with your account.
For example, if your salon is donating to a local charity, let people know by sharing the cause on the likes of Instagram, and Facebook. You can also give back to social causes by hosting special fundraisers or offering discounts for certain social causes.
Needless to say, work with social causes you truly support, not only to build awareness around your grand. This should be a natural process, and ultimately, about the deeds themselves.
14. Cross-reference other social media platforms.
If you already own a Facebook page, an Instagram account and a Twitter profile, why not use each one of these social media channels to boost another?
Cross referencing is a great social media marketing strategy for hair salons, as it helps you reach out to your ideal client from different platforms
One good way to attract new followers from one of your hair salon's social media to the other is by leaving a few key contents exclusive to each platform. For example, you might leave some Quizzes exclusively on Facebook and Twitter, some before X after transformations on Instagram and TikTok, and some how-to guides on YouTube.
15. Promote hair salon last-minute slots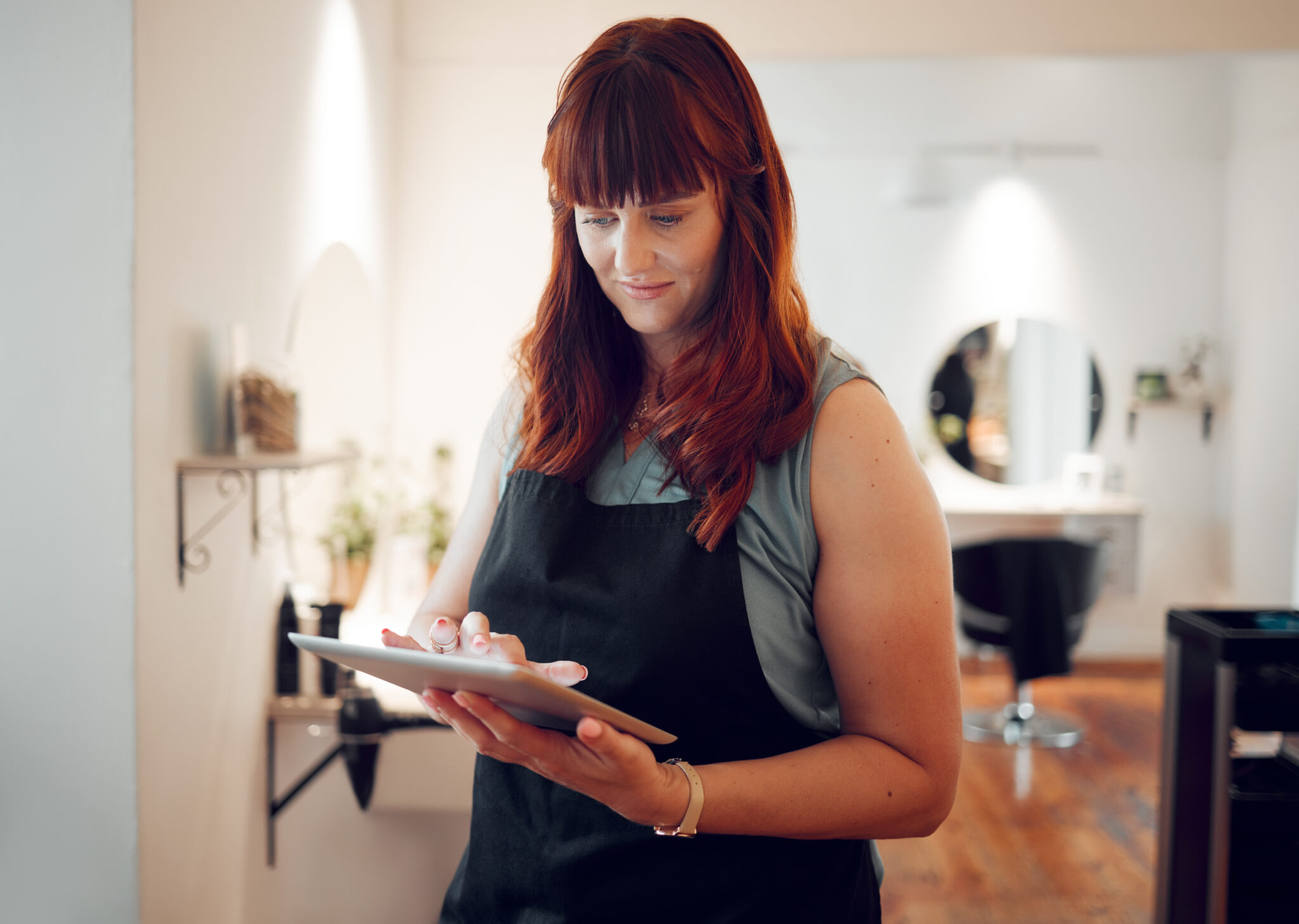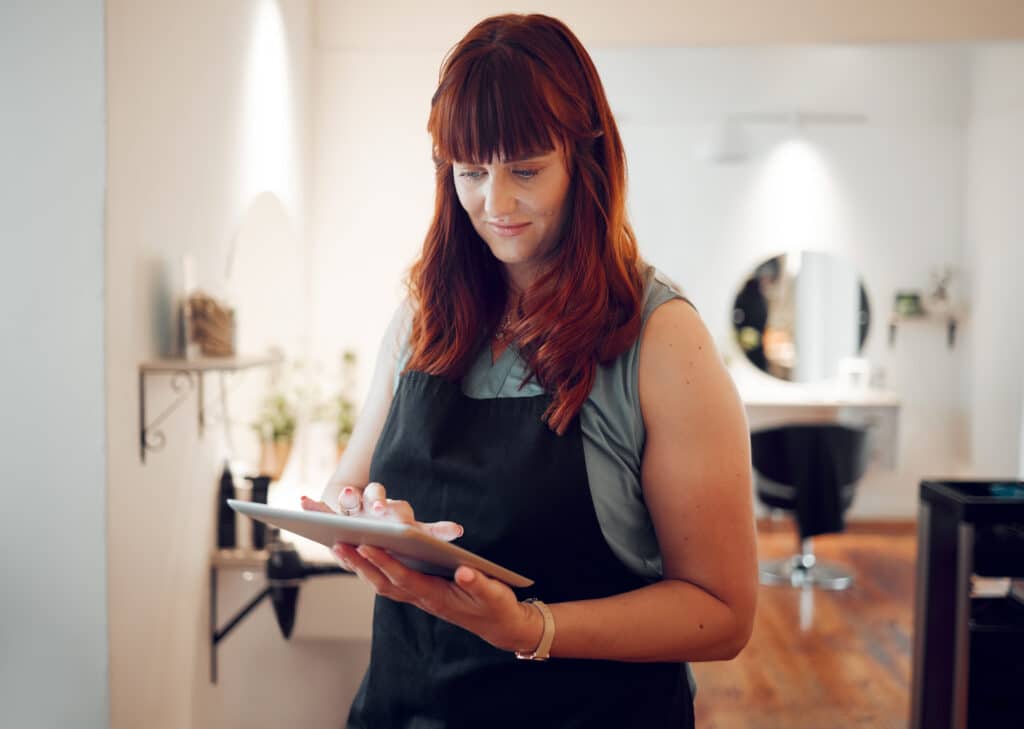 Whether a busy holiday is coming or you want to fill in empty slots for the day, social media followers will appreciate it if you inform them about any last minute slots.
One way of doing this is by setting up social media alerts, either on Twitter or Instagram, whenever a hair salon slot opens up that can be filled instantly. Let followers know when there are last-minute discounts or any offers that they can avail of.
The key is to make sure social media followers know that these slots exist and why they should take them. This will help in increasing customer engagement and getting more appointments for your hair salon business.
16. Research and use the right hashtags for your salon business
Hashtags can be incredibly powerful social media marketing tools for hair salons. They promote content discovery and help you reach a broader audience.
It's important to use the right hashtags when promoting hair salon-related content on social media. To do this, research popular hashtags that are relevant to your business and then use them in social media posts. Instagram can be a great source of inspiration to this social media strategy.
You can also create your own unique hashtags that loyal clients can use when posting about their experiences at your salon.
17. Advertise group deals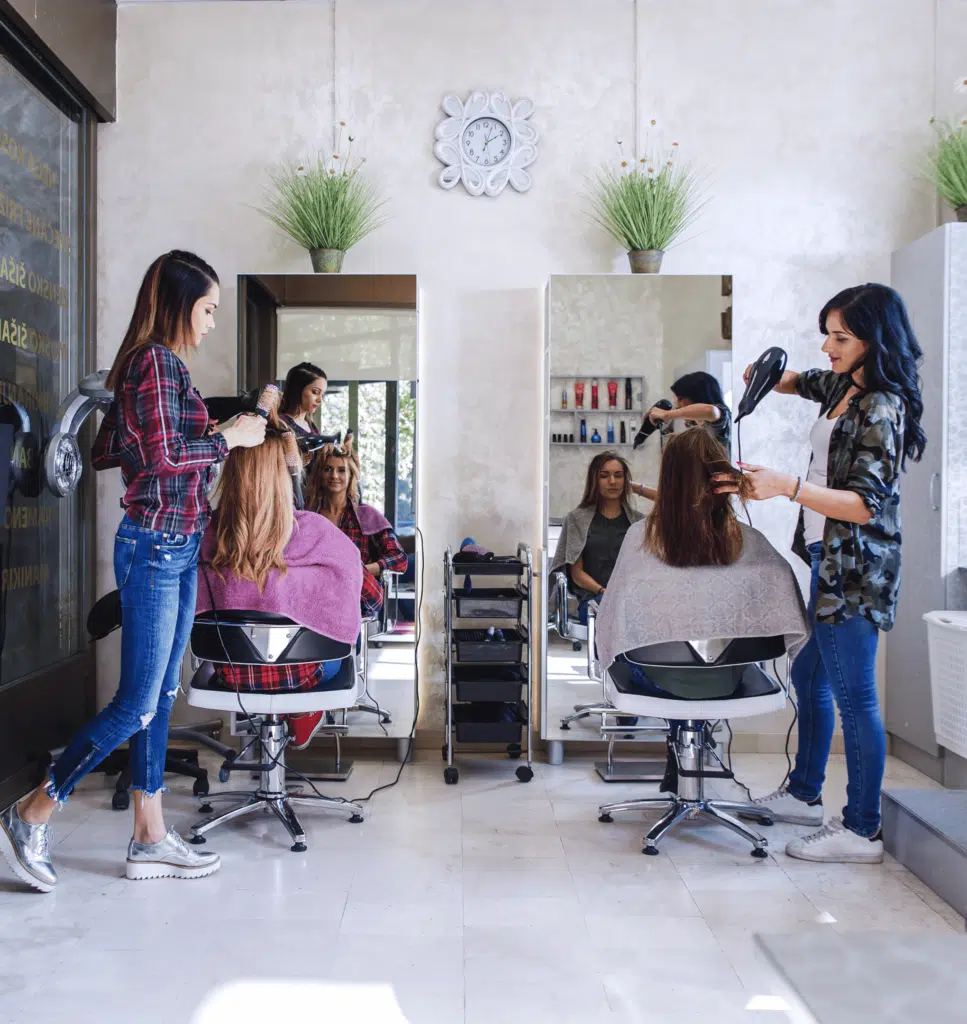 Group deals can be great social media marketing strategies for hair salons. Discounts or offers on social media platforms like Groupon and LivingSocial can be shared with social media followers, making it more attractive to schedule an appointment at your hair salon.
You can also create special group deals yourself by offering discounts when social media followers book in groups. This will not only help you get more customers, but potential clients will also be more likely to stay tuned to your social posts in the future.
18. Partner up with other salon owners
Partnering up with other salon owners is an effective social media marketing strategy.
You can create collaborations with other hair salons – that share a similar brand voice and their physical salon isn't necessarily a direct competitor – and share eye catching imagery about each other.
Simply posting some of your partner's best work – while they do the same in turn – can boost social media presence from both sides, especially if both audiences like the content shared.
You can also feature each other's services as a package, which can help to increase customer engagement and generate more revenue for your hair salon business.
An interesting idea would be to post on each salon social media a picture of each of you getting a hair style, for example.
19. Invest in video content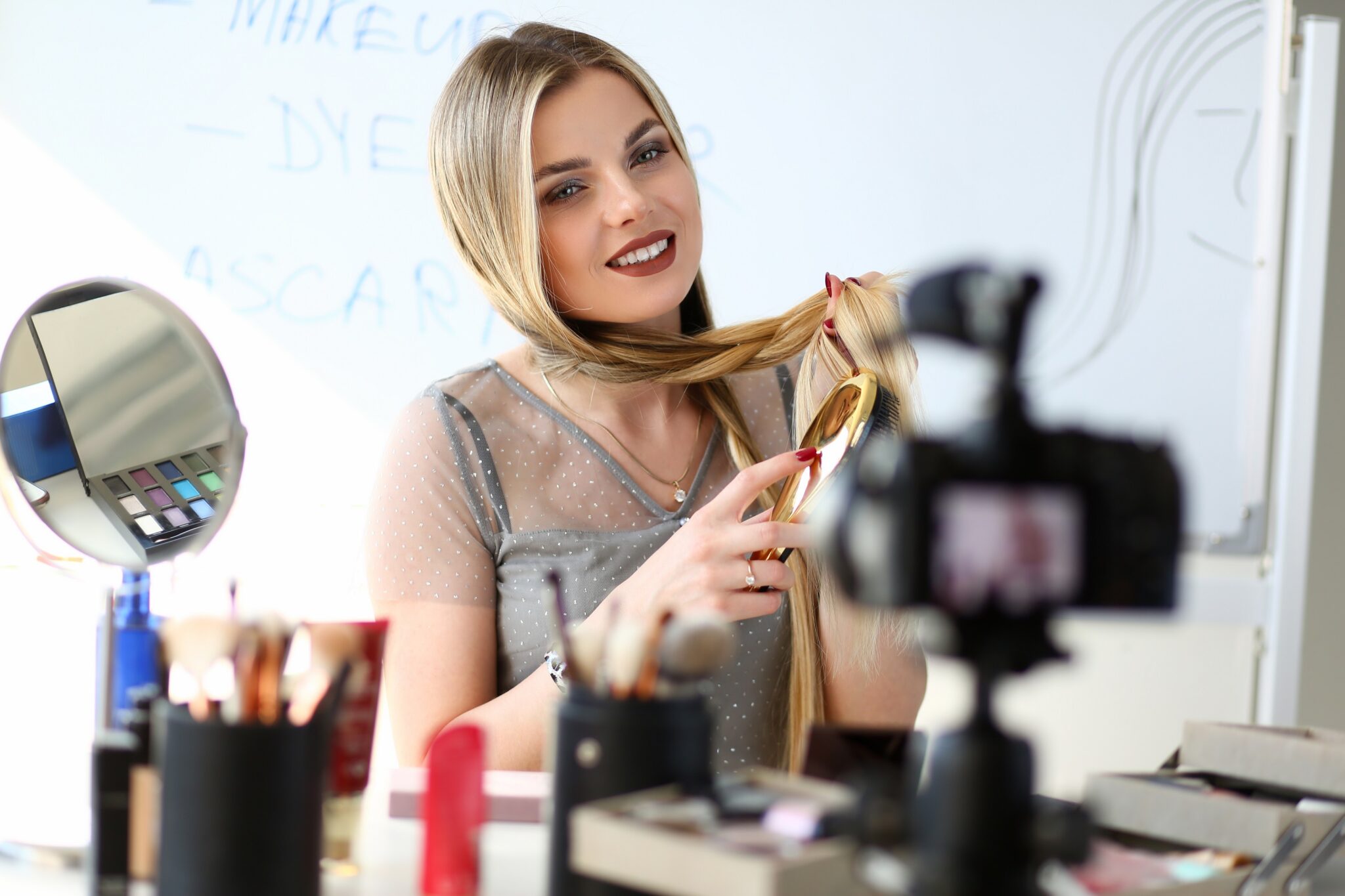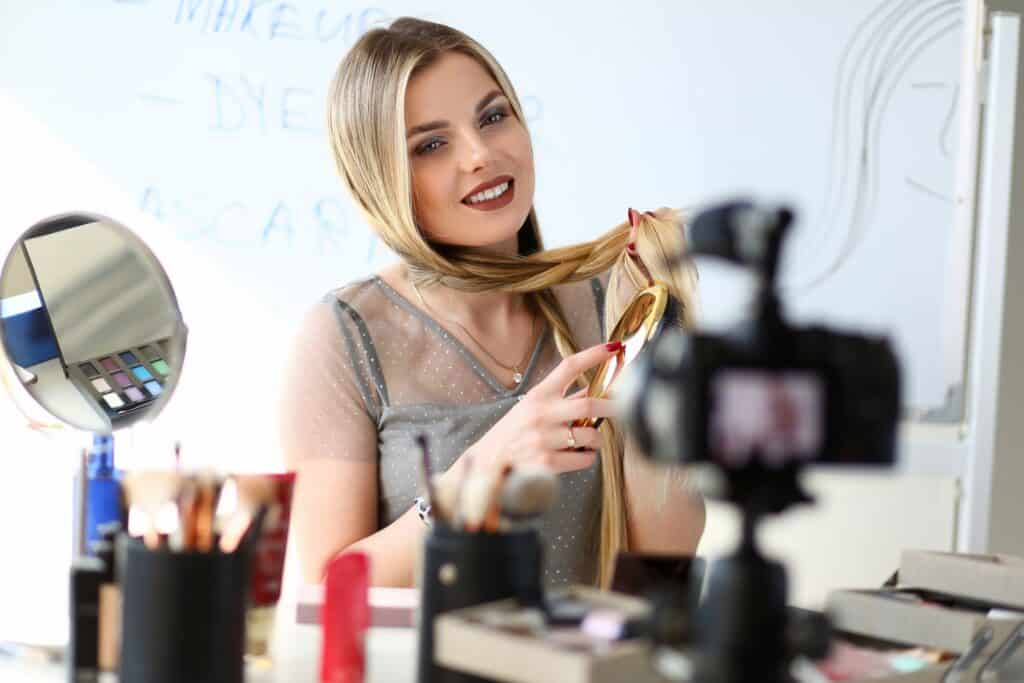 If in the one hand you should post pictures about your work – and this is a relatively simple type of content – you should also consider investing in more complex content.
Video content, for instance, can be a great salon social media marketing strategy for hair salons. Videos are particularly powerful when it comes to social media engagement and have the potential to reach a far wider audience than pictures or written content, as they tend to grab attention quickly.
20. Help customers plan upcoming haircare appointments with scheduling tools
Finally, one of the best social media marketing strategies for hair salons is to help customers plan their upcoming haircare appointments with helpful reminders and scheduling tools.
By reminding social media followers about upcoming haircare appointments, you can easily boost bookings and visits to your salon. This also helps social media followers stay organized so they don't forget about their haircare appointments.
Just remember that your Facebook account, for example, isn't the right place to receive bookings. With so much content present in social channels these days, it will definitely feel overwhelming to try to book a new hairstyle while also interacting with cute cat photos.
One of the greatest hair salon marketing ideas is to actually manage your appointments on an Appointment Scheduling software.
Appointible is one such tool that could help you transform your salon's social media strategy into lead generation tools. Feel free to check it out and create a forever-free account.
Conclusion
Social media marketing for hair salons is a great way to increase exposure and interest in your services. By implementing the salon social media strategies outlined above, you can create content that resonates with your client, attract new customers and grow your hair salon business.
Start by figuring out which social media channels are best for your hair salon and use them to share useful and engaging content. Don't forget to highlight social causes and charities your hair salon supports, cross reference your salon's social media accounts, and help customers plan upcoming haircare appointments with helpful reminders and scheduling tools.
Moreover, you can always find more hair salon marketing ideas right here at Appointible. Feel free to check it out.