If you landed on this page, you are likely about to start your journey as a new hair salon owner. We welcome you, dear beauty entrepreneur, to the world of cash flow statement, market analysis, business management, and marketing strategy.
Having your own salon is a wild ride, and we at Appointible want to help you start on the right foot (aka, beauty salon business plan).
In today's article, we will present a hair salon business plan outline, from defining your services to growing a healthy business.
We also support the idea that a beauty salon business plan should be rich but straightforward enough that salon owners can see clear, actionable steps; thus, we include things like tools and resources and leave others out, such as an executive summary.
Step 1: Define your hair salon services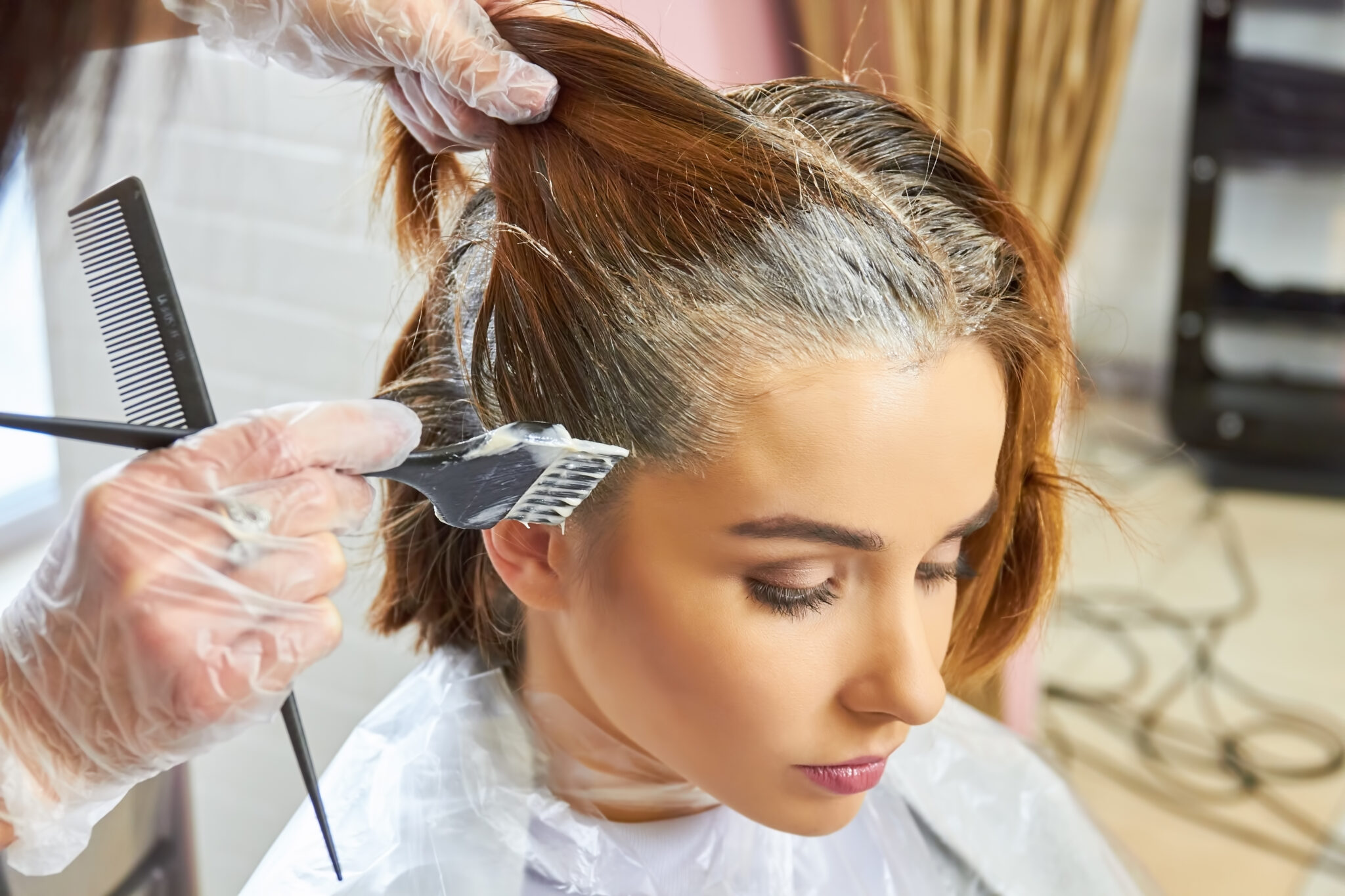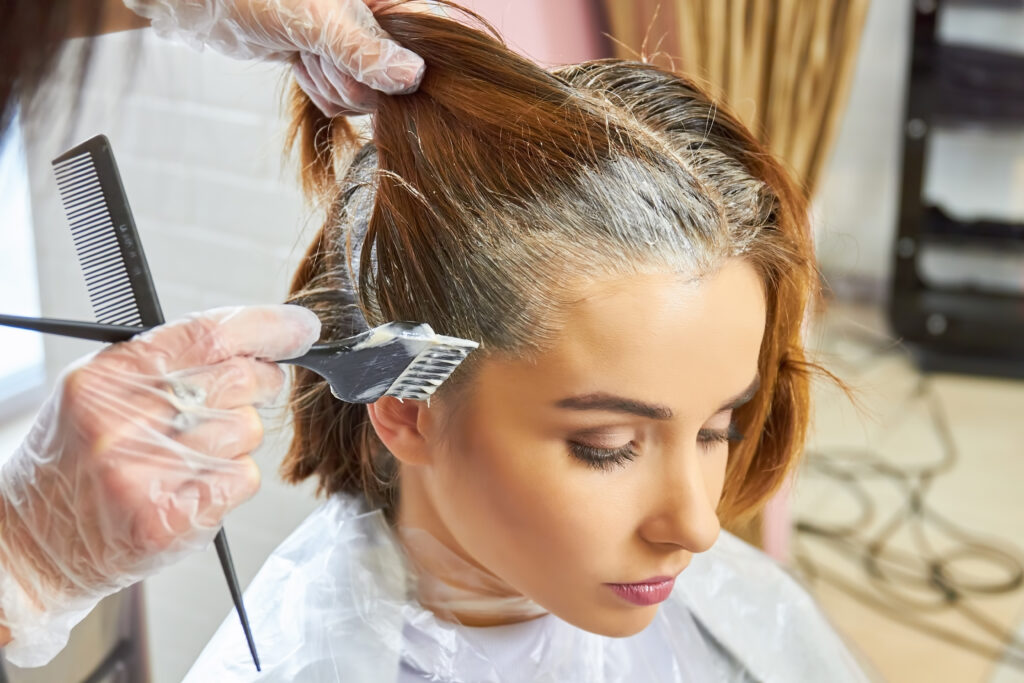 The first step in building a business plan for your salon starts with defining your services. You may already have an idea of the hairstyles and services you want to offer, but it's essential to consider some critical factors before finalizing your offerings.
Some of these factors are easy to understand, while others may require more attention, so in this section of the article, we will go through each of them.
List what you know how to do (and what you don't)
Start by creating a list of all the hair styling services you can provide. List what hair-cutting styles and hair-care services you can perform. Consider all your certifications, work experience, and others to build your list.
Then, list the hair and beauty services that you lack the knowledge to perform. It can be that you miss the required qualifications or is just out of practice; either way, list them as things you can't offer at your new salon.
If there are gaps in your knowledge that you want to cover, mark them distinctively, as we will come back to courses, training, and certifications later in this article.
Decide if you will hire employees.
Deciding whether you will hire employees – and how many – depends on your budget as much as on your business goals. We already discussed in Appointible how to assess if you need to hire employees for your salon business, so be sure to check that one out.
Nonetheless, a more minor salon may only require a couple of employees, such as a stylist or assistant. In contrast, a larger hair salon business may need a bigger team to manage multiple services, as well as tasks such as cleaning, reception, and marketing.
Take a peak at competitor salons.
When it comes to listing your hair salon services, your local competition is a great place to start. Start by analyzing what different hair cutting, hair care, and beauty services the competition offers, as it will give you an idea of what the local market expects from a hair salon.
This step of your beauty salon business plan should start from your immediate competition – neighborhood or city – but not leave out important salons from other parts of the state or country.
Keep up with industry trends.
It's crucial to stay up-to-date with the latest trends in the hair industry to give your salon a competitive advantage. Following trends not only ensure that your business remains relevant but it also helps attract and retain clients.
Consider subscribing to trade magazines and blogs that cover the latest news and developments in the hair industry. This comprehensive list of beauty blogs ( https://bloggingtips.com/best-beauty-blogs/ ) from Blogging Tips gives an idea of where to start. Attending conferences, trade shows, and workshops is also an excellent way to learn from other professionals and get insights into the newest techniques, products, and services.
This knowledge can help you tailor your offerings to meet the changing demands and preferences of your clientele.
Step 2: Create a detailed financial plan
Now that you have a clear idea of your target market, what services you will provide, and a general idea of at what price point, it is time to start building a financial plan for your hair salon.
Needless to say, you will need much more than a business bank account and card to call it a day and claim you have a financial plan in place. Let's see in this step of the article how to effectively create a solid financial plan for your hair salon business.
A: Calculate your beauty salon budget
As we discussed previously in the article top 10 habits of successful businesses, a budget is telling your money where to go instead of wondering where it went. This mentality of always being equipped with a proper budget will go a long way on your road to success.
Here are some of the budget lines you might consider when you write a business plan.
For courses and certifications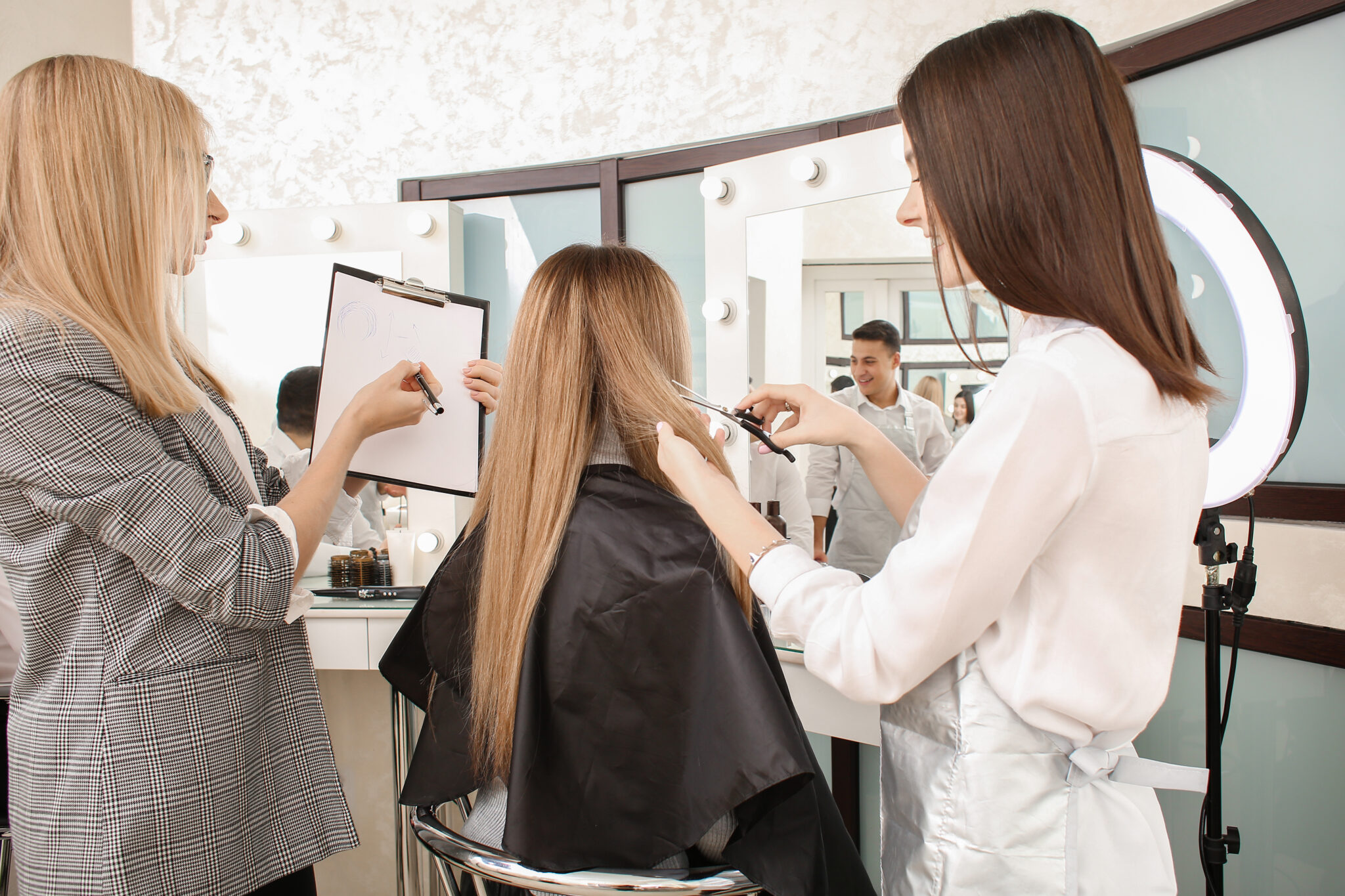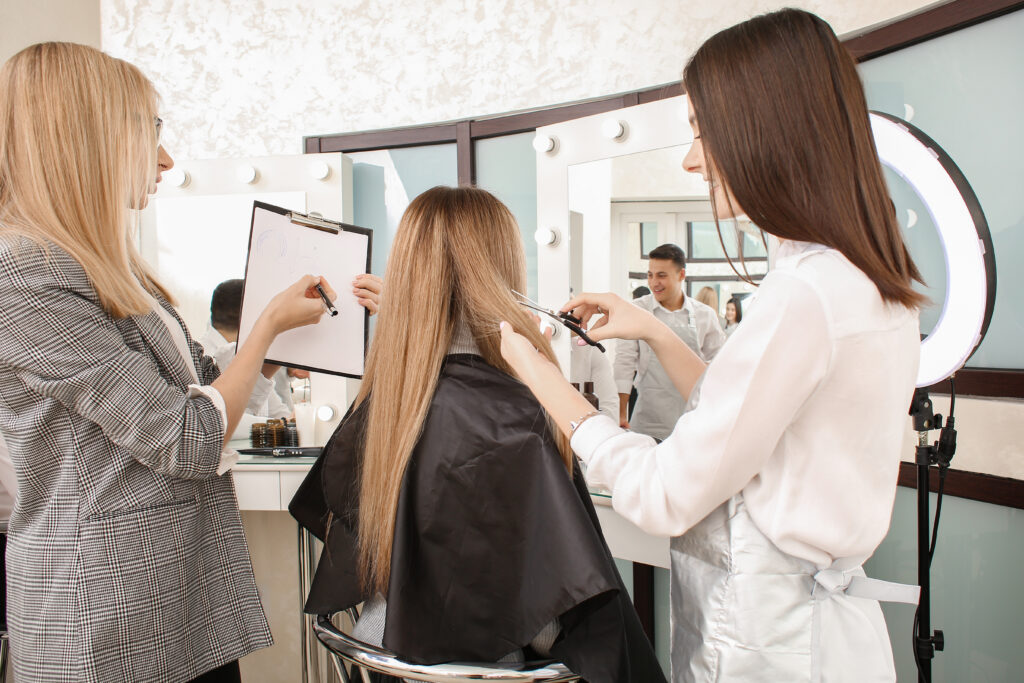 Earlier in this article, we had you write all the hair services you feel confident (or have the certification for) providing, as well as identify the gaps in your knowledge and what courses and learning paths you should take.
This is the moment of your salon business plan where your list of services and connect them to what courses and certifications you will need to invest in – whether for you or for employees.
Pro tip: plan ahead and save some recurring budget for learning for you, your stylists, and even your management team – some courses can be related to marketing, productivity, or other admin-related fields.
For a Hair salon business license
All legal business entities must have their respective licenses. Business licenses need to be paid and applied for, so the best way to deal with it is to contact a professional specialized in the beauty salon industry or approach the competent local chamber and institutions.
As licenses vary depending on location and specific services you offer, we can't provide an exact figure. Prepare a budget line for an expense of around $500.
For Utilities and rent
Another important budget line for a hair salon business plan is the cost of utilities and rent. Rent will likely be your largest recurring expense, so it's important to budget accordingly. You should research the average rent costs in your area and factor that into your budget, but you can expect to pay around $1000 to $2000 on rent alone.
Additionally, you'll need to consider the cost of utilities such as electricity, water, and gas. To save on utility costs, consider investing in energy-efficient appliances and lighting and making sure your space is well-insulated. You wouldn't believe how much these savings slowly add up in your finances.
For Hair salon equipment and supplies
You'll need to purchase equipment such as chairs, styling stations, hair dryers, and shampoo bowls, as well as supplies such as hair products, towels, and cleaning items. Create a list of all the salon equipment and supplies you will need, and then run market research.
Ideally, run a search on wholesale beauty e-commerce, such as www.salonwholesale.com . Alternatively, network with a local community of hair stylists and salons to get an idea of there are local suppliers that offer more competitive prices.
For marketing efforts
Marketing is a crucial aspect of any successful business, including a hair salon. It's important to allocate a budget for marketing efforts to reach prospective customers as well as retain existing clients. Think of social media, website development, ads in local outlets, etc.
To save on marketing costs, consider using free marketing channels such as social media and email marketing. You can also create your own marketing materials using free online design tools such as Canva.com or Visme.co .
For Hiring hair stylists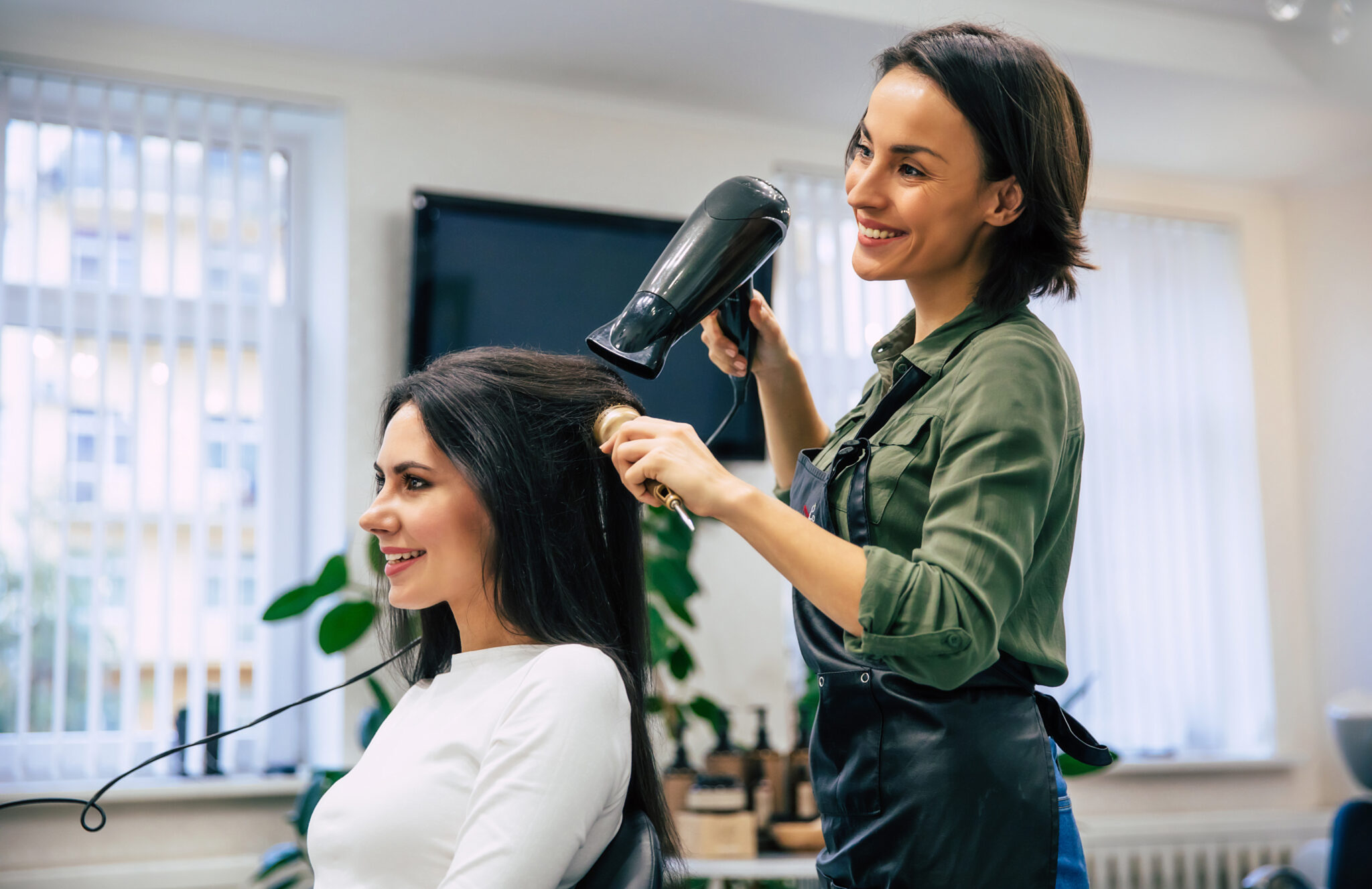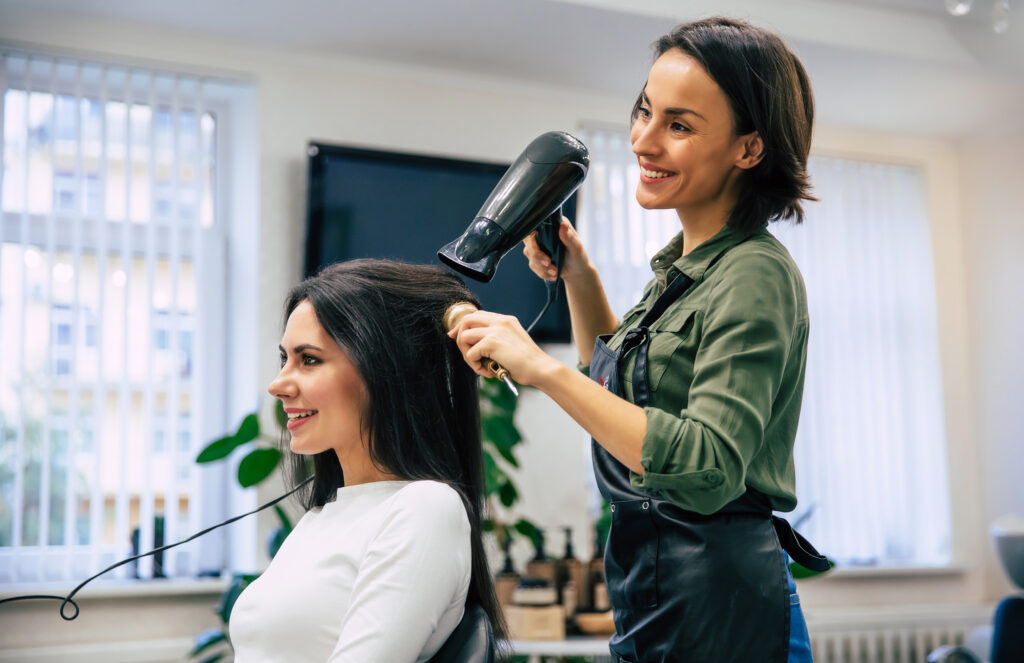 If you plan to hire hair stylists for your salon, you'll need to factor in the cost of hiring and onboarding new employees. This can include expenses such as job postings, recruiting fees, and training costs.
When budgeting for hiring, consider the average salary and benefits for hair stylists in your area. You may also want to factor in the cost of providing employee benefits such as health insurance and paid time off.
To save on hiring costs, consider using free job posting websites or social media to advertise open positions. You can also offer referral bonuses to current employees to incentivize them to refer qualified candidates.
It's important to have a clear understanding of your staffing needs and to create a hiring plan that aligns with your business goals. This will help you avoid overstaffing or understaffing your salon and ensure that you have the right team in place to provide high-quality services to your clients.
B: Calculate your rates and prices
Once you have a clear understanding of your salon's expenses, it's important to calculate your rates and prices in order to generate revenue and make a profit.
When setting your rates and prices, consider factors such as your expenses, your target audience, and your competitors' pricing. You should also consider the value of your services and the quality of your customer experience.
Here are some steps you can take to calculate your rates and prices:
Run a break-even analysis: This is the point at which your salon's revenue covers your expenses. To calculate your break-even point, divide your total expenses by the number of services you expect to provide each month.

Research your competitors' pricing: Research the pricing of other salons in your area that offer similar services. This will give you a sense of the market rate for your services.

Set your prices: Once you've determined your break-even point and researched your competitors' pricing, you can set your prices. Consider pricing your services slightly above the market rate to reflect the quality of your salon and the value of your services.

Review and adjust your pricing: It's important to regularly review your pricing to ensure that it aligns with your expenses and your business goals. You may need to adjust your pricing over time as your expenses or market conditions change.
Step 3: Build your brand and target market
Building a strong brand is essential for any successful hair salon business. A strong brand helps to create a loyal customer base and can differentiate your salon from competitors. Here are some steps you can take to build your brand and target market.
Define a good mission statement.
A mission statement is a clear and concise statement that defines the purpose and values of your salon. It should communicate the core values of your salon and what makes it unique.
To create a good mission statement, ask yourself the following questions:
What do you want to achieve with your salon?

What values do you want to communicate to your customers?

What makes your salon unique?
Once you have answered these questions, you can use them to create a clear and concise mission statement that reflects your salon's values and purpose.
Define your hair salon's ideal clients.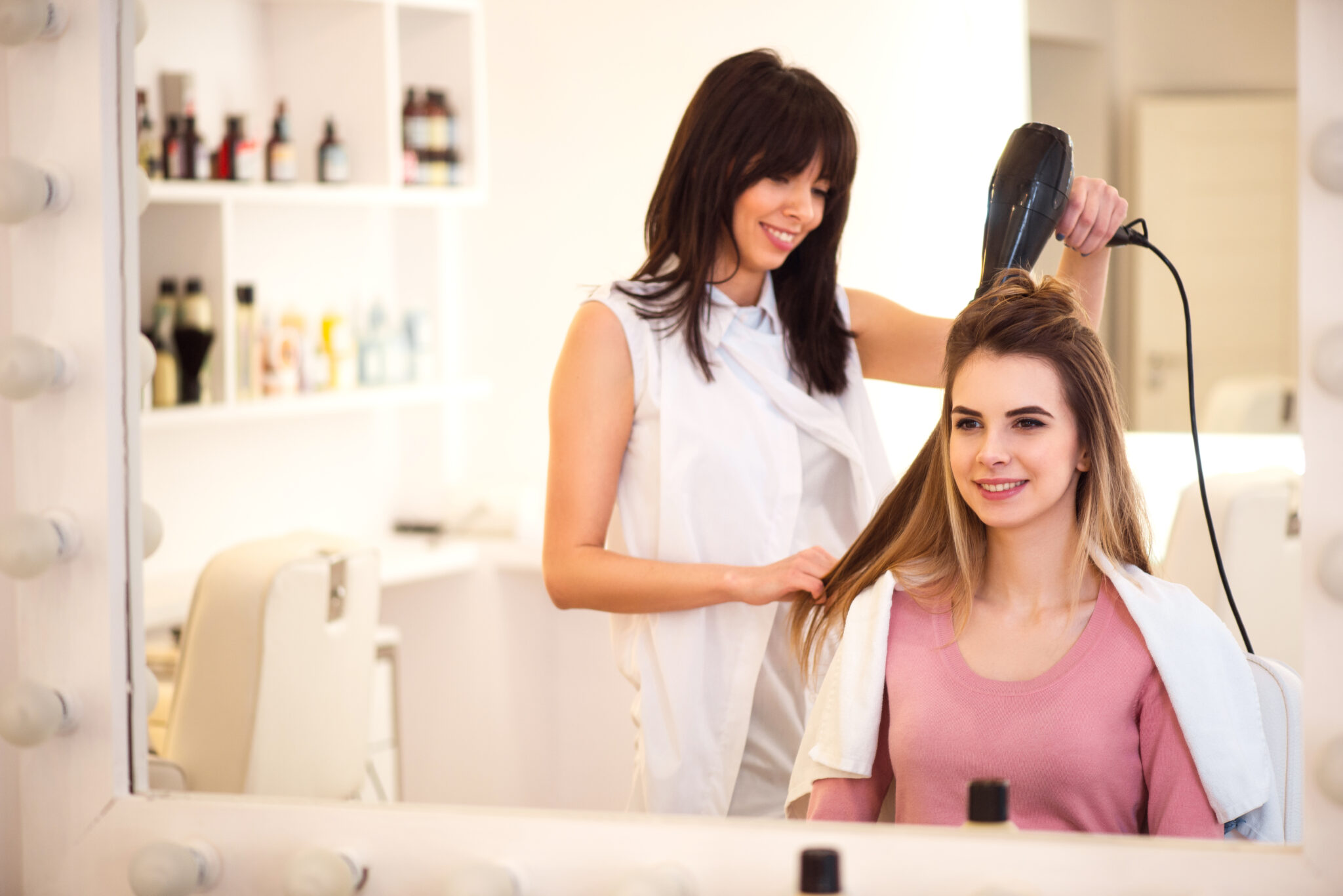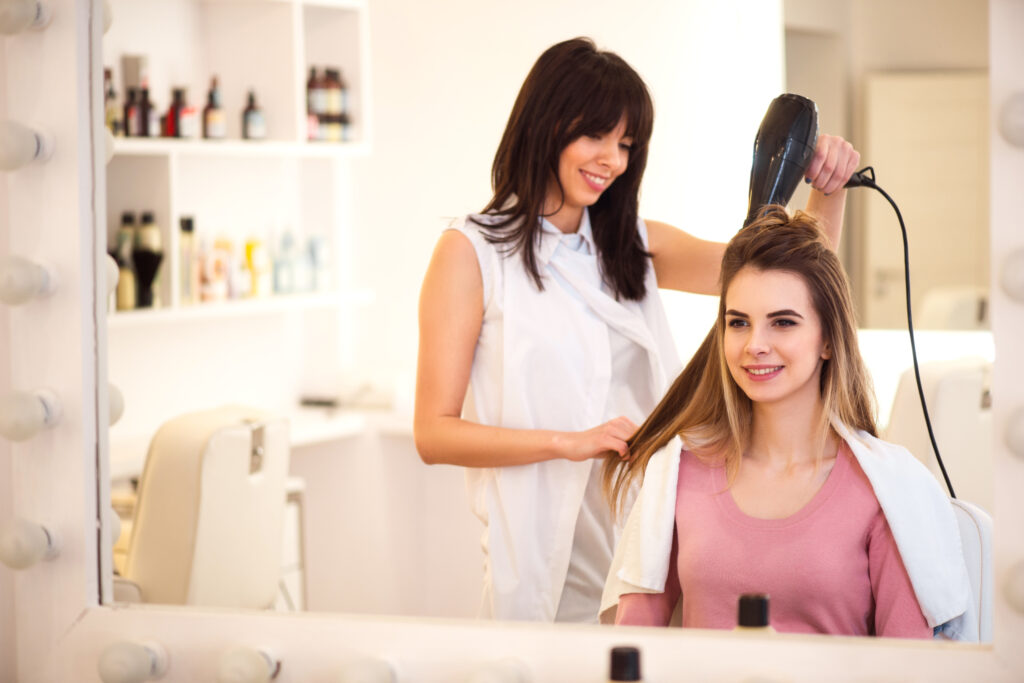 Defining your ideal clients is an important step in building your brand and targeting your marketing efforts. Knowing your ideal clients helps you to tailor your services and marketing messages to their needs and preferences.
To define your ideal clients, consider factors such as age, gender, income level, and lifestyle. You can also consider the types of services and products that your ideal clients are likely to be interested in.
With a defined ideal client, you can create marketing messages and promotions that resonate with them and attract them to your salon.
Define your hair salon's name.
Choosing a name for your hair salon is a vital part of brand-building – so much so that we wrote an entire article on picking a name for your hair salon. In short, your salon name should be memorable and reflect your salon's values and purpose.
When choosing a name, consider factors such as: What do you want your salon name to communicate to your customers? Is the name easy to remember and pronounce? Is the name available as a domain name and social media handles?
We highly advise you to read through the article above, as you will surely come out with a name fit for successful businesses.
Step 4: Pick your salon location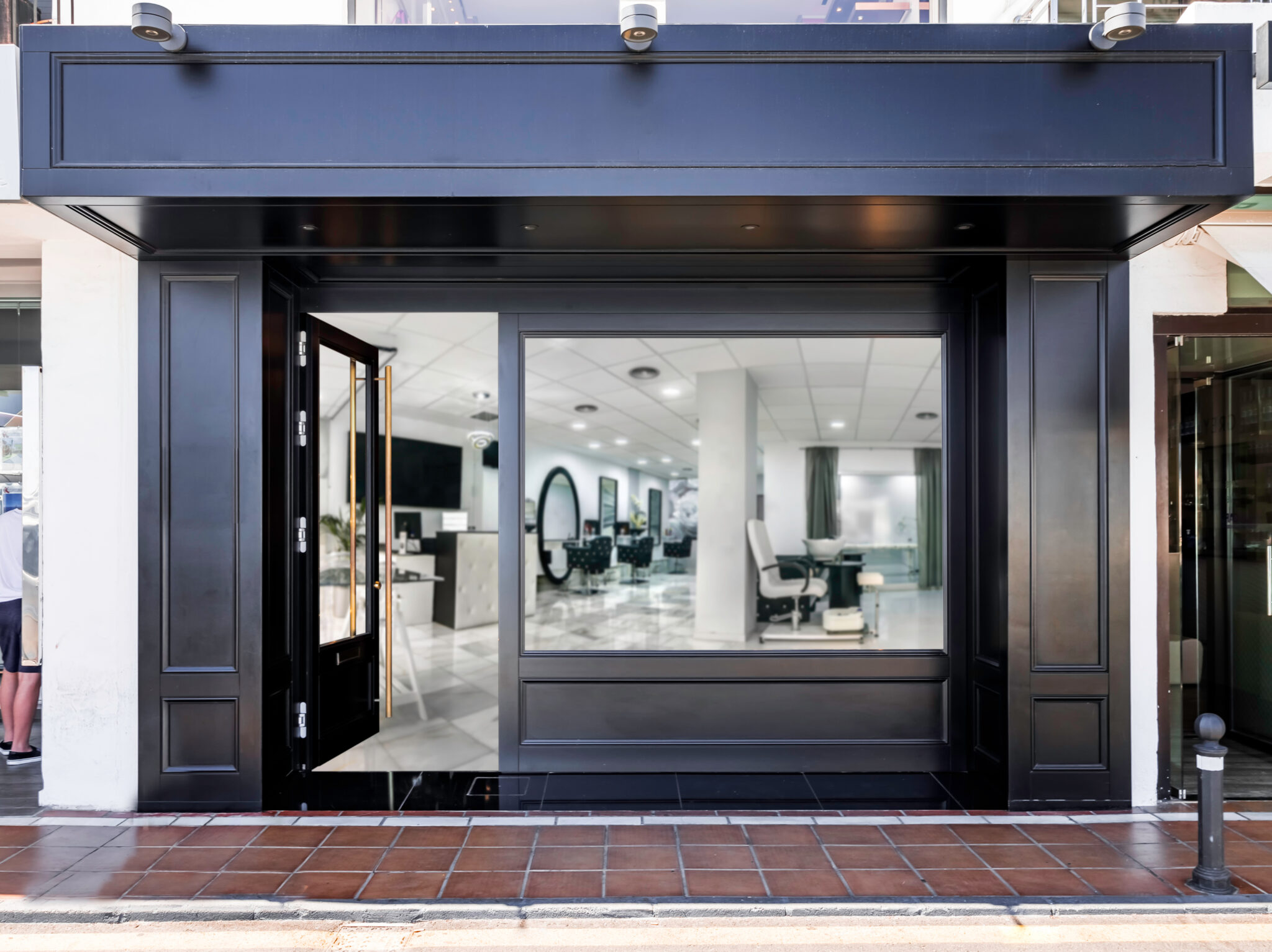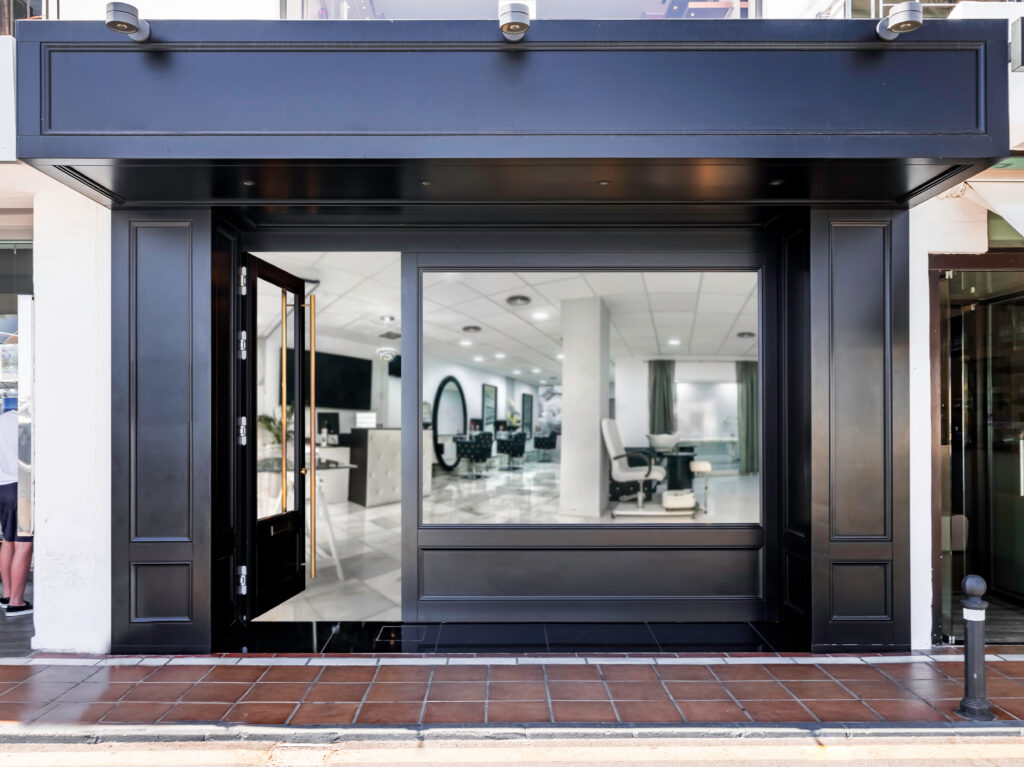 Location is the most important aspect of any real estate deal, whether you are renting a place for your new business or buying a house.
Choosing the right location for your hair salon is crucial to the success of your business. Here are some steps to help you pick the perfect location:
Understand the local market and competition.
Researching the local market and competition will help you understand the demand for beauty services in the area and identify potential competitors.
Consider factors such as population demographics, income levels, and the proximity of other hair salons. Look for gaps in the market that your salon can fill or areas where you can differentiate yourself from the competition.
Pick a location with your target clients in mind.
Time to refer to the part of your beauty salon business plan where you defined your ideal client. Look for a location that is easily accessible and convenient for your target clients. For example, if your target clients are busy professionals, you may want to choose a location near office buildings or shopping centers.
Align with your brand.
Your salon location should align with your brand and communicate the values and personality of your salon. For example, if your salon is focused on eco-friendly and sustainable practices, you may want to choose a location that is environmentally friendly or close to parks and nature reserves.
Choose the right salon size.
Choosing the venue size is another make-or-break point when it comes to location. Consider factors such as the number of chairs you need, the size of your waiting area, and the size of your backroom for storage and supplies. A larger salon may allow you to accommodate more clients, but it may also come with higher overhead costs, as well as potentially looking "empty."
Ultimately, choosing the right location for your salon requires careful research and consideration. Take the time to evaluate your options and choose a location that will help your salon thrive.
Step 5: Craft a marketing plan for your hair salon
A well-crafted marketing plan is essential to help you promote your hair salon, increase service sales, and keep existing customers coming back. Here are some tips to help you create an effective marketing plan.
Share your work online.
We could name this section "create a social media presence." However, if there is one thing you should be working on systematically in social media is sharing your work. Yes, indeed, you would also benefit from a website, but social media is hands down the best place to show actual clients hair cuts and their feedback.
Share before and after photos, and short videos of the end result of a client's hairstyle, ask for 5-star reviews, and more. Aim to share your work at least every second day on social media.
Continuously launch new promos.
Offering promotions and discounts is a great way to attract new customers and encourage existing ones to come back. Consider launching different types of promotions, such as referral discounts, seasonal discounts, or loyalty programs.
Keep your promotions fresh and exciting to encourage repeat business. For example, offer a discount on new services or products you introduce or host a giveaway for a free hair care package.
Build a text message marketing routine.
Text message marketing is an effective way to communicate with your customers and keep them informed about promotions, new services, and other updates. Collect your customers' phone numbers and build a text message list to reach out to them.
Send regular updates to your text message list, but be sure not to overdo it. Limit the frequency of your messages and offer valuable content such as special promotions or early access to new services.
Step 6: Pick a dedicated booking system
Choosing the right booking system is essential for running a successful hair salon. So much so that we dedicated an entire step in your salon business plan to it; a reliable booking system can streamline your operations, help you manage appointments, and keep your clients happy.
Pen and paper can only do so much for your salon business, and free services, such as Google Calendar, are simply not fit for the job. Here are some of the things you will get to do once you pick an online appointment scheduling software for your hair salon:
You will receive appointments 24/7
With appointment scheduling software, you can get clients any time of the day, any day of the week. Working hours will become a thing of the past when it comes to selling your services.
You will boost your marketing strategy.
An appointment scheduling software can help you integrate your marketing efforts seamlessly. With automated emails and SMS reminders, you can promote your services, offer discounts, and send personalized messages to your clients. This way, you can stay top-of-mind with your customers and ensure that they keep coming back to your salon.
You will reduce the admin workload
Gone are the days of answering endless phone calls, jotting down appointments, and dealing with booking conflicts. With an online booking system, you can automate your scheduling process, send automatic appointment reminders, ask for confirmations, and more, freeing up time to focus on growing your business.
You will seamlessly manage your staff.
With a booking system, you can assign staff members to specific services, manage their work hours, and monitor their performance. You can also give your stylists access to their own calendars, which will allow them to see their schedules and manage their bookings.
An appointment scheduling software for salons looking to grow in 2023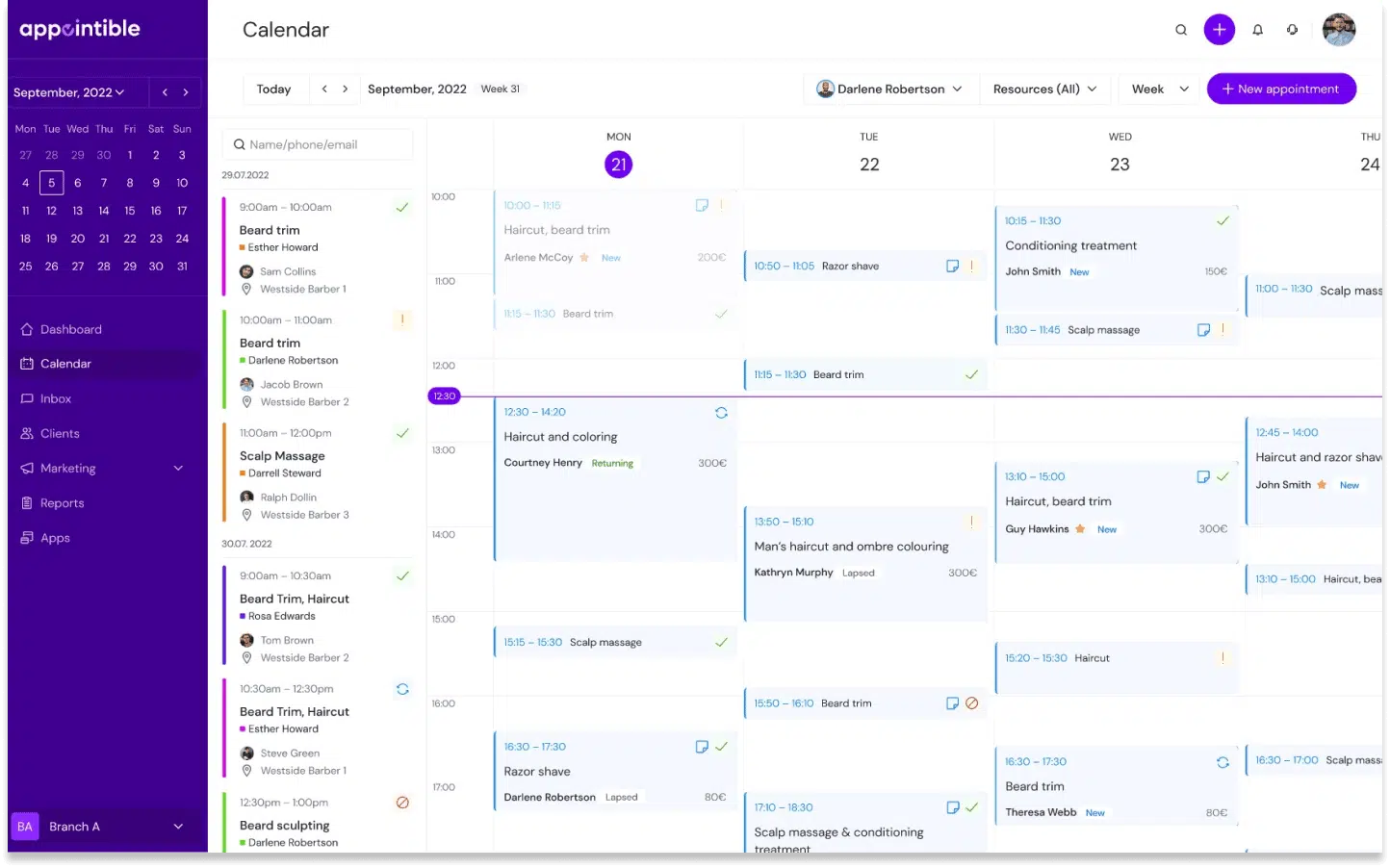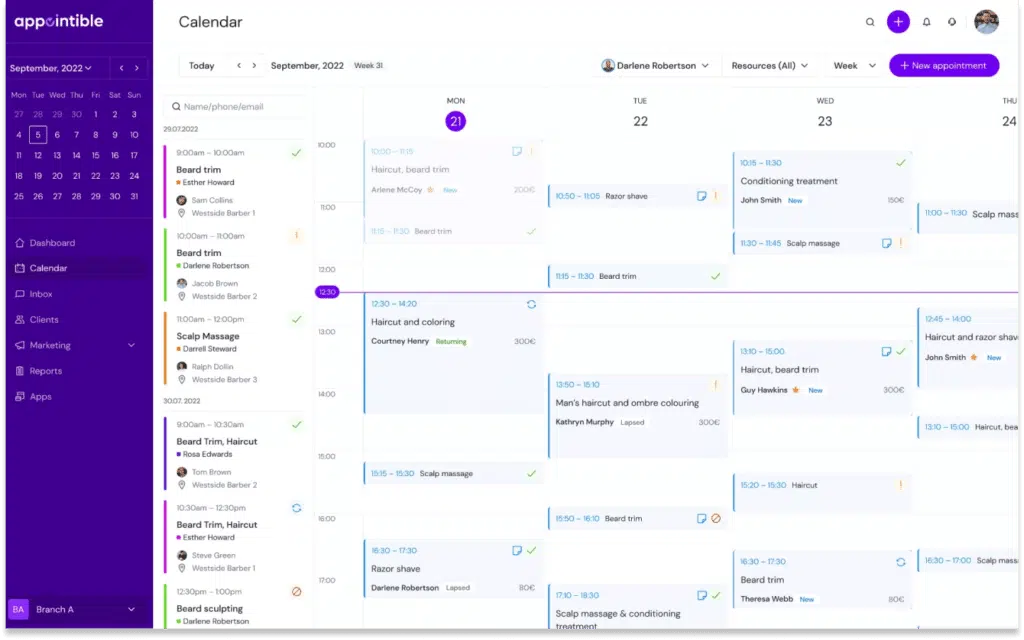 Appointible is a powerful appointment scheduling software that is specifically designed for the hair and beauty industry. With Appointible, you can manage your salon's bookings, staff schedules, and customer data all in one place. Appointible offers a range of features, including online booking, automated reminders, staff management tools, and an analytics dashboard, to help you streamline your salon's operations and grow your business.
Create a free account with Appointible and elevate your salon business plan.
Step 7: Your salon's growth
If you followed the previous steps correctly, your hair salon is now up and running smoothly. However, you may wonder how to keep your salon growing and thriving in the competitive market. That's why we dedicated this section to showing you the different paths for salon growth.
Horizontal salon growth
One way to grow your salon business is through horizontal growth. This means expanding your services, hiring more stylists, opening new locations, and so on. If you plan to expand horizontally, it's important to reflect that in your branding and salon size from the outset.
For example, if you plan to have a bigger salon and offer more services, invest in the necessary equipment and create a marketing plan to attract new customers. This way, you can make sure your salon is ready for growth when the time comes.
Vertical salon growth
Another way to grow your salon is through vertical growth. This means specializing in a select number of services and aiming to become the best in the industry. By focusing on quality over quantity, you can charge higher prices and keep payroll, supplies, and overhead costs to a minimum.
To achieve vertical growth, you need to build a strong reputation and brand identity around your specialty services. This might include targeted marketing campaigns, creating a niche social media presence, and offering exceptional customer service.
No matter which growth path you choose, it's important to research your options, plan carefully and stay up-to-date with the regulations in your area. Continuously review your efforts and tweak your strategies as needed to ensure your salon continues to grow and succeed.
We hope this article has been helpful in guiding you through the steps of opening and growing a successful hair salon business. Remember to stay dedicated, maintain a strong brand, and always put your customers first. Good luck in your journey to success!