In the world of the esthetician business, your purpose is to help people look and feel their best through your specialized services. As an esthetician, you learn, train, and work hard for your unique skills and expertise; now, it is time to stand out from the crowd.
Check Appointible salon management app →
As a new small business owner, marketing your services and driving more clients to your salon. That's why we're here to help you. In this article, we'll explore the ten best esthetician promotion ideas that can help you attract more clients and grow your business.
So, sit back, relax, and get ready to learn how to take your salon to the next level.
1- Share your work on social media
To say social media has become an integral part of our lives is an understatement. Both big companies and local businesses rely on social media to reach potential customers, get reviews from loyal clients, present business hours, boost sales, and more.
An idea that estheticians and beauty business owners can harness from social media is sharing photos and videos of their work. You can show your work in many ways on Facebook, Instagram, and other networks, such as pictures of your staff, client reviews, new equipment, and more. Nonetheless, one idea, in particular, stands out: before and after posts.
There are many ways that you can share makeup applications, facials, waxing, exfoliation, etc… Still, the image below shows a way in which you can create a before and after post.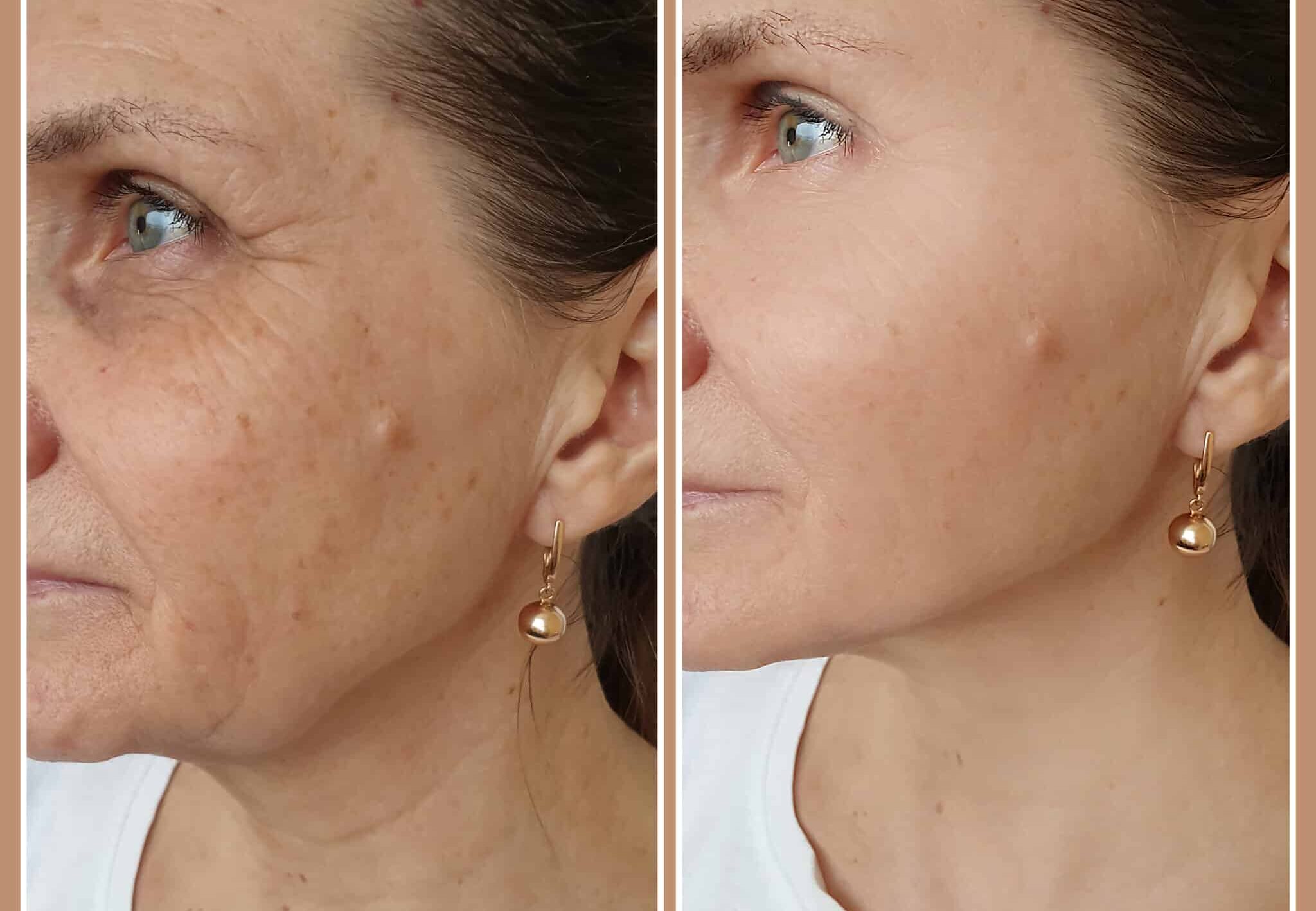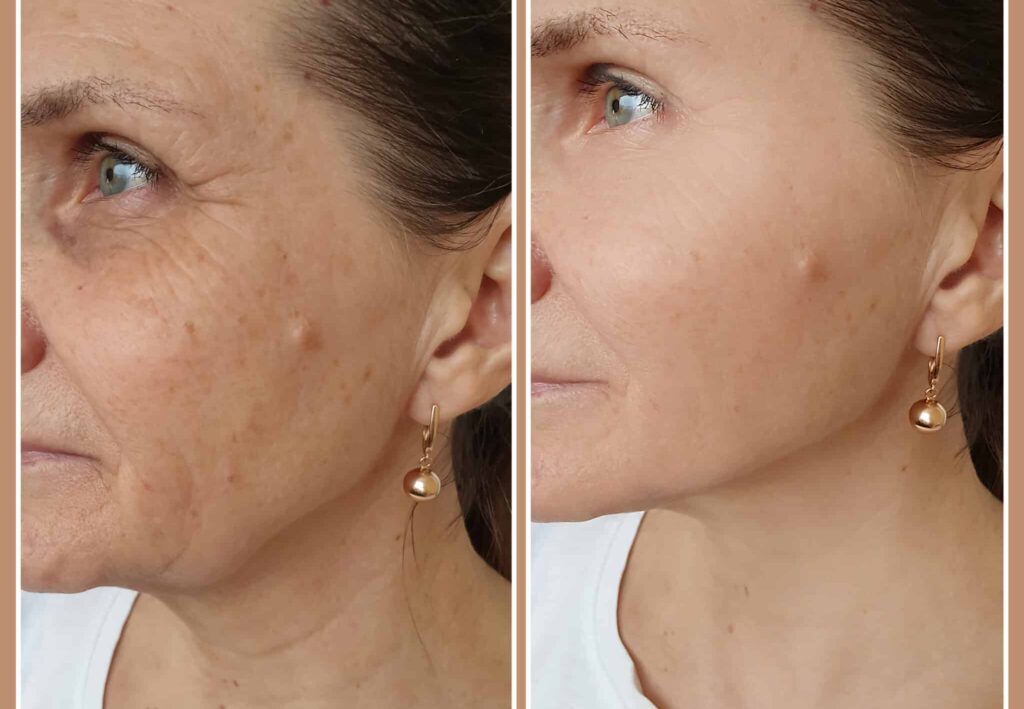 Before and after pictures and videos are one of the best esthetician marketing promotion ideas, as it conveys three important things at once: it shows the quality of your work, the trust your clients place in you or your estheticians, and they work as indirect client feedback about your services.
2- Create a loyalty program
Nearly every local business has the potential to benefit from a loyalty program. A loyalty program rewards clients for their repeat business, and it can be an excellent way to build a loyal client base and increase customer retention.
To create a loyalty program, start by deciding on the rewards you want to offer your clients. This could include discounts on services, free treatments after a certain number of visits, or other incentives that align with your business goals.
Once you've decided on your rewards, determine the requirements for clients to receive them. For example, clients may need to visit your salon a certain number of times before they're eligible for a discount or a free treatment.
You can run your program using a specific app, such as Smile.io, Loyalo, or Stamp. These apps make it easier for you to draw insights from client usage and track and make better offers.
Alternatively, you can create handmade loyalty cards to run your first program; just remember to scale as you grow, as manually managing your loyal clients can be very time-consuming and hard to track
3- Build a referral program and capitalize on existing clients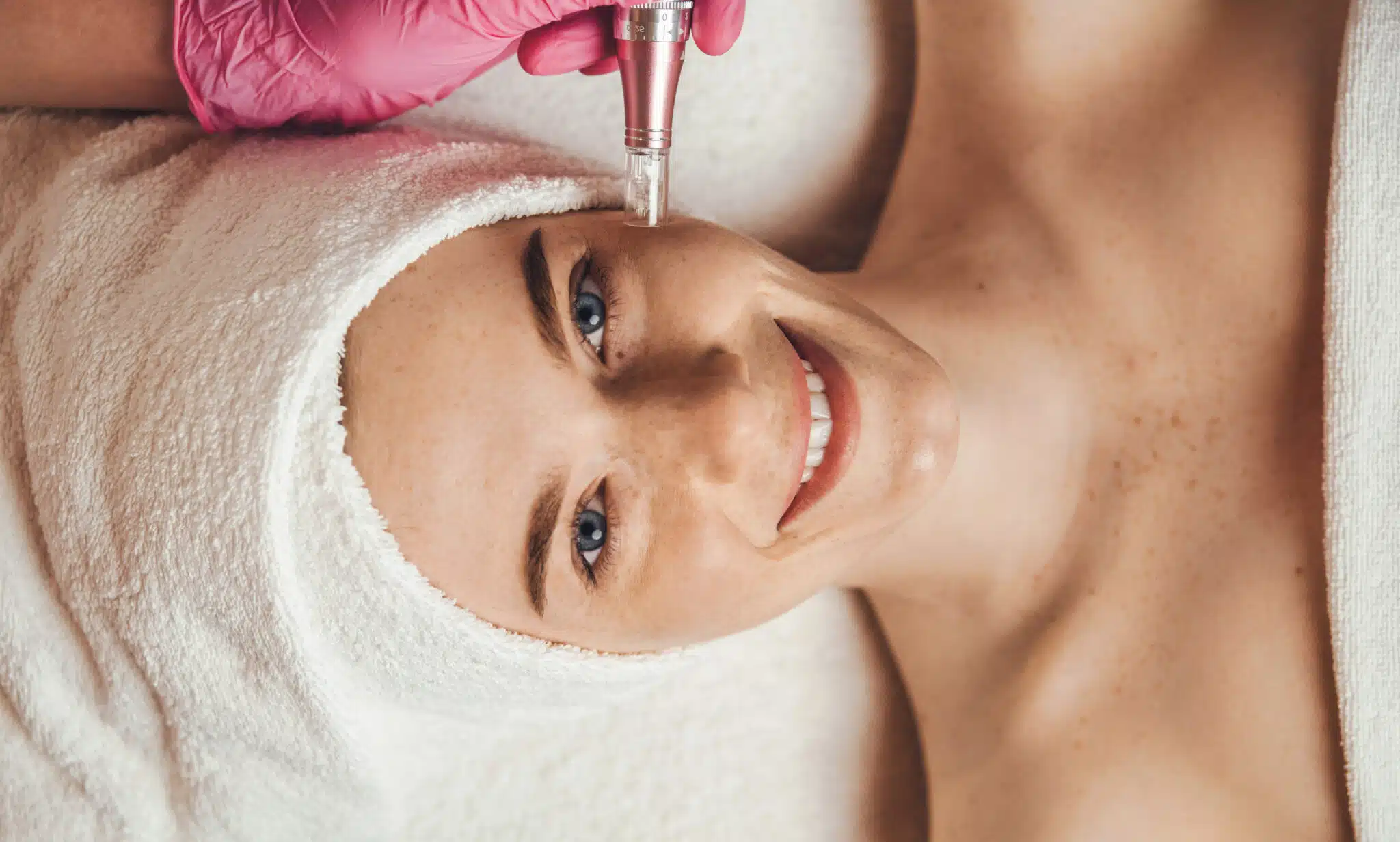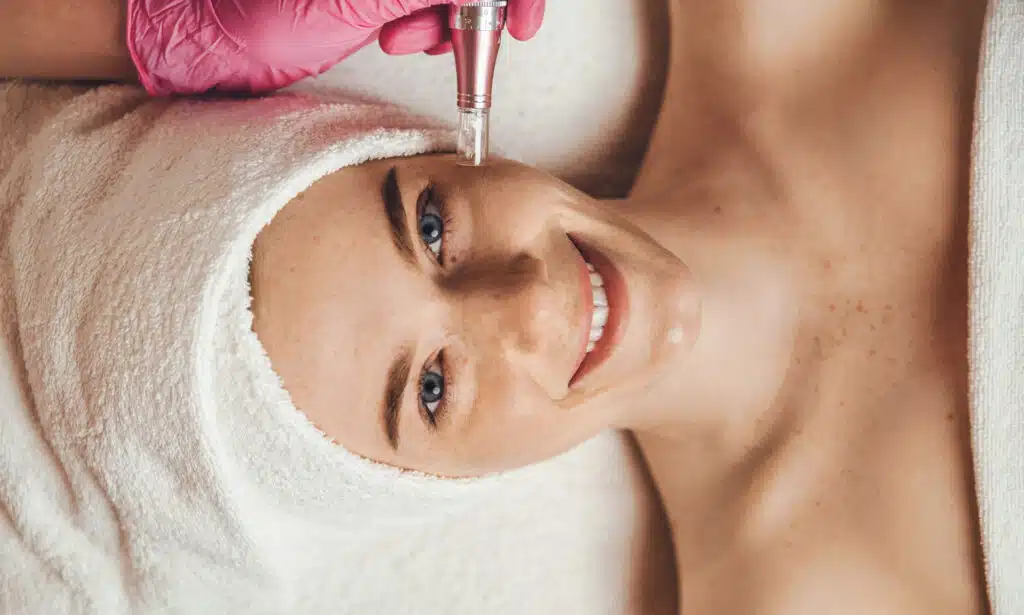 As the saying goes, "great businesses create clients that create clients." That holds true as one of the best esthetician marketing ideas on our list: referral programs.
Referral programs encourage clients to refer their friends and family to your salon by offering them incentives, such as discounts on services or free treatments. With a referral program, you are essentially capitalizing from existing clientele and word-of-mouth and boosting it with incentives.
To build a referral program, start by determining the incentives you want to offer your clients. This could include a discount on services for both the referrer and the referee, free treatment for the referrer after a certain number of referrals, or other rewards that align with your business goals.
Once you've decided on your incentives, use a system to track referrals, so you can easily identify which clients referred new business to you. A few referral systems you can use are Referral Candy, FriendBuy, and Invite Referrals.
4- Take your visual branding seriously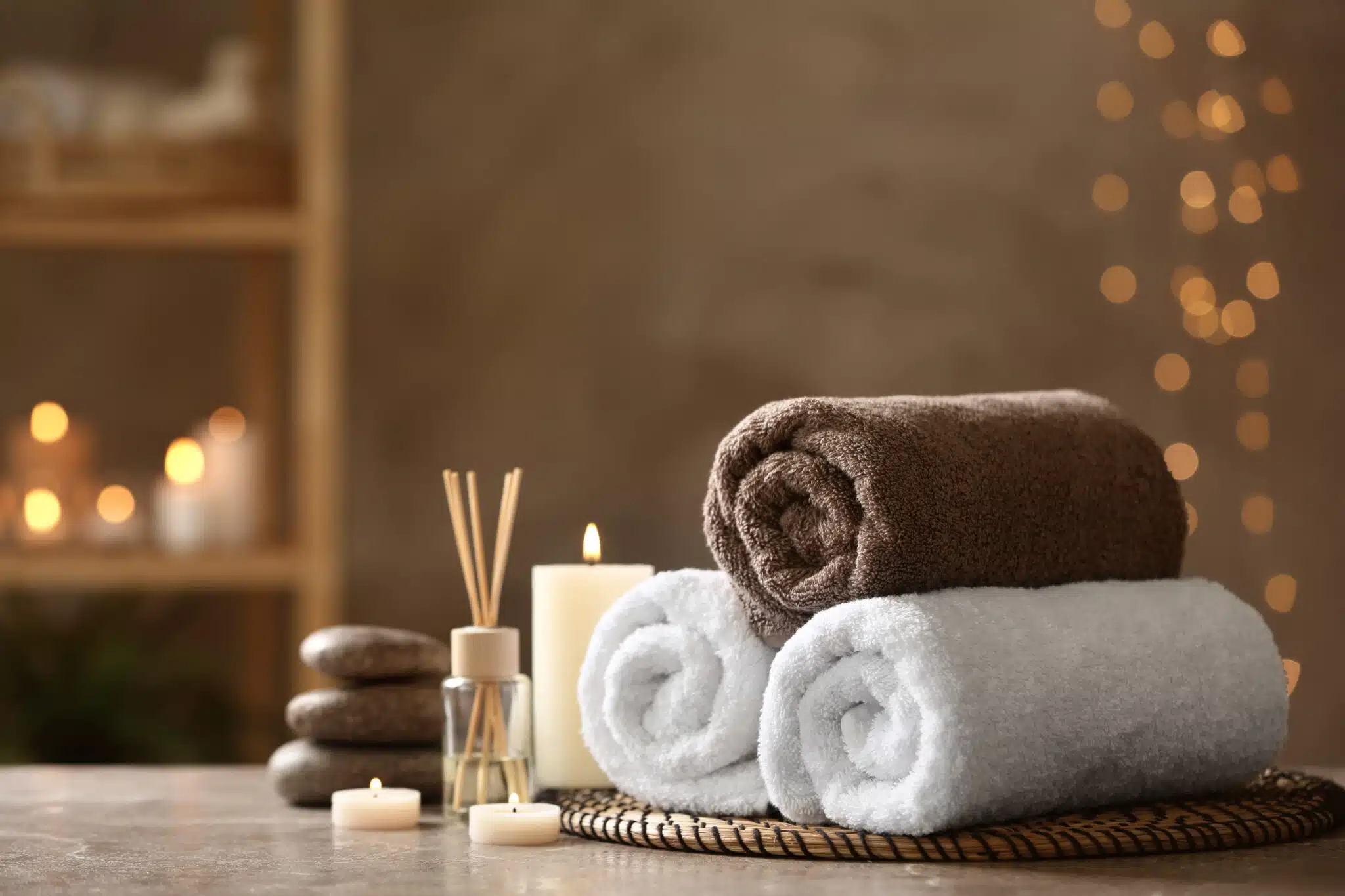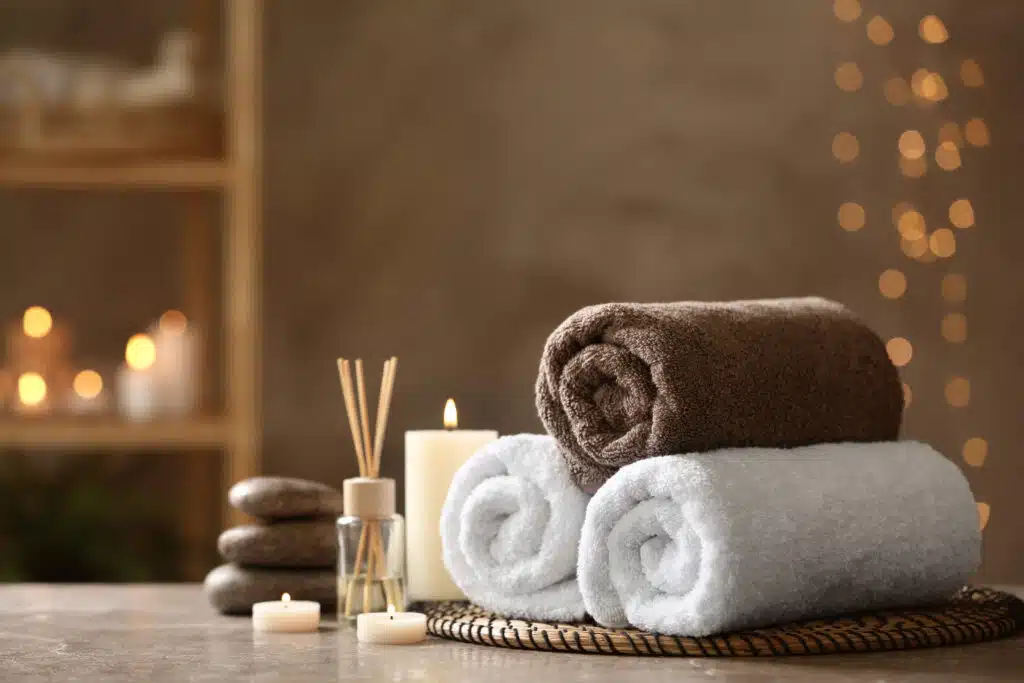 As with any business in the beauty industry, an esthetician visual brand is a must-have marketing strategy. It makes it easier for new clients to remember your brand easier, and it also helps you set your beauty business apart from the crowd.
We previously explained in Appointible how to create a successful beauty brand in 4 steps, so in this section of the article, we will go through what it means to take your visual branding seriously.
First, you must ensure that your physical location reflects your brand identity. This includes everything from the color of your walls to the style of your furniture. Use your brand colors and aesthetics throughout your salon to create a cohesive brand experience for your clients.
Plus, you should consider hiring a professional photographer from time to time to create extra material that you can drip onto your social media accounts as times go by.
5- Ask for feedback from clients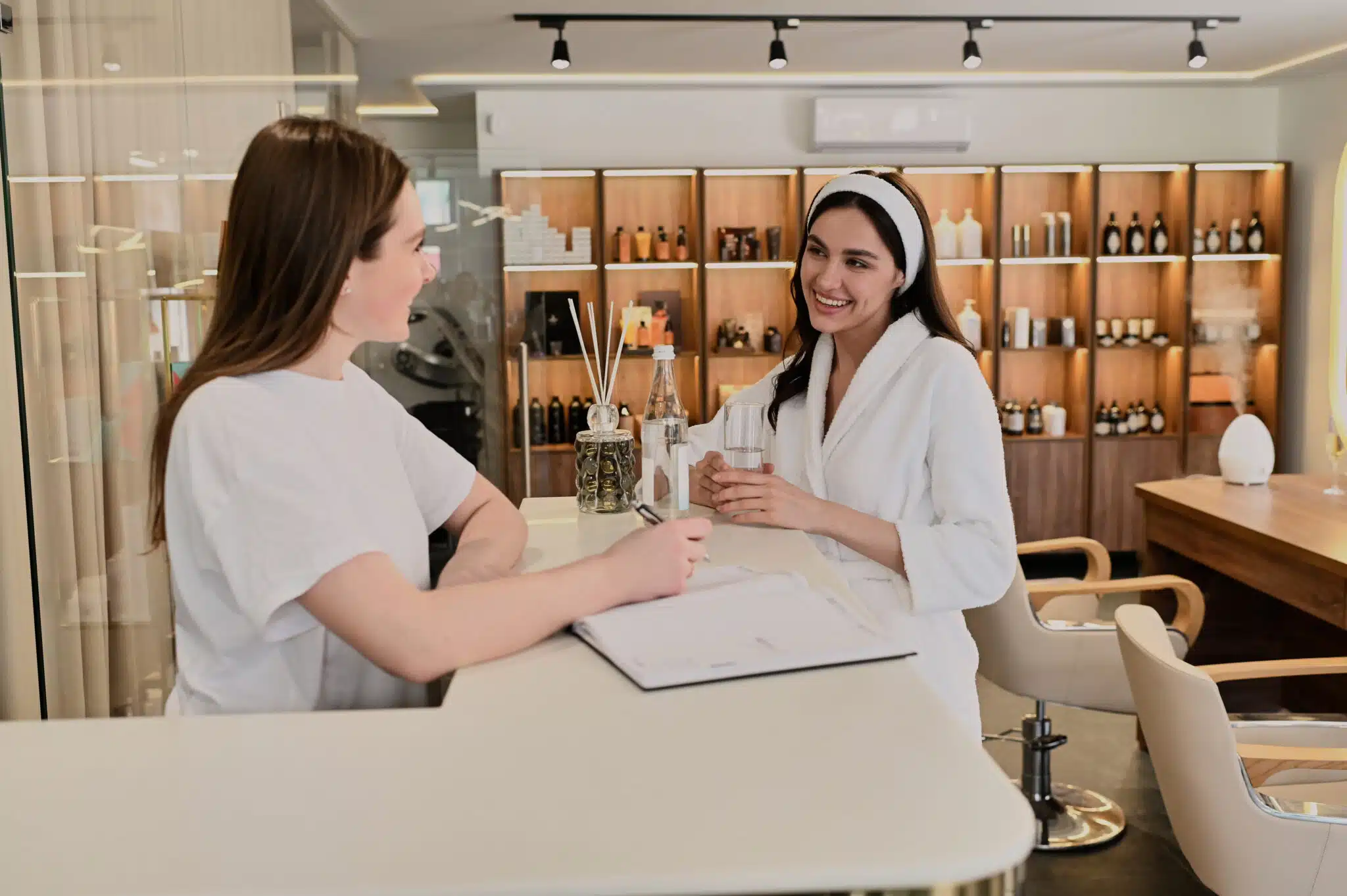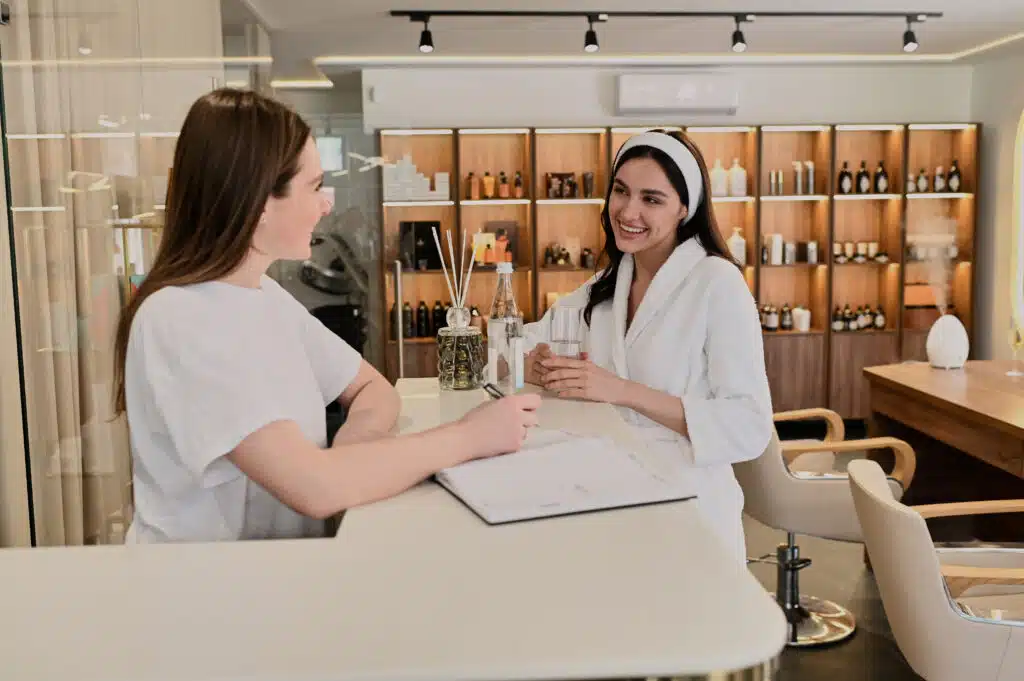 The only way you can understand if the esthetician business is moving in the right direction (or the wrong one) is by actively asking clients for feedback. Collecting feedback has a twofold effect on your marketing strategies.
For one, they can be posted by your clients as public reviews that can help potential clients when deciding between your beauty salon and the competition. Many social media sites, Google search results, and others can display client reviews that can be fundamental when attracting new clients.
Additionally, feedbacks are a great way to understand where you stand on a stop-start-improve-continue scale. In other words, feedback can help you understand what things your esthetician business needs to improve, what needs to stop from happening, what behaviors or services you should implement, and what is already great and what you should just continue.
Finally, don't be scared of receiving negative feedback. Remember: being in business is a journey, not a sprint, and even though no one enjoys receiving negative reviews, they can be critical for you to improve as a beauty professional and business owner.
6- Sign up for an online booking system
A professional booking system is fundamental for the success of any service-based business, whether in the beauty industry or other fields. It can help you manage your appointments more effectively. You can set up automatic appointment reminders, reduce no-shows with appointment confirmations, and easily manage your schedule online.
When it comes to marketing, an online booking system supports you in sending a booking link directly to clients, which makes it easier for them to pick a time with one of your estheticians and get more bookings.
Moreover, clients are more likely to book appointments with businesses that offer online booking, providing them with a convenient and efficient way to schedule appointments.
To sign up for an online booking system, start by researching different options and choosing a system that meets your needs. Look for a user-friendly system that allows clients to book online and offers features like appointment reminders and text message marketing. We might be biased, but we strongly recommend you test the Appointible online booking system's free plan.
7- Create seasonal promotions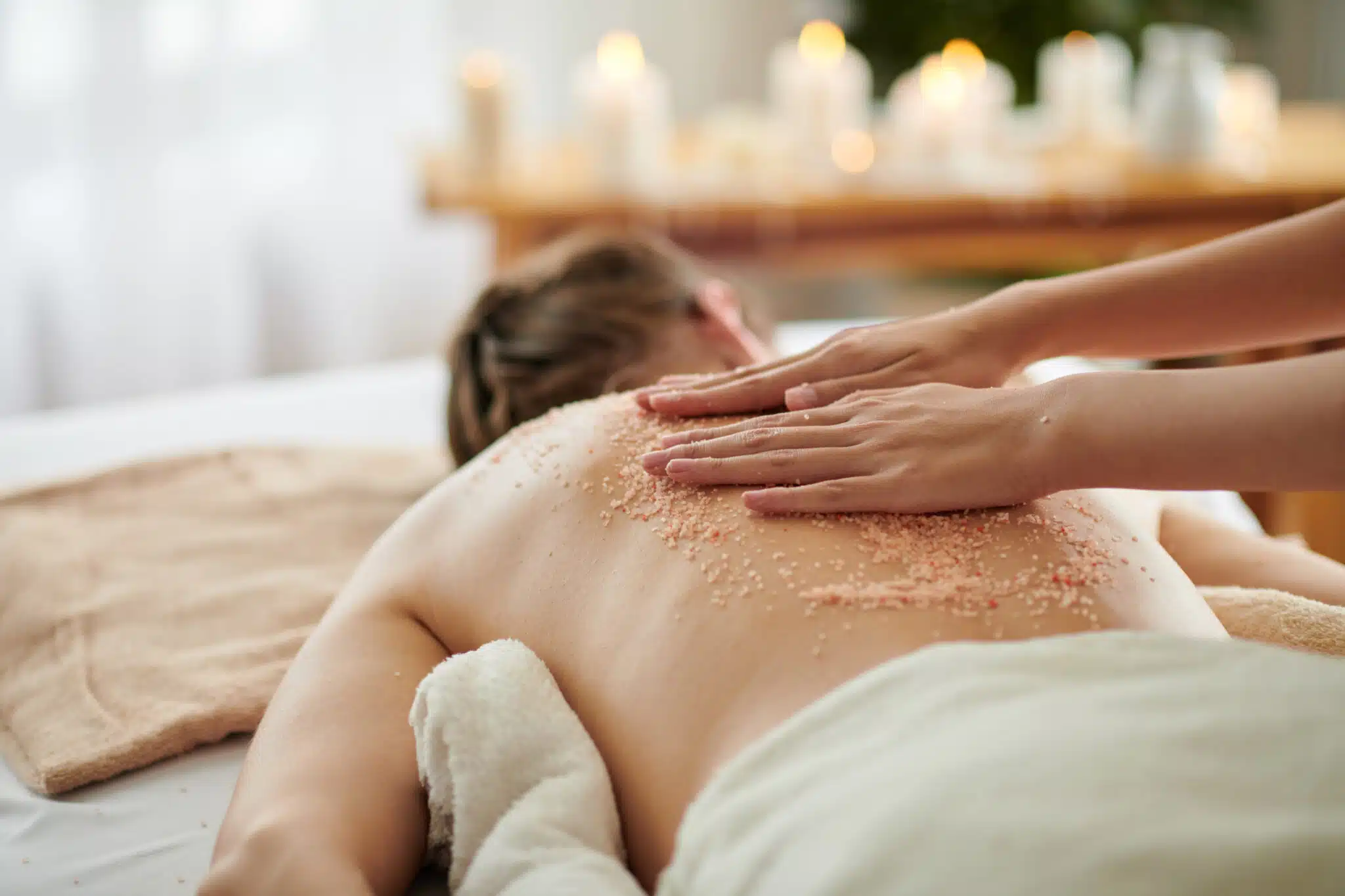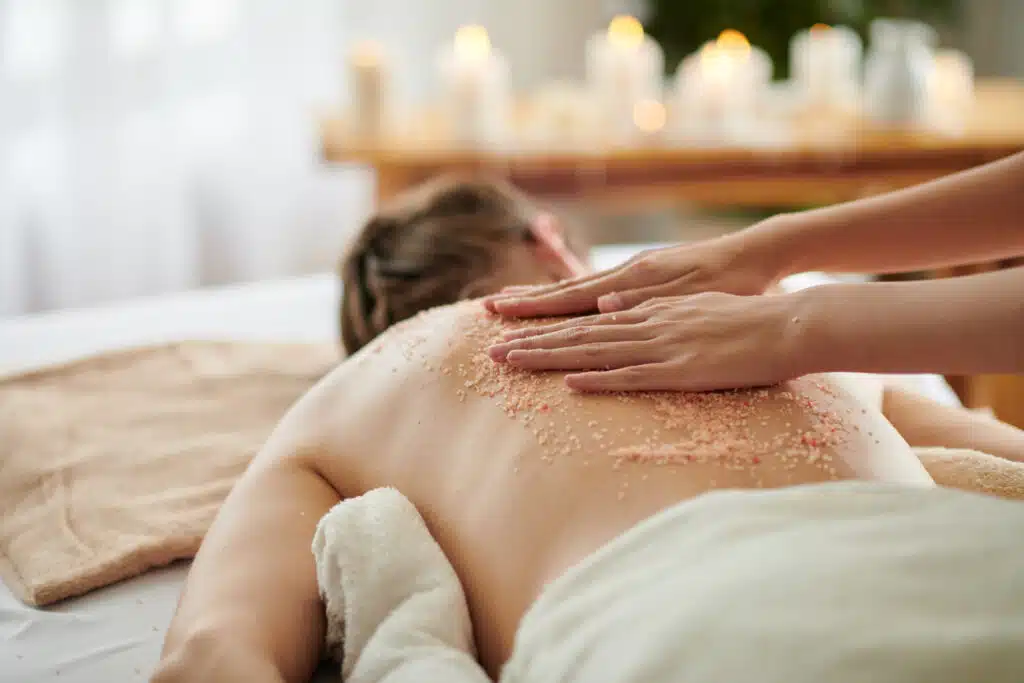 Creating seasonal promotions is a great idea to incorporate into your esthetician salon's marketing strategy. Seasonal promotions can be tied to holidays or events like Valentine's Day, Mother's Day, or back-to-school season.
You could also use special dates and times of the year to promote services you don't offer all year long, thus creating a sense of urgency. For example, you can offer special skincare services tied to summer using unique tropical products.
Another idea is to create events in your esthetician salon and bring experts from the skincare industry to give tips and tricks that potential clients can use at home to care for their skin.
Using the right marketing strategies during seasons and special dates, you will surely bring new clients and stand out from other beauty salons.
8- Offer skincare and beauty services package deals
One of the best esthetician marketing ideas is to create and sell skincare and beauty services in package deals. However, it is important to be strategic about it.
Most salons simply wrap a series of their services together and charge a lower price for them. For example "buy 5 waxing sessions for the price of 4." Sure, everyone likes a discount now and then, but that is not what is going to create new repeat customers.
While selling service packages, it is important to include multiple types of services so your clients can try the different specialties your salon offers.
A better idea for a professional esthetician package would be "buy 5 waxing sessions and get a skin analysis consultation for free." This way, you are not only giving your clients discounts but also promoting additional services you offer.
9- Use Google Maps to make your beauty salon stand out
We spoke briefly about using Google for reviews, but now we want to go a bit deeper into Google Maps itself to get your beauty salon to stand out.
The first thing you must know about Google Maps is that you should claim your esthetician salon on Google My Business if you haven't already done so. This will allow you to manage your business information, respond to reviews, and add photos.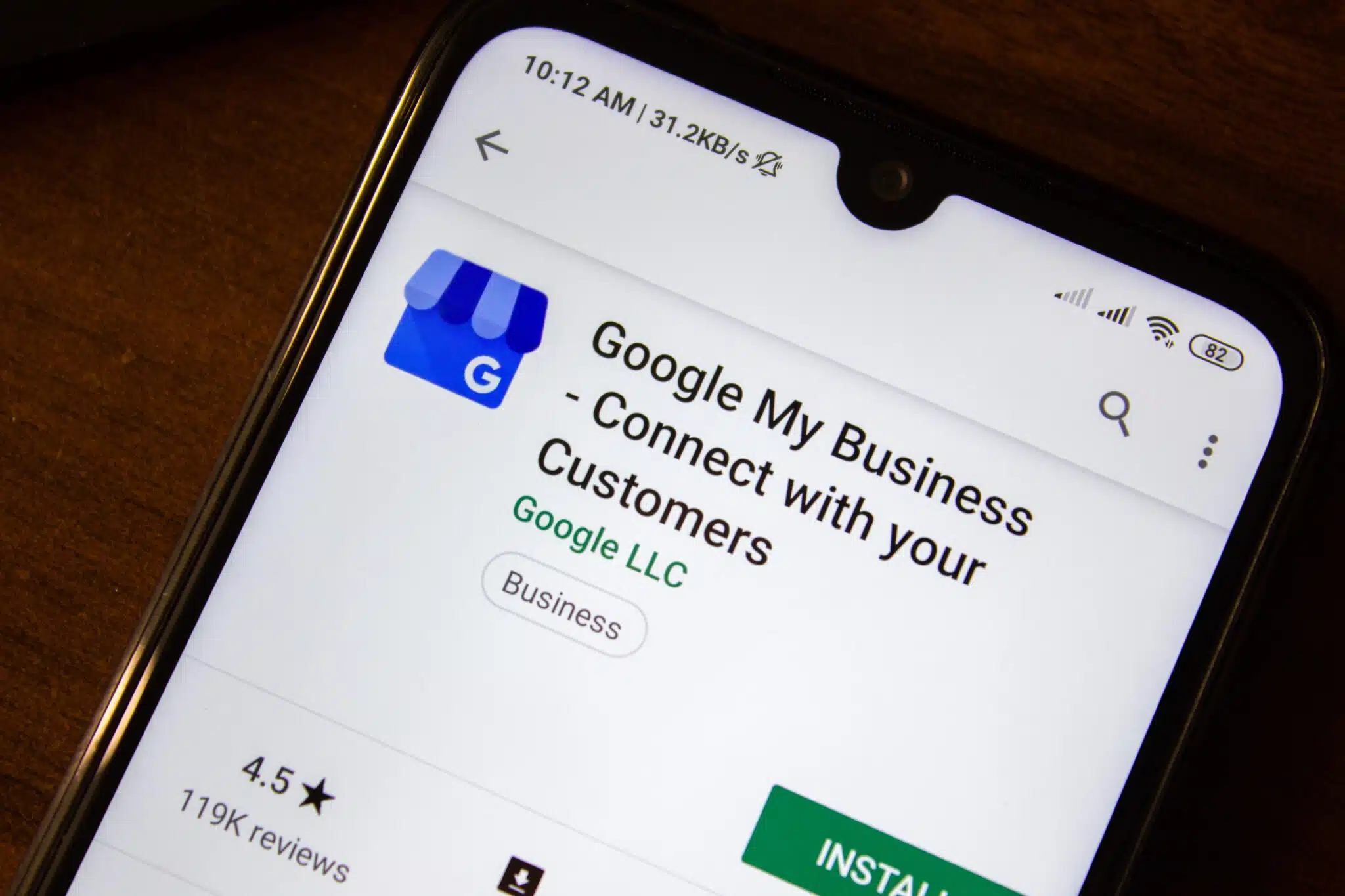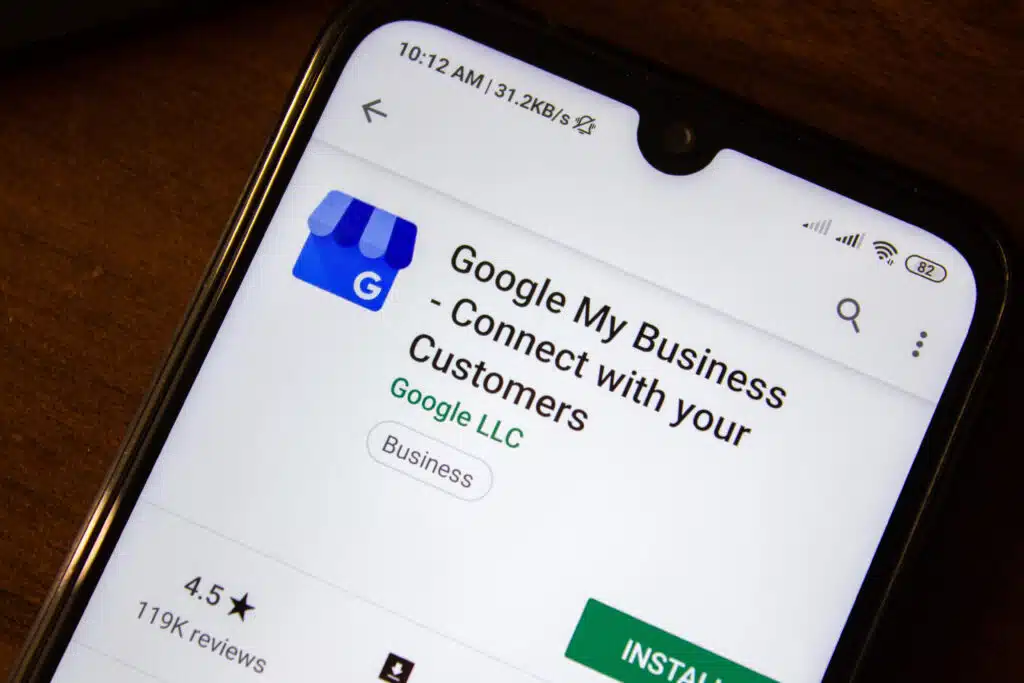 Furthermore, add good-quality photos of your salon's interior, exterior, and services.
Ensure your business information, such as your address, phone number, and website is accurate and up-to-date. Also, include keywords in your business description that potential customers might be searching for, such as "Makeup application" or "Eyebrow and eyelash tinting."
Finally, respond to positive and negative reviews to show that you value your customers' feedback and are committed to providing excellent service, as previously discussed.
All in all, you want a profile on Google Maps that stands out from the rest and allows you to reach new potential clients.
10- Network with beauty professionals
Networking as an esthetics business owner is as crucial as any other esthetician marketing listed so far in this article. As the saying goes, "your network is your net worth."
Connecting with like-minded beauty business owners puts you at the forefront of events in your field, helping you find new courses on new techniques for you or your staff, join professional esthetician and beauty organizations, allow you to partner with other business owners to cross reference your services, and even promote your personal brand.
A great way to start is simply by joining local Facebook groups with other beauty business owners. Additionally, look for local beauty industry events, such as trade shows, conferences, or workshops, and attend them to meet other professionals in the field. This can be a great opportunity to learn about new products, techniques, and trends, as well as to network with other professionals.
A final note: the difference between marketing strategies and marketing ideas
There you have it, 10 fresh ideas to help you promote your business, nurture existing clients, and find new ones.
We would like, however, to add one final note to this article, and that is the difference between marketing strategies and ideas. Marketing strategies are the overarching plans that businesses use to reach their target audiences and achieve their marketing goals. Marketing ideas, on the other hand, are specific tactics or campaigns that businesses use to promote their products or services.
For example, a marketing strategy might be to increase brand awareness by targeting a specific demographic through social media advertising. A marketing idea might be to launch a social media contest or influencer campaign to engage that demographic and drive more traffic to the brand's website.
Both marketing strategies and marketing ideas are important for businesses to consider when developing their marketing plans. A strong marketing strategy can help businesses achieve their long-term goals. In contrast, creative marketing ideas can help generate buzz and drive short-term results.
Check out more of our content for more insight and tips on marketing strategy and ideas. We regularly publish articles just like this one, always with the aim of helping estheticians and beauty salon owners take their businesses to the next level.