A heartfelt welcome, dear nail salon entrepreneurs! We are so delighted to have you on the journey of opening your own nail salon business. Starting a business has its fair share of challenges and rewards.
Provided you have the right business plan in place, the needed nail art, and nail tech knowledge, and the drive to serve your clients, the path to success is open.
In today's article, we want to guide you through 7 steps that will help you plan and start a successful nail salon business.
Step 1: Define your services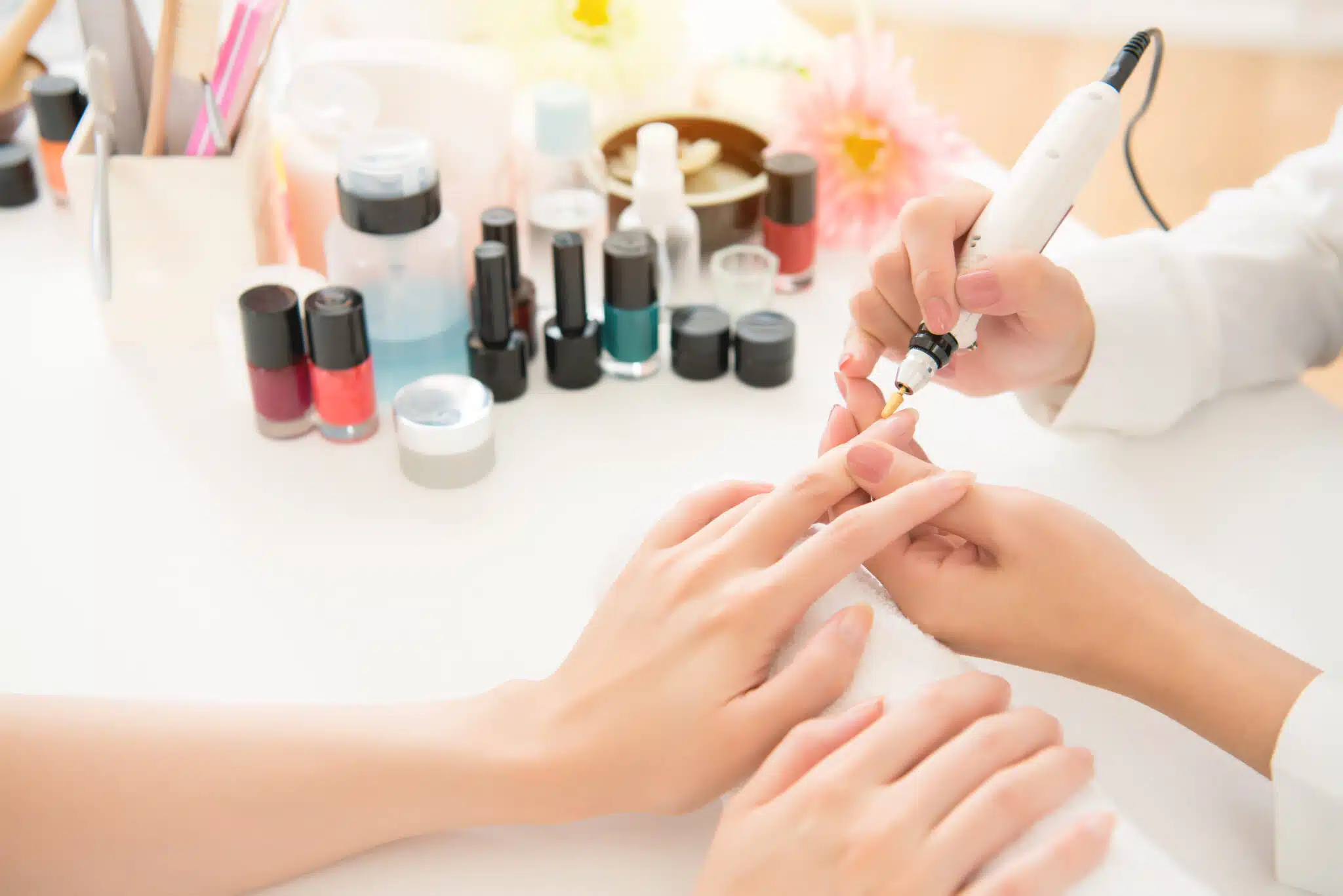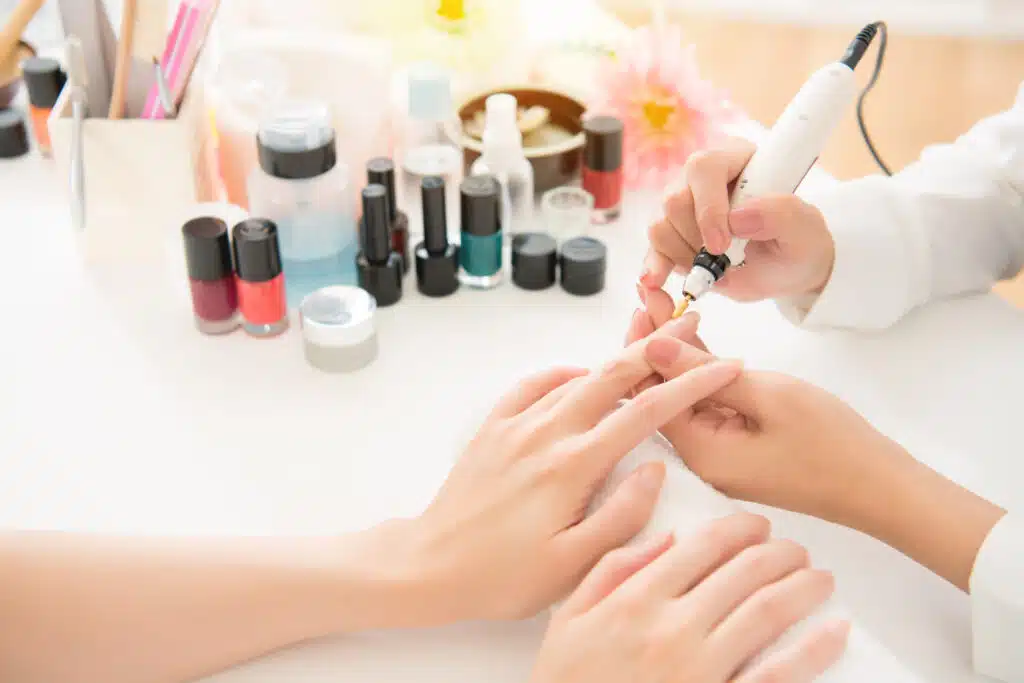 Here is where opening a nail salon begins. Maybe you already have in mind what technique and designs you want to offer at your salon, but it is still a good idea to look into a couple of important aspects before narrowing down (or broadening up) your nail services.
Some of these aspects are quite straightforward, others not so much.
List the nail services you know how to provide
The first step is to list which services you know how to provide. Don't go too hard on the specifics right now. Just list the services by name.
This means that you should write down all the nail techniques and designs you are comfortable providing in your nail salon.
These nail techs and nail polish styles should also be things you are comfortable with training future nail technicians who happen to be hired by your nail salon.
Understand what courses you should take
You shouldn't expect to start your nail salon knowing all the latest nail tech and manicure designs.
However, being ready – and open – to taking a few classes or courses that cover new nail art and manicure designs (or even new nail tools) is essential. This way, you can make sure that your salon always offers the very best to its clients.
Decide if you will hire employees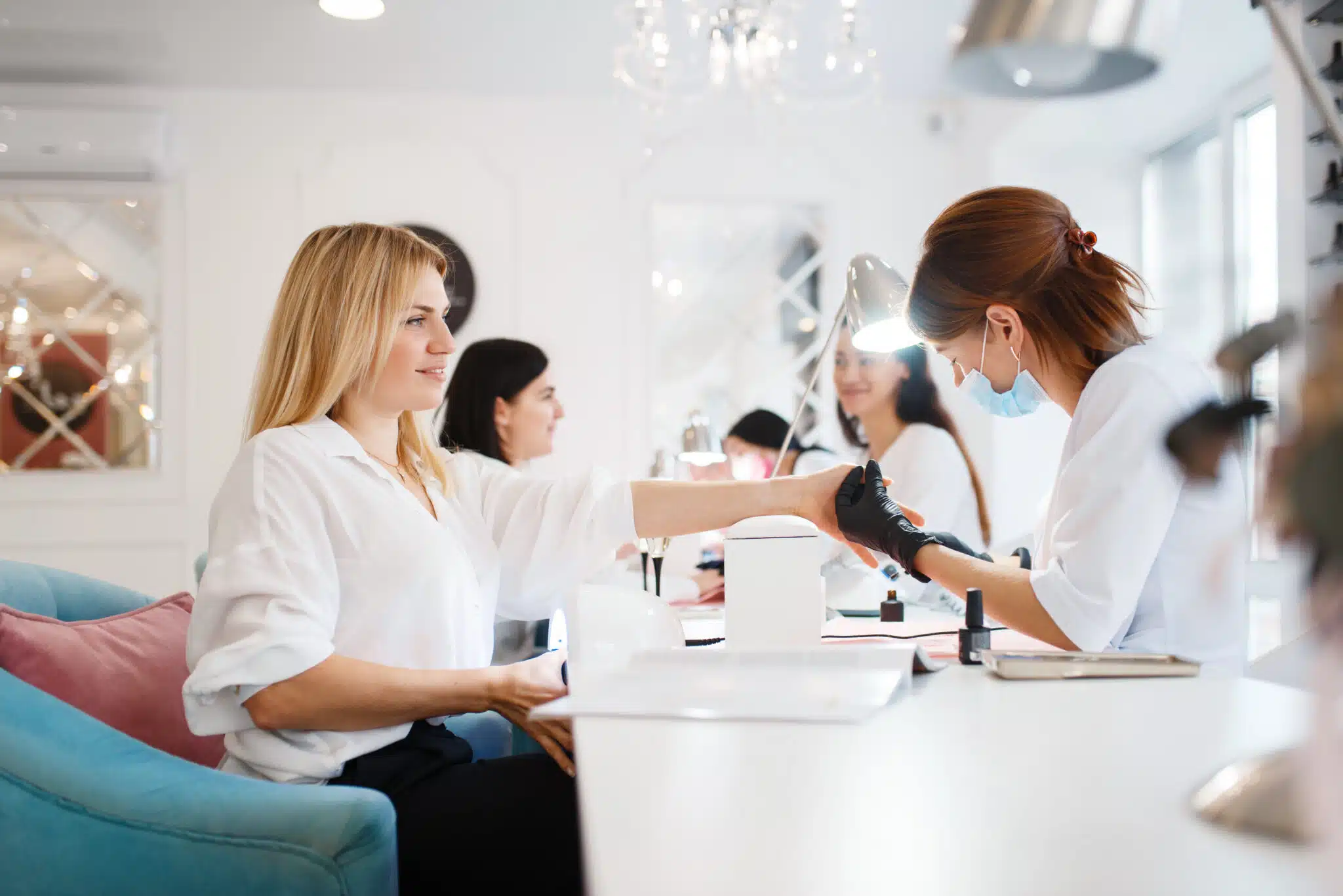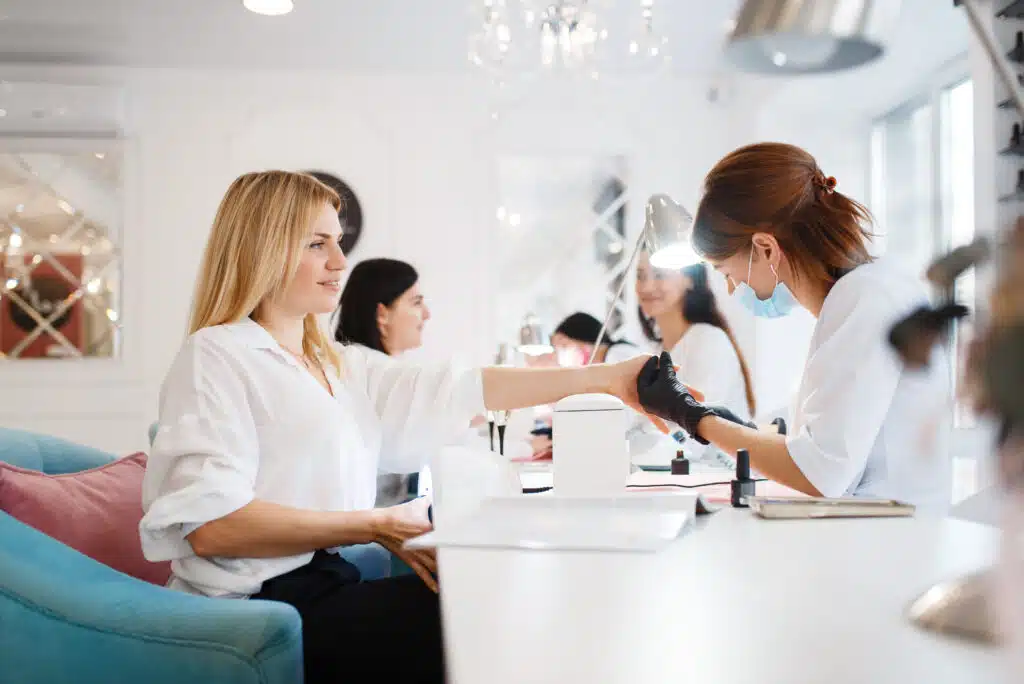 The number of employees your nail salon will need depends on the size, services, and prices you offer. For example, a small nail salon might only need a couple of employees, such as an additional nail technician.
Larger nail salons might need a larger team to cover not only all the services being offered but also keep the business running. We're talking about receptionists, cleaners, and marketing personnel.
We will get into the specifics of finances later on, but this is something to keep in mind already.
Take a peak at the competition
Before you decide on the services and prices your salon will offer, it is essential to take a look at the local competition.
When doing so, you should not only consider the services they offer and their prices but also what they don't. Spotting the tried and tested that are already working for other nail salons is just as important as noticing the gaps in the market.
Start by watching for your immediate competition – that of your city or neighborhood – but, if you have the means, extend your research to other cities and states too. This will give you a better understanding of what is out there (and what isn't).
Step 2: Structure your nail salon's finances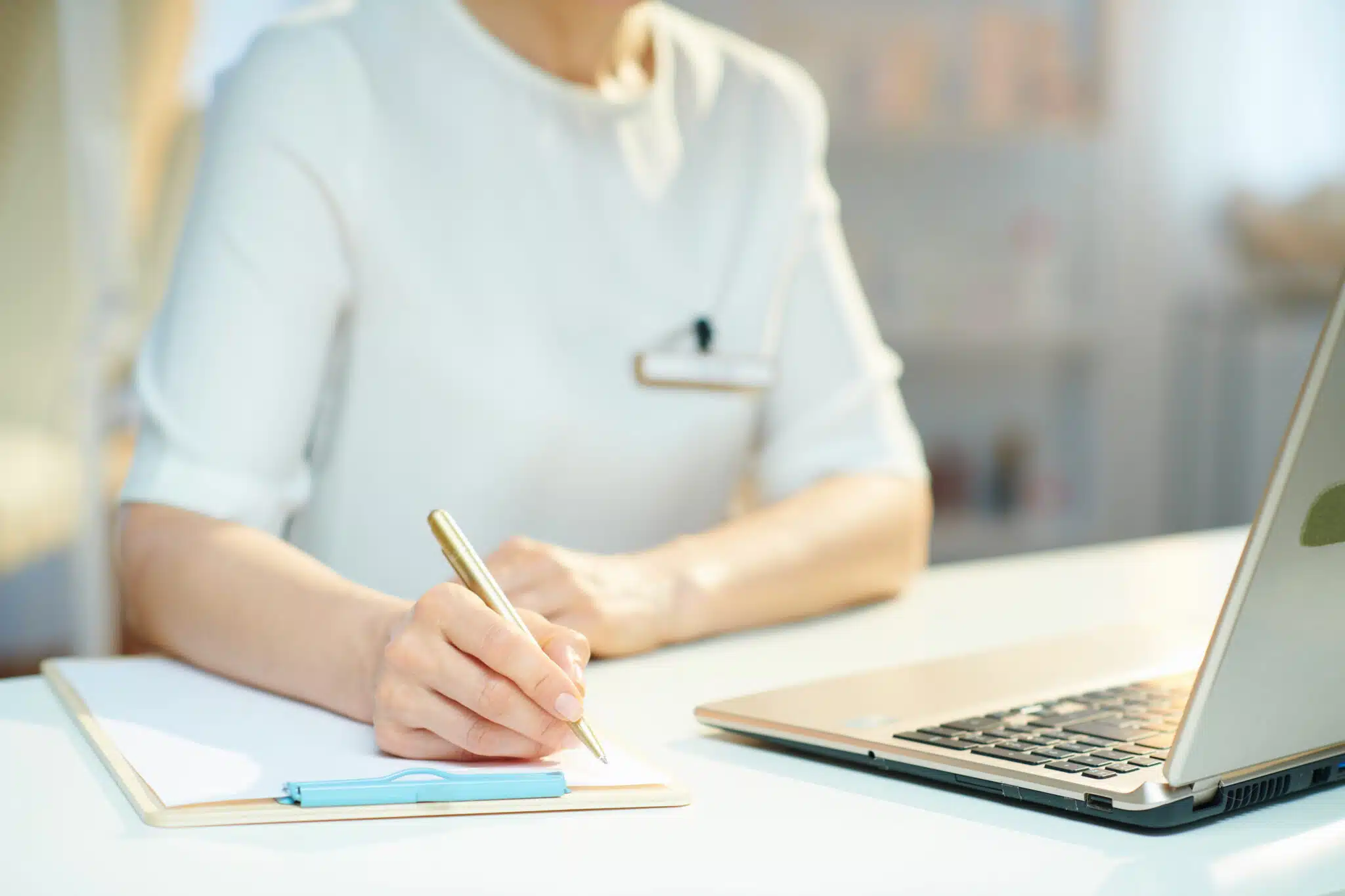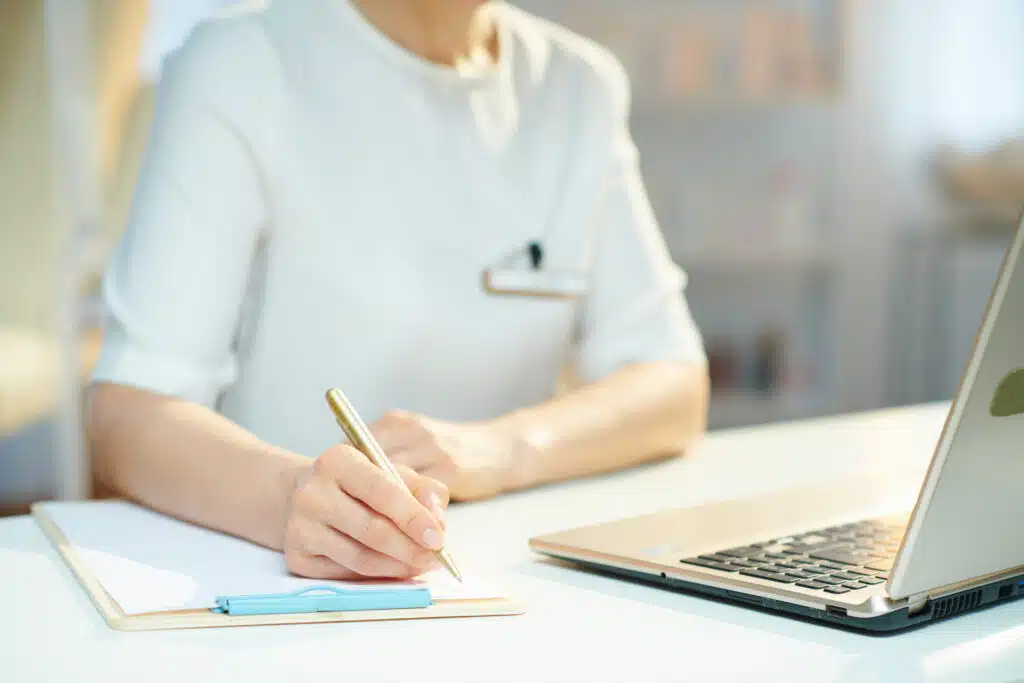 Structuring your own nail salon business' finances is much more than just opening a business bank account and creating a spreadsheet with business expenses.
For you to be a successful business owner – whether in the nail salon industry or other fields – you will need to understand at least the basics of bookkeeping and accounting.
A: Calculate your budget
For getting a business license
A legal business entity requires a business license, which needs to be applied for and paid. The best way to approach this is to research and contact the town hall or other local governments of your area.
We can't give you a precise figure here since it depends on the city and state, but a budget between $100 and $500 is safe to expect.
If you are undecided, there are professionals specialized in the nail salon industry that can help you structure your finances. Just remember to add their cost as well in your final budgeting.
For rent and utilities
Unless you happen to own – or know a friend who does – a nail salon venue in a good location, you will have to either buy or rent a place. And rent will be a big portion of your budget.
Expect to pay around $500 – $2,000 each month depending on the city and size of the salon. Also, do not forget to include other costs like utilities, internet, and phone.
Very often you will be able to find places to rent that used to be a nail or other forms of beauty salons. If so, see if you can talk with the previous salon owner, as you will be able to save on the cost of buying furniture and tools.
For nail salon equipment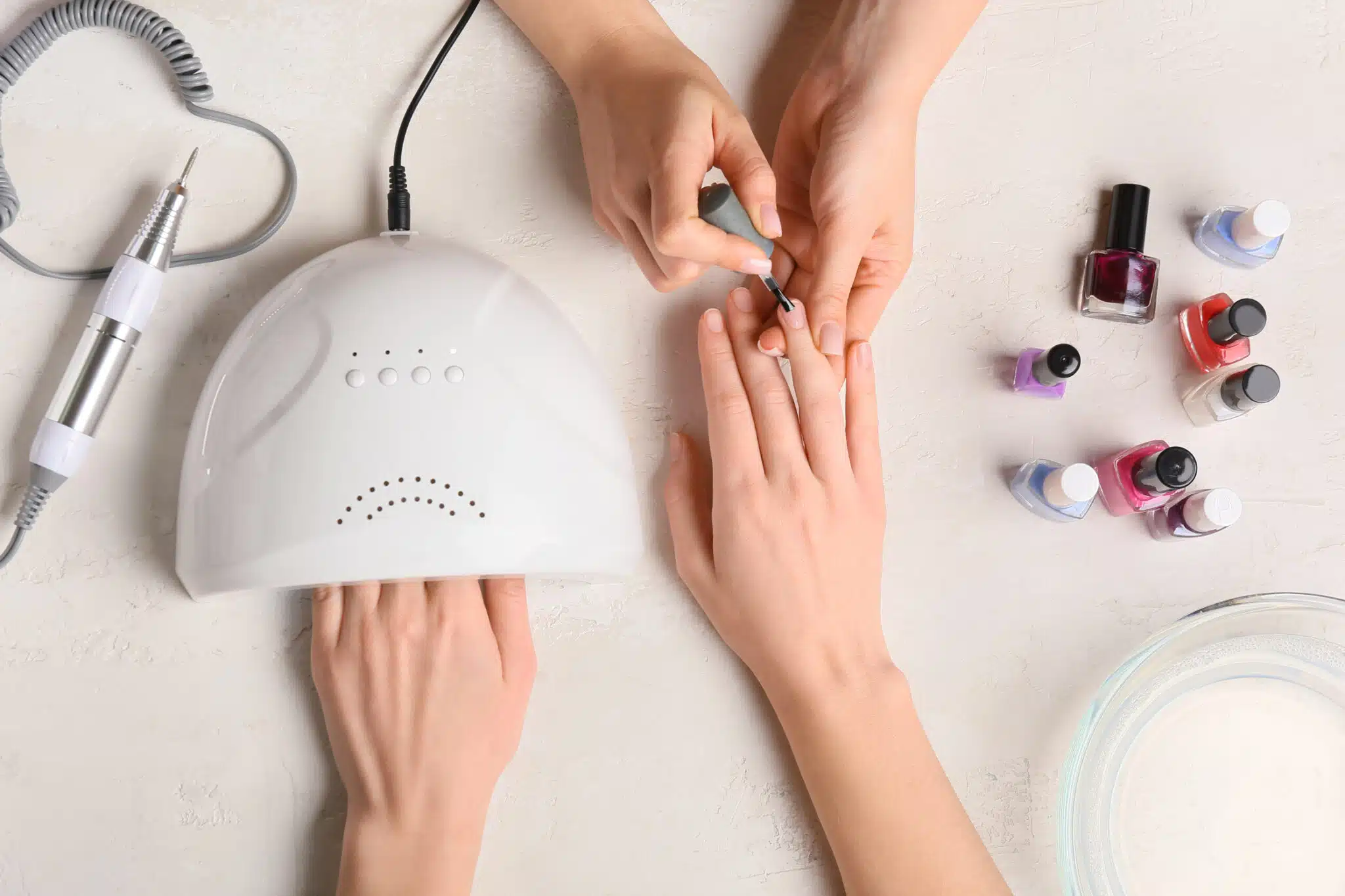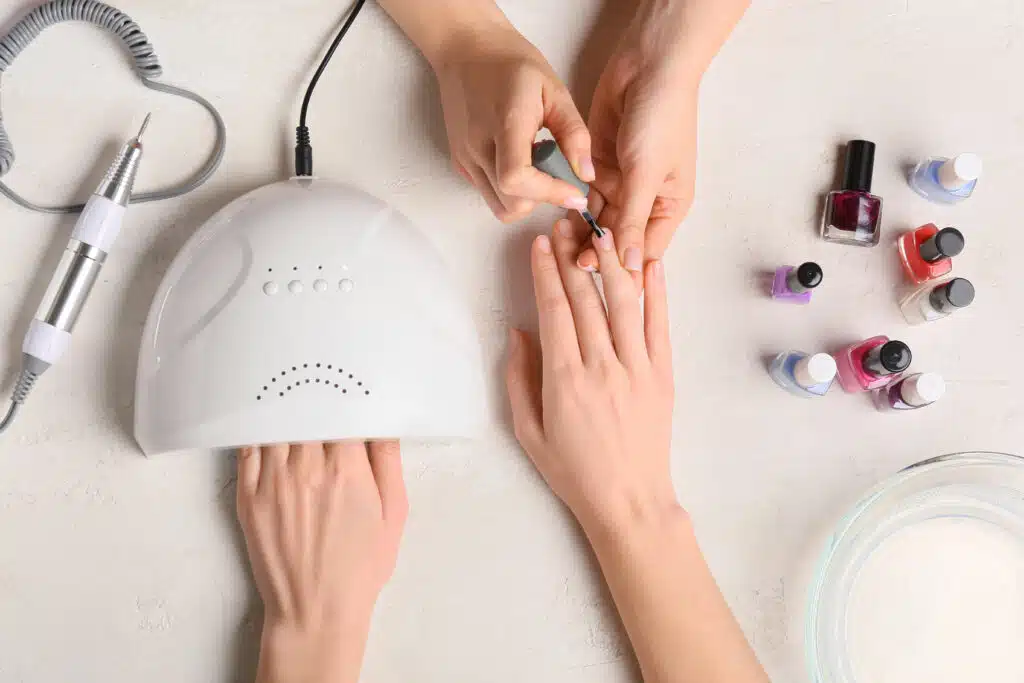 You can't start a nail salon without Equipping it with the necessary tools and products is one of the most important parts of setting up your business. There are two ways to approach it: buy the equipment or lease it.
Buying will give you more control over the salon, but leasing can be much cheaper in the short term. You can expect to deal with rental companies that require a minimum commitment of a certain amount of months. Look in your area or deals that suit you.
Finally, do not forget to include regular maintenance costs in your budget. This will ensure that all your tools are up-to-date and in good condition.
For nail supplies
Nail polishes, gels, acrylic nails, and other supplies are necessary for any nail salon. This can also be a large portion of your budget so it is best to compare different suppliers and find the best deals.
Most nail supply companies offer discounts for large orders so it is worth asking around to see what you can get.
For marketing costs
Marketing is a crucial part to start a nail salon. The good news is that there are many low-cost or free ways to get your name out there, some of which we will discuss in further detail in this article.
For now, keep in mind that marketing should be included in your budget. Even if you choose to work with low-cost or free methods, there might be plenty of unexpected costs such as printing, advertising space, or even small gifts for your customers.
For hiring nail technicians
If you decided to have other nail professionals alongside you, salaries are likely to be the biggest cost. Make sure that you research the market and offer competitive wages (or even better).
Also, do not forget to include some extra costs such as taxes, insurance, health benefits, and other related expenses. This will ensure that you are offering a fair wage and taking care of your employees.
For business insurance
Business insurance is not only important for your business, but it will also be necessary if you hire employees. A salon business owner with employees and a mid-sized place can expect to pay anywhere from $500 to $2000 or more for business insurance each year.
For courses, training, and learning
By now it should be clear to you if you will hire or not. This doesn't determine if you will be a successful nail salon owner or not. In the end it's down to preference for what business structure you want to have
Either way, you will need to invest in courses and training for your team.
On average, basic nail technician certification costs around $400 – $600, and more in-depth courses can go up to $1500. Make sure you include these costs in your budget and remember that it might be worth investing even more in higher quality training.
B: Define your rates and prices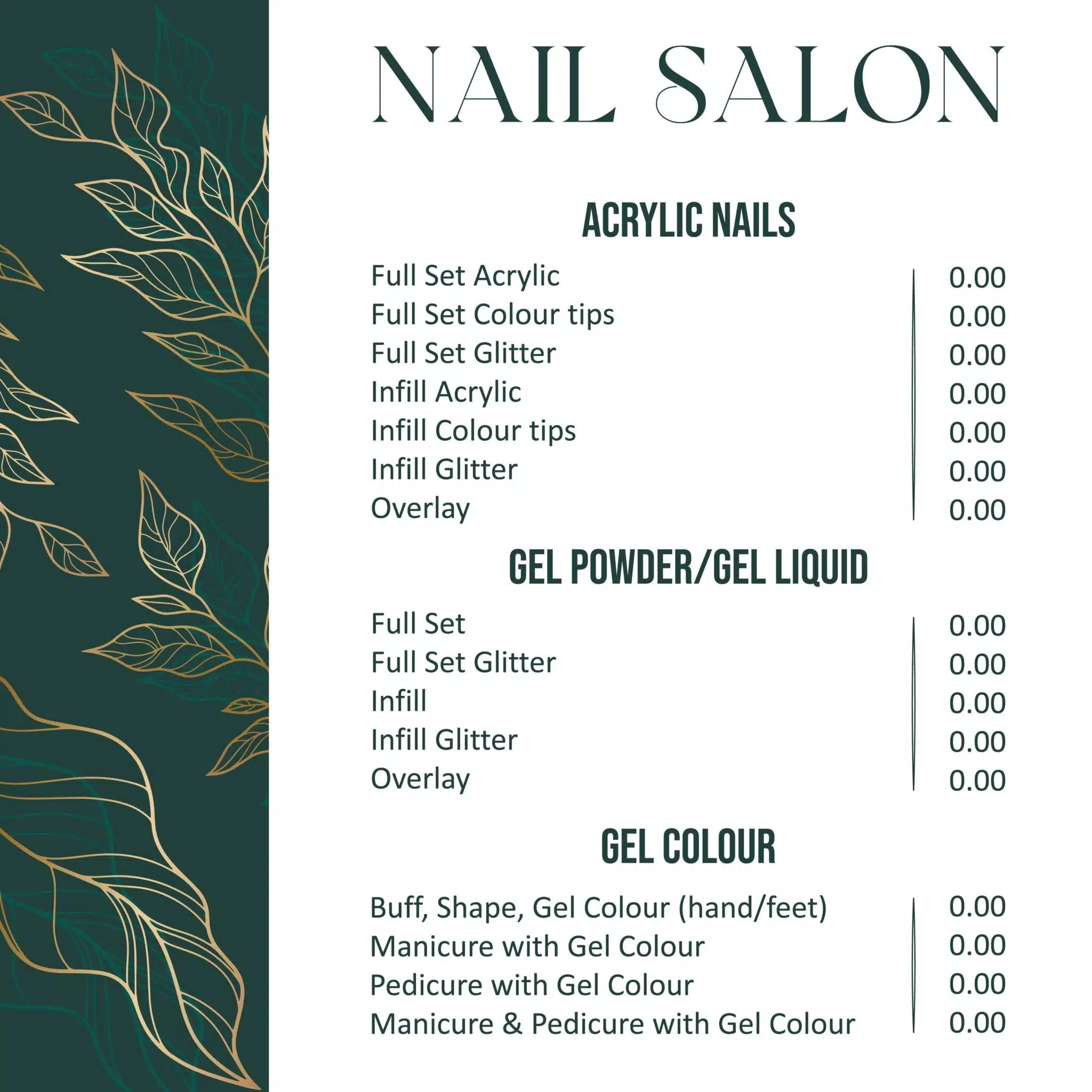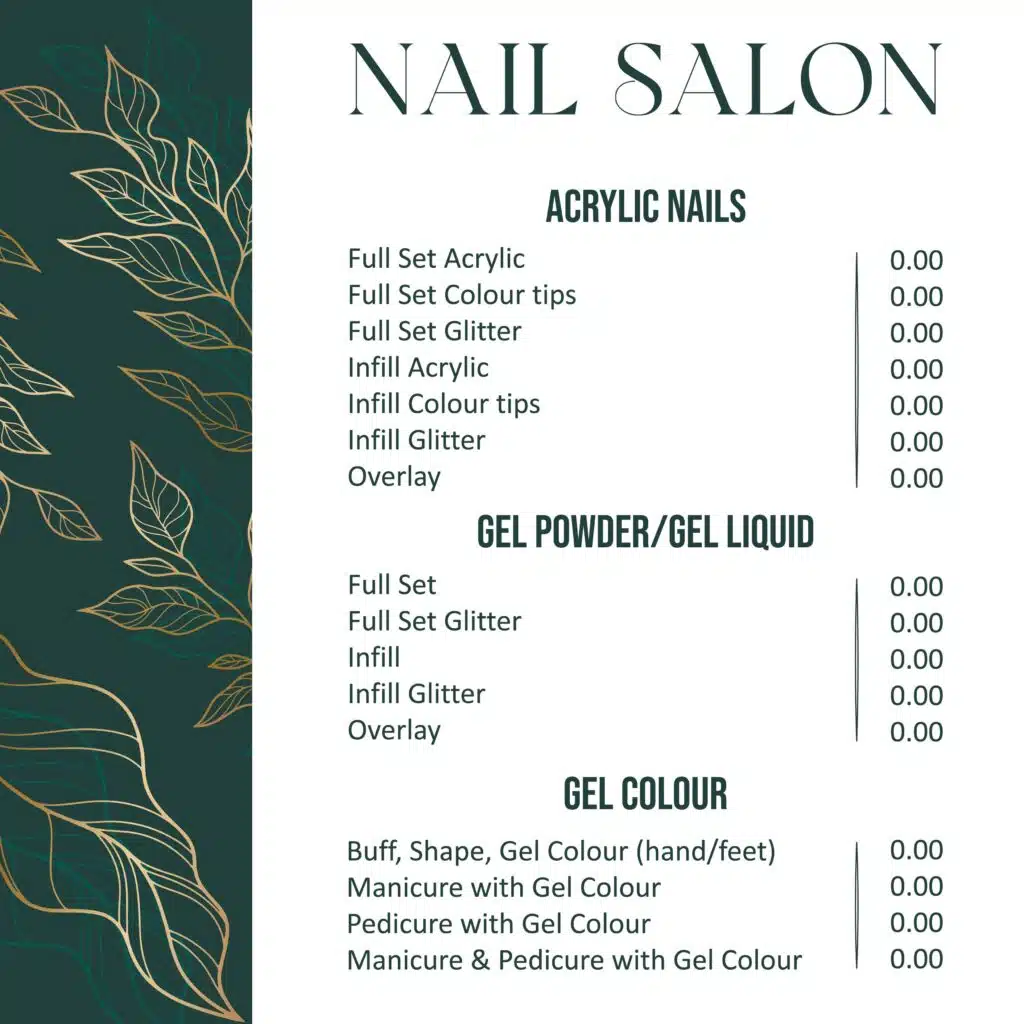 Finally, you will need to set rates and prices to open a nail salon. The math here is more or less simple.
First, you will have to calculate your overhead costs, which include rent, supplies, marketing, insurance, training and basically everything we've been listing in this part of the article.
The second step is to add your profit margin, which can vary from 10-20%, depending on your profit goals and if you are also paying off a business loan.
If you came out with a number you are still unsure of, market research is your friend. Look up salons in your area and see what they are charging for the same services to get an idea of a price range.
Finally, don`t forget to set up your own salon business bank account. Don't mix with your personal finances, and you should be good to go.
Step 3: Pick your business location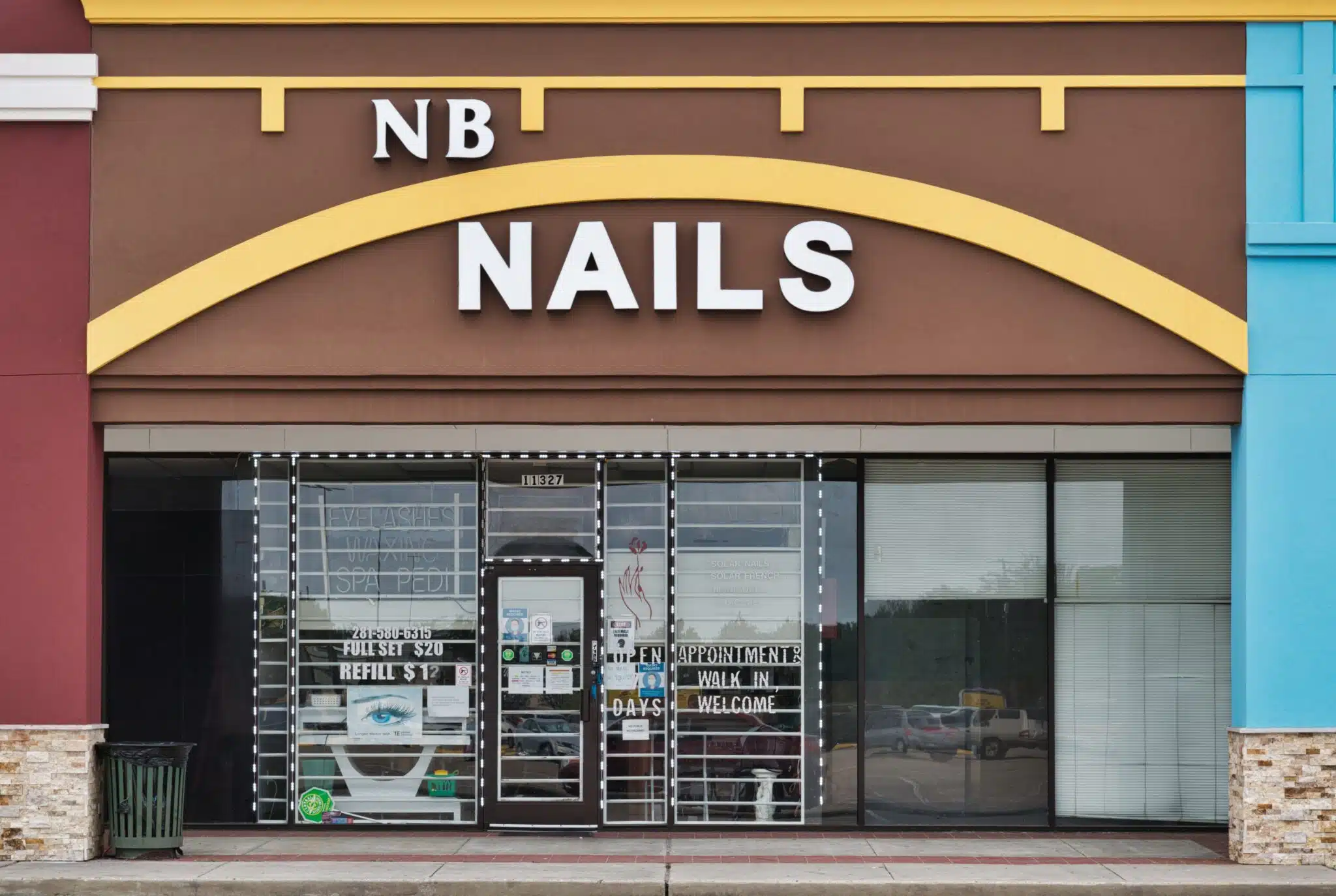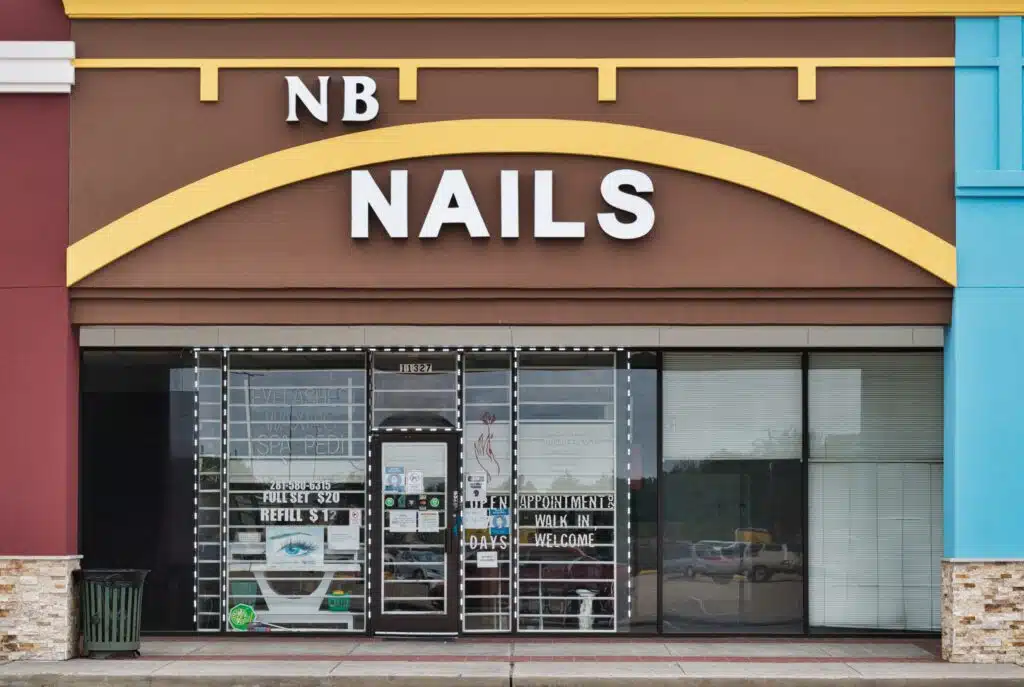 Harold Samuel, a successful real estate businessman from the '40s used to say he had 3 important pieces of advice for businesses when considering where to set up their venue: "Location, location, location."
The term grew popular, and it is easy to understand why. For a nail salon business to be successful, the location must make sense for several reasons.
Unless you plan to have a mobile service, your retail location has to aim for all four components below:
A: Accessible to customers
First, you want to make sure your location is accessible. It should be easy for your customers to reach it by car, bike, or public transportation.
Second, you want it to be accessible enough that it makes sense for your ideal customer (which is something we will also speak about more in detail later on).
What we mean by that is that it should be in a positive environment, close to places where your target market will usually meet and identify themselves to.
B: Aesthetics and ambiance
The second component is the aesthetics and ambiance of your location. While it might seem secondary, an appealing store front can do wonders for drawing in customers.
Pick a place with plenty of natural light and make sure it is clean and inviting. Your business should reflect your style and serve as a first impression for your customers.
C: Size
The size of your place is key to the success of your business. You will want to make sure it is the right size for all your needs.
Think about what equipment you need, how many people you plan to hire, and the level of comfort you want to provide for your customers.
If it is too small, it might make the salon feel cramped and uncomfortable. If it is too large, you might end up wasting money on rent and utilities.
D: Not cost-prohibitive
Last but not least, you want to make sure your rent will fit into your budget. Look out for signs that the area is too costly for your business.
Talk to the landlords or real estate agents and negotiate if you can. It might be a good idea to look for locations a bit further from city centers where rent prices are more reasonable.
Remember that you'll also have to pay for utilities, insurance, and other overhead costs. So take a good look at your budget before you make a decision.
Step 4: Craft your own nail salon brand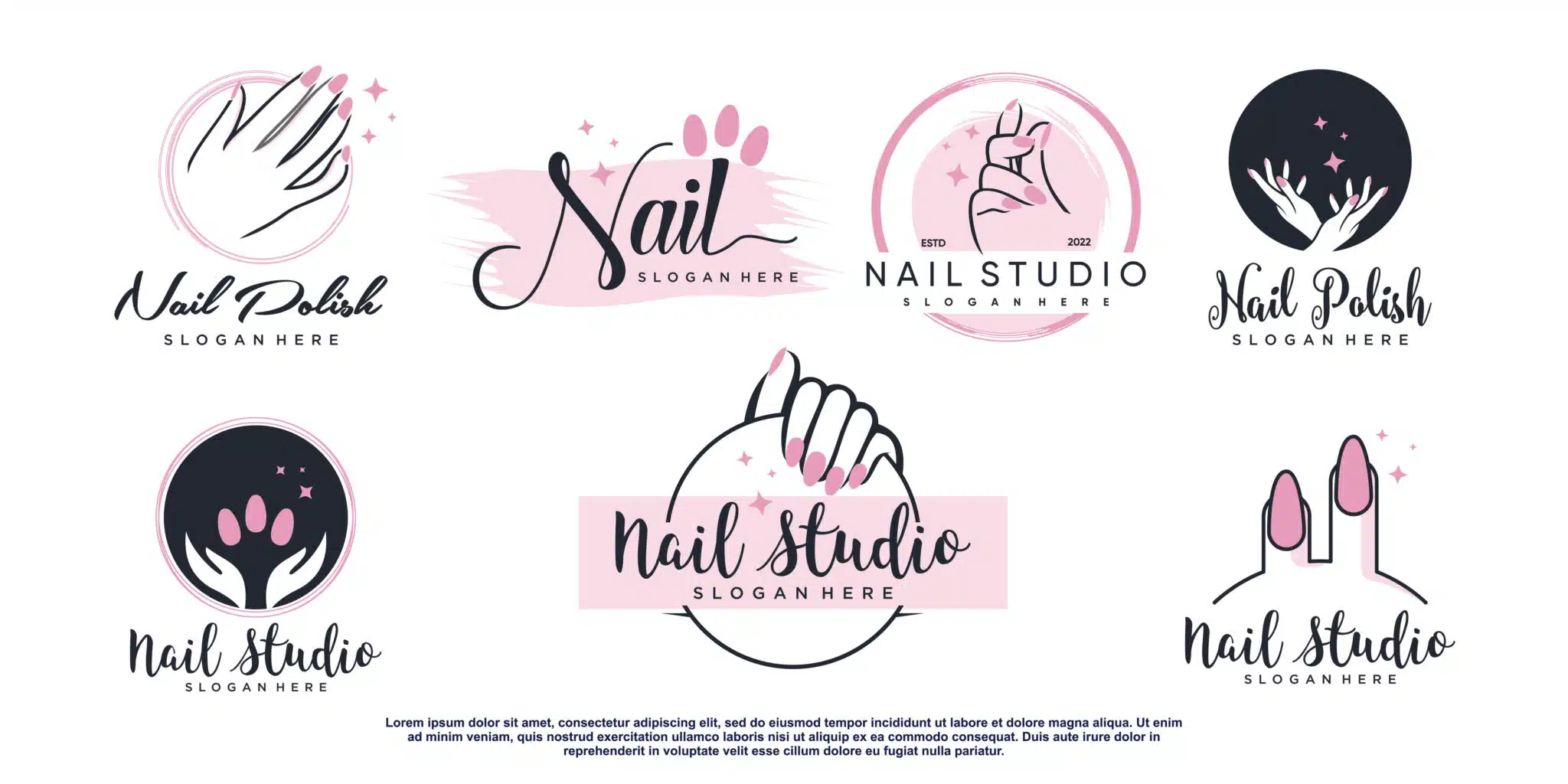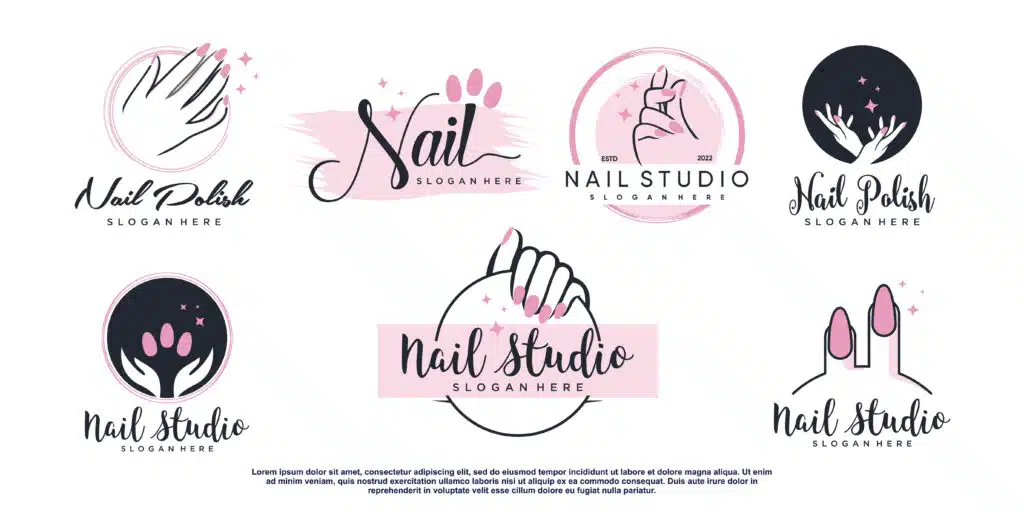 One trap many nail salon businesses fall into is to create a logo first thing outright. While having an iconic symbol is essential, it's more important to build a brand around your services and products.
Define your nail salon mission statement
Your mission statement sets the tone for your salon. It should convey what you are doing and why you are doing it.
It should capture the essence of your business. If you are running a natural nail salon, make sure to emphasize it in your mission statement.
That way, customers will know what to expect and come back for more.
Define your ideal nail salon client
Your ideal nail salon customer should be well-defined. Who are they? Where do they live? What is their age group? What services do they like?
Defining the your ideal customer and target market will help you create a unique brand, come up with marketing strategies, and make sure your product and services fit your clients' needs.
Define your business name
After you got around to build your mission statement and who is your ideal client and target market, its time to come up with a good salon business name.
For this, take into account what do you value in the beauty industry the most a what target market expectations are.
Try to keep this step as simple as possible. Many new business owners try too hard to create a name that is great. Successful salons have names that stay simple, whilst bringing to life what sort of nail treatments and nail care services you offer.
Create a visual identity for your brand
Your visual identity should reflect the values of your business. Pick colors, fonts, and images that are in line with what you want to communicate.
If you run an eco-friendly nail salon, then your visuals should show that. Make sure to create a logo and other visuals that will help distinguish your brand and make it memorable.
One tool we highly recommend you to use is Canva.com. Canva is a powerful and easy-to-use graphic design platform that will help you create visuals for your business in no time.
Once you have the visuals in place, you can start creating digital and physical materials for your clients.
Align online and offline brands
It's vital, once you've built your visual identity, that your online and offline communications are aligned. This means that the visuals and messages you use in your emails, website, and social media platforms all need to align with those used in your physical salon.
Make sure to use the same colors, fonts, and images so that your customers recognize your business no matter where they come across it. Even the layout and design of your website should be similar to the layout of your physical salon.
By doing this, you will create an even stronger brand that will be easy to recognize and remember.
A full guide on nail salon brand creation
We know creating a whole brand for your nail salon business can take some time and effort. It might also seem like a step you can just skip. However, it's hard to stress enough the importance of crafting a brand image that stands out.
That's why, in addition to the tips provided in this part of the article, we would like to recommend additional learning material.
If you would like to dive deeper, we have a complete guide at Appointle on how to create your salon brand. Take a look, as we are sure it will be very useful.
Step 5: Promoting your nail salon business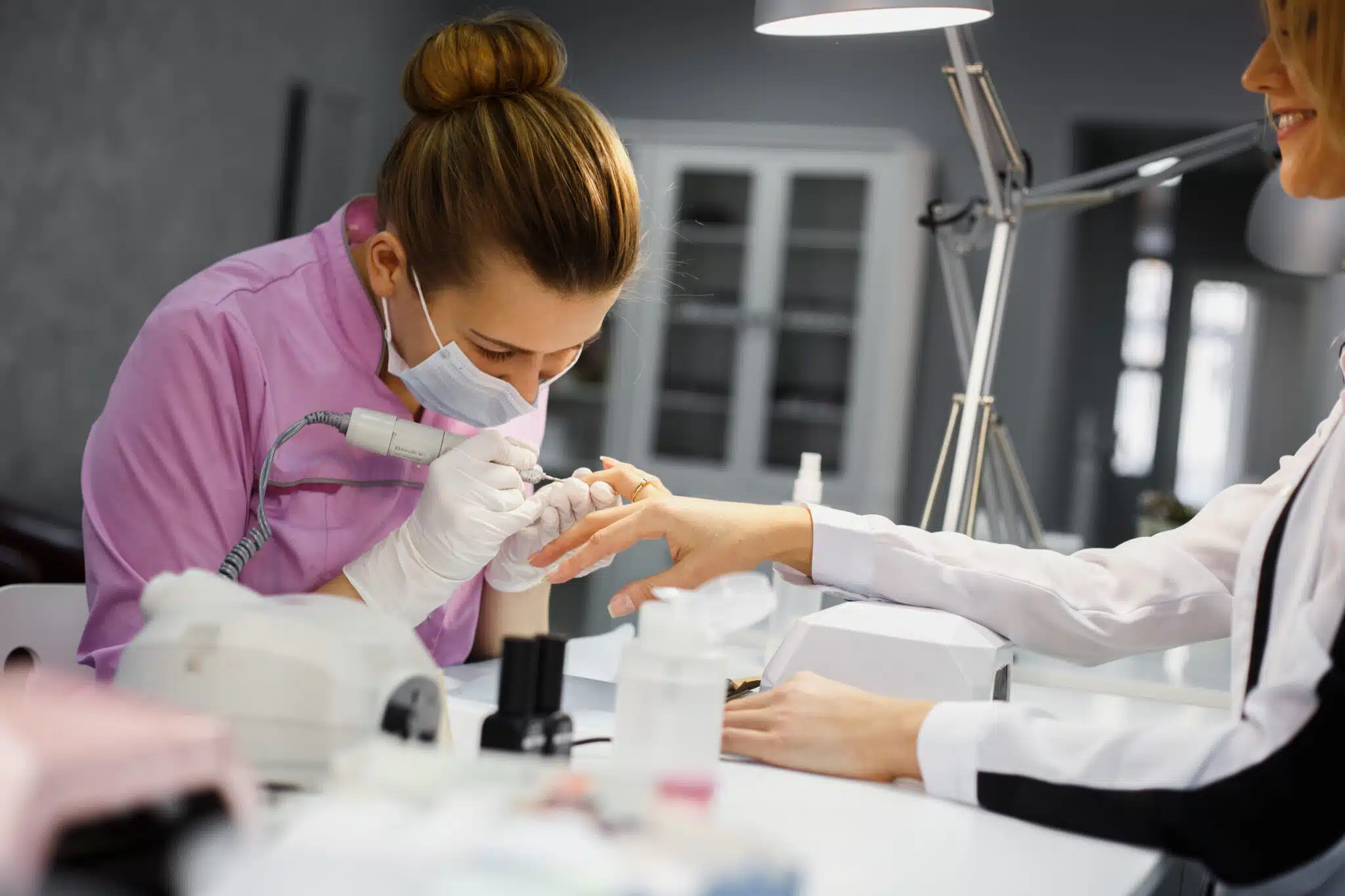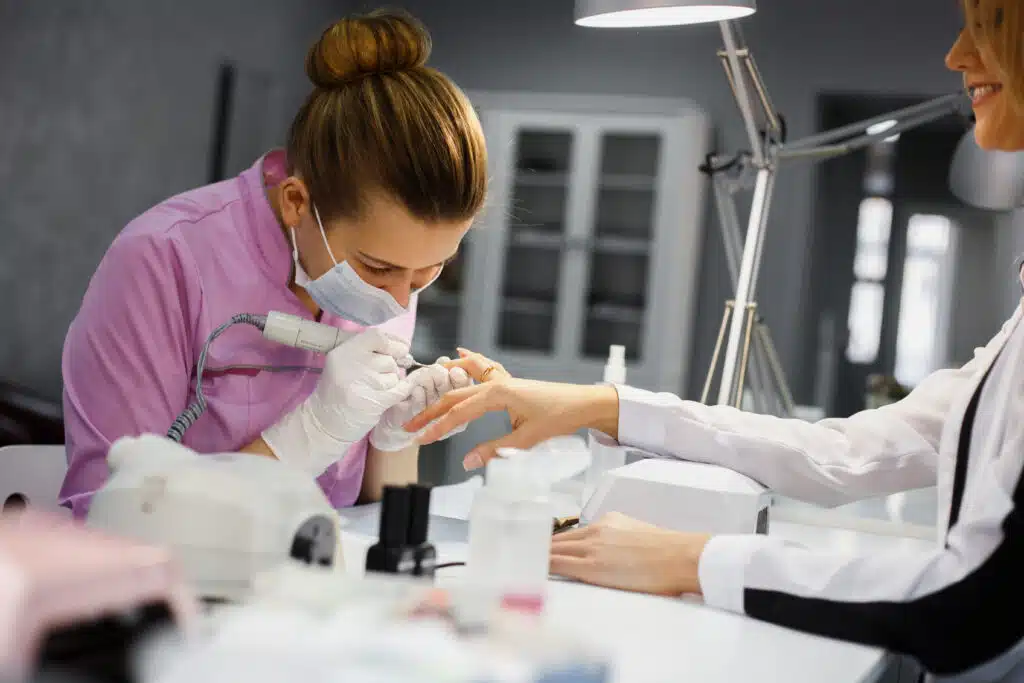 Now that your brand is created, you can start promoting your business. This is a very important part of a nail salon business plan and anyone bound to open a nail salon should pay close attention to it.
In this part of the article, we will share a few ideas on how to promote nail salons.
Social media is your closest friend
Creating an active social media presence is crucial for all small business owners, but especially so for those who work with highly visual services, such as nail art and nail care.
Social media platforms like Instagram and Pinterest are filled with people looking for inspiration, so post regular, engaging content.
You can also start creating a following by engaging with people who have similar interests and share keywords relevant to your business.
Create a website for your nail salon
Nail salons can greatly benefit from having a website. By creating a website, you can showcase your nail art, list the services offered in your salon and even take online appointments.
Having a website is also important for your search engine optimization efforts and can help you rank higher on Google when someone searches for nail salons in your area.
Launch promotions, offers, and discounts
Promotions offers and discounts are a great way to attract new customers. You can offer discounts on certain services or even bundle them together in a package.
You can also offer discounts to loyal customers and run special promotions on social media or other marketing platforms.
Get involved in local events
Attending local events, such as fairs and festivals is a great way to get your brand out there.
You can also host your own events or sponsor those of others. This will not only help you promote your business but also build relationships with other local businesses and get customers to come to your salon.
Invest in text message marketing
Text message marketing is an effective way to reach out to customers and keep them informed about new updates, promotions, and offers.
You can use text messaging to let customers know about new services, discounts and offers. You can also use it to remind them to book their appointments or notify them when they are due for a refill.
To make the most out of your text message marketing, use personalized messages and to comply with spam regulations.
Following these tips will help you create a solid business plan for your salon's marketing.
Step 6: Get beauty salon software for managing bookings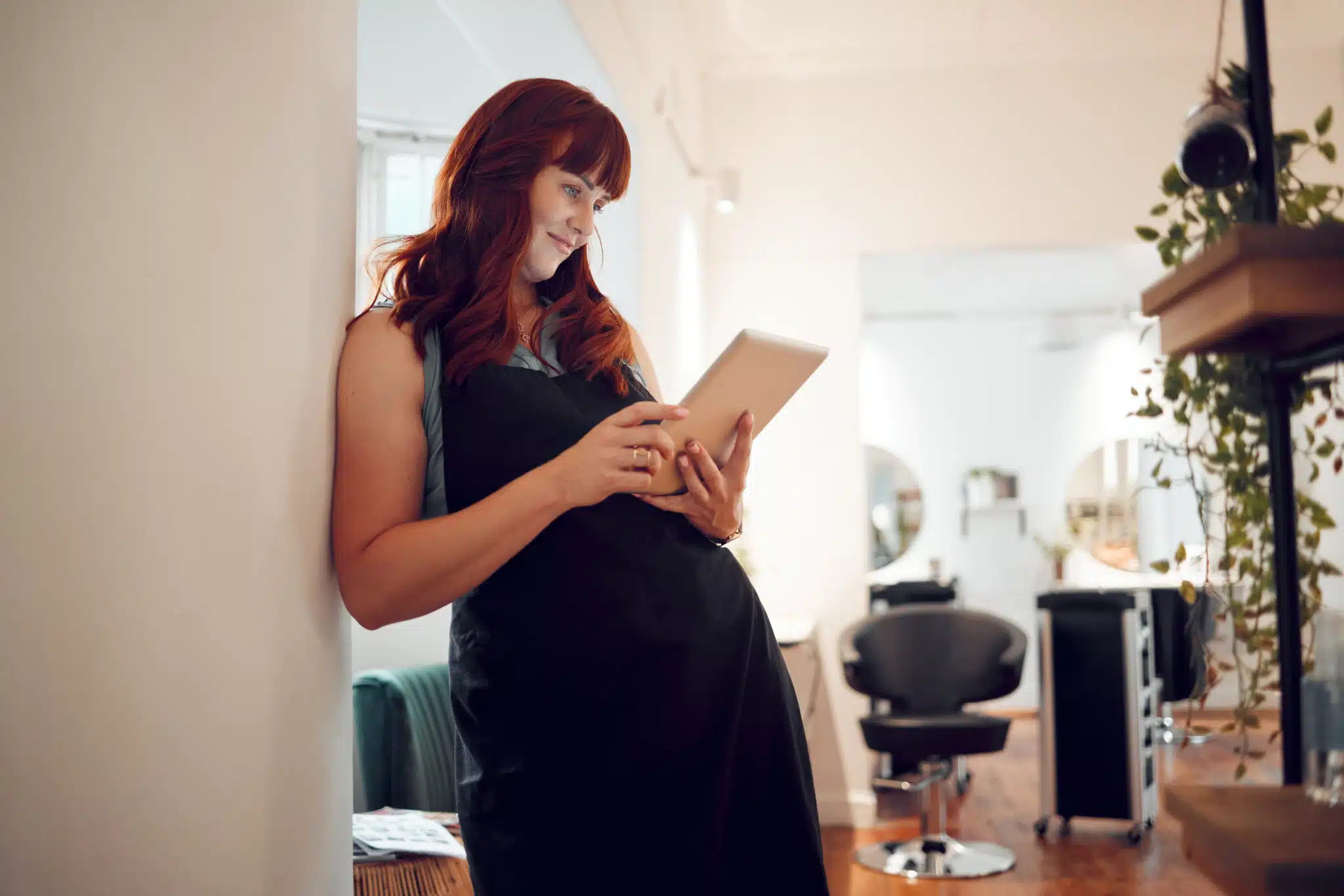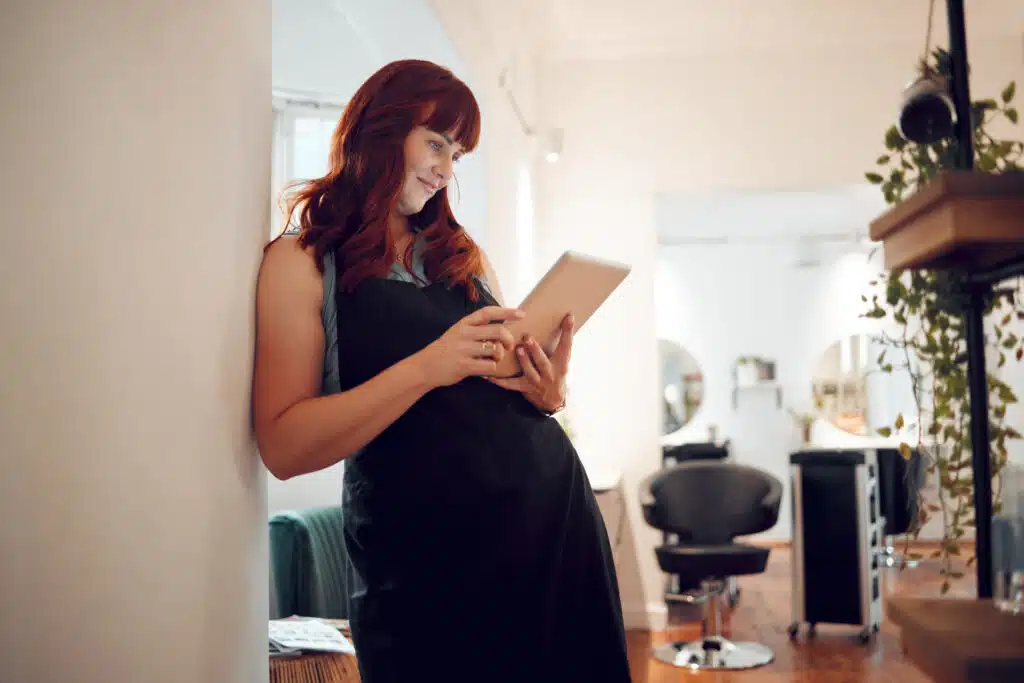 Maybe now, as you are starting off, your head is not really in the realm of software and technology – let alone client management.
You are still in the process of bringing all the pieces together, but as soon as your nail salon business picks up, you will need a system. More important: an appointment scheduling system.
Managing bookings, re-scheduling appointments, syncing your staff agendas: that is what we call a full-time job. That's where beauty salon software comes in!
WITHOUT a nail salon booking software
This is what a day in the life of a salon owner looks like without dedicated salon software for managing appointments:
You take phone calls instead of managing the business
In the beauty industry, time is of the essence.
Taking phone calls to book appointments and answer client questions can take up a significant amount of your time, leaving you with less time to focus on the day-to-day operations of your business.
You rely on pen and paper… until it all becomes a mess
Once you start your salon business, resources are limited, so it makes perfect sense to keep things simple. For that phase, taking appointments with pen and paper works… until it doesn't anymore. Not only is it time-consuming to manually book appointments and keep track of client information, but it's also prone to errors, miss client appointment times, etc.
Google Calendar works… until you grow
Google Calendar is a popular choice for managing appointments and schedules, and it can certainly be helpful for small businesses.
However, as your salon grows and you have more clients, staff members, and appointments to keep track of, Google Calendar can become overwhelming.
Client management becomes a grueling task
Managing a large number of clients can be a challenge, especially if you're trying to do it all manually. It becomes nearly impossible to easily access client history.
Beauty salon software allows you to easily store and manage client information, including appointment history, contact details, and special requests.
Your marketing tools and appointment management can't communicate
If you're running a beauty salon, chances are you're using some form of marketing to attract new clients and keep your business growing. However, without the right tools, managing your marketing efforts can be a real challenge.
WITH a nail salon booking software
And this is what a day in the life of a nail salon owner who decided to run with nail salon software looks like:
You get new clients 24/7
Nail salon owners who decide to use salon software can benefit from the convenience of online booking. Your clients will be able to book appointments 24/7, with no need for you to lift a finger. We are talking 3 am on a Sunday level of 24/7.
Marketing campaigns work hand in hand with appointment bookings
By integrating your marketing campaigns and appointment booking management, you can create a seamless experience for your clients and better track the success of your marketing efforts.
For example, you can send promotional SMS and appointment text reminders through the same software, ensuring that your clients are receiving consistent and relevant messages.
You can easily send automated reminders
No-shows lead to missed revenue and disrupted schedules. However, with great salon and spa software, you can easily set up automated appointment reminders to reduce no-shows and keep your schedule running smoothly.
These reminders are sent via text message and can be customized to meet the needs of your salon. By setting up automated reminders, you can help to reduce no-shows and keep your schedule running smoothly, leading to a more efficient and successful salon.
Salon staff and employee management become second nature
Great salon software can help to alleviate these issues by allowing you to easily create and manage staff schedules and appointment bookings.
With this type of software, you can ensure that you have the right people in the right place at the right time, helping you to run a more efficient and successful salon.
You can also use the software to track employee attendance and performance, making it easier to manage your staff and improve overall productivity.
An appointment scheduling software for salons looking to grow in 2023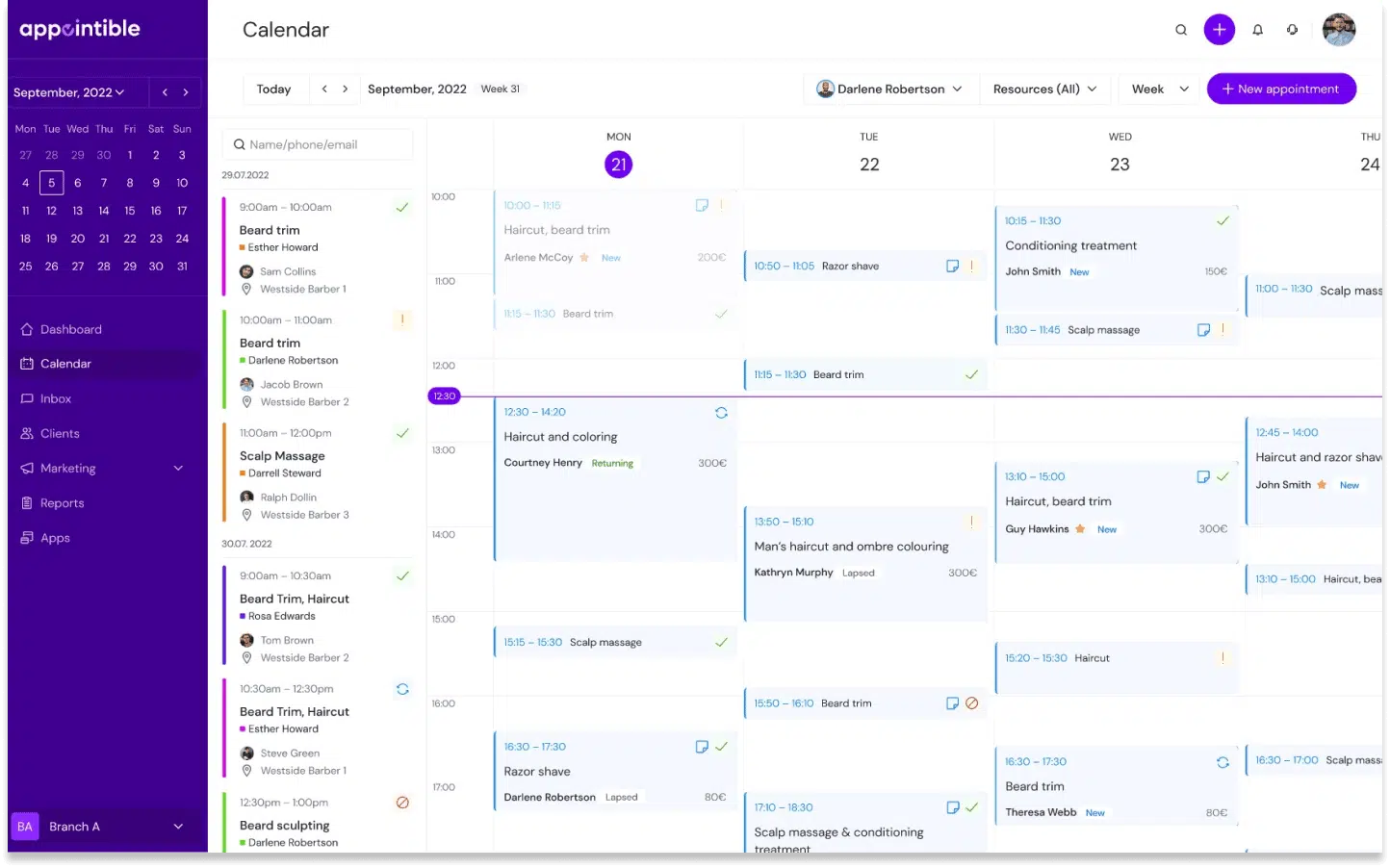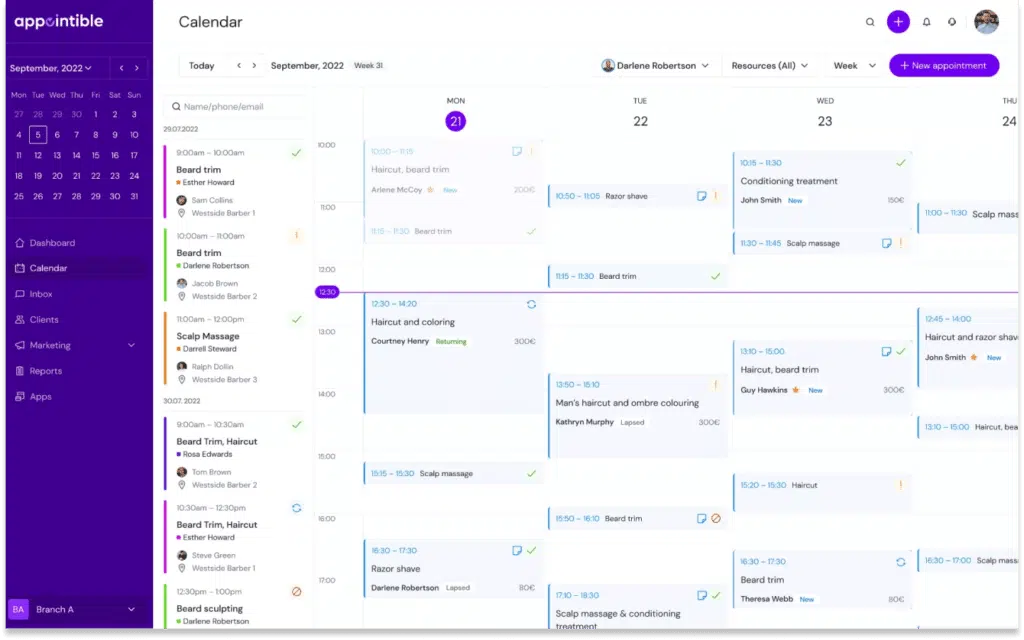 The missing piece of the puzzle is to find the best salon software to manage online bookings and automate scheduling appointments. And with that theme, we would like to introduce Appointible.
Appointible is an online booking software for salons in the beauty and wellness industry. We are a powerful and user-friendly beauty salon software solution with a modern online appointment booking system.
Before we move to the next and final step, we invite you (and highly recommend you to) start a free account with Appointible.
Step 7: Growing your nail salon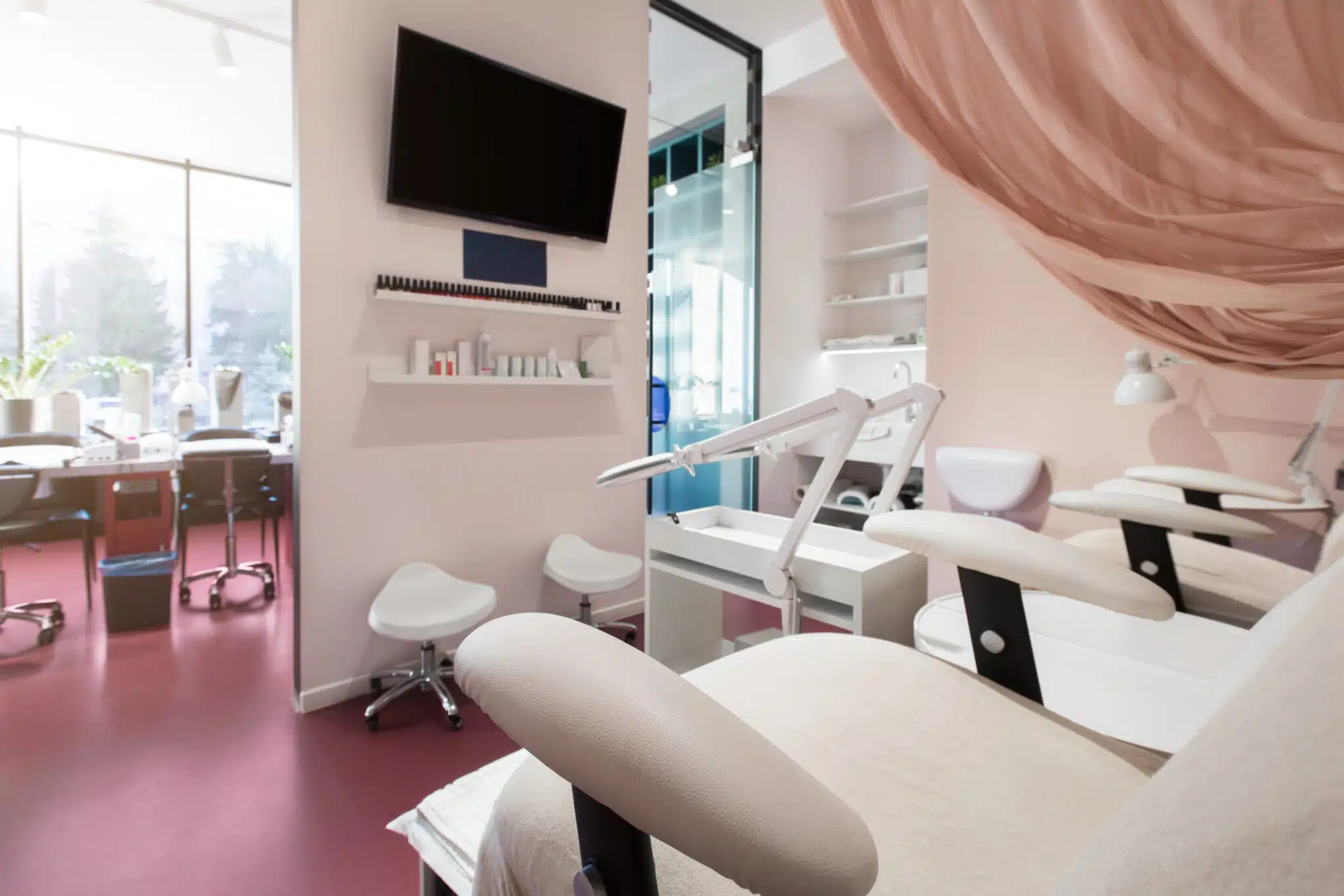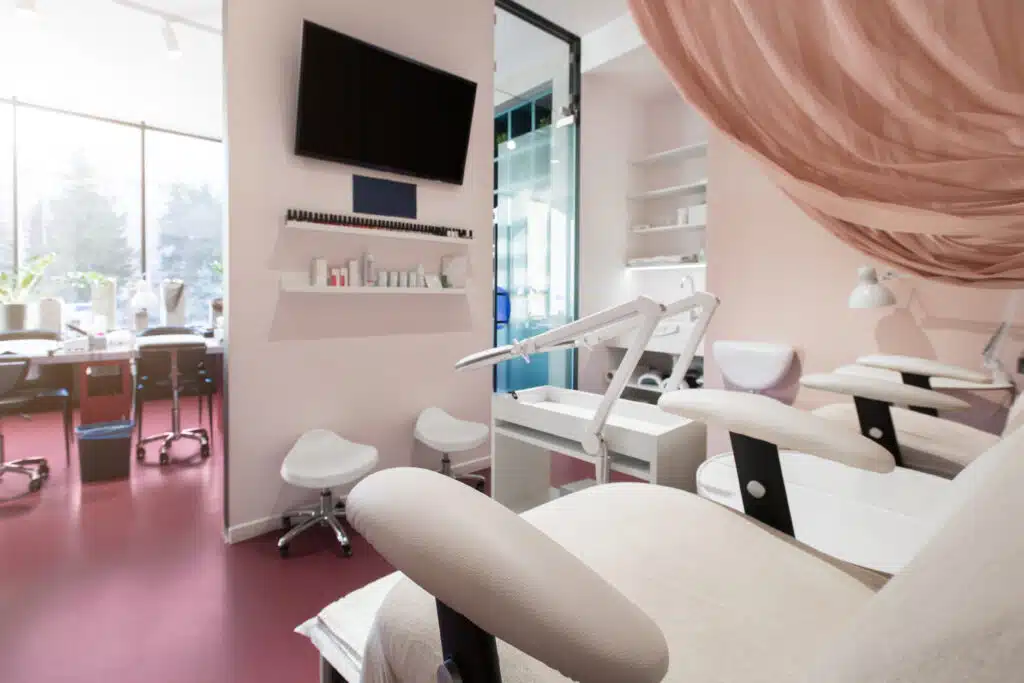 If you did everything right, there will come a time when growth will knock at the door. You might be wondering how come we talk about growth in an article that addresses opening a nail salon.
This is because if you start a nail salon knowing where it is headed – and how it is headed – it will be easier for you to make all the necessary preparations.
Primarily, there are two paths for nail salons to grow:
Horizontal salon growth
Horizontal growth means that, over time, your nail salon adds new services, hires additional nail technicians, opens new locations, and so on.
If you want to go for the path of a horizontal growth business model, start by already having it reflected in your branding and salon size. For example, you might already envision that, in addition to the services, you will also have a nail shop, then plan for a bigger salon and invest in the necessary equipment.
Vertical salon growth
Vertical growth, on the other hand, means you will specialize in a select amount of services and aim to become the best of the rest at what you do.
That might reflect in you being able to charge steeper prices and keeping payroll, supplies, and overhead to a minimum.
As you can see, there are many ways for your nail salon to grow and you should pick the one most fitting for you. Research your options, plan carefully and make sure to adhere to the regulations in your area.
And most importantly, don't forget to review your efforts and tweak your strategies if need be. With the right mindset, it is possible to open a nail salon and excel at growing a successful business.
That's all you need to know about how to open and grow a successful nail salon business this year. We hope that this article has been helpful to you and wish you the best of luck in your endeavors!
Don't hesitate to leave us your opinion in the comment section below.