Are you looking for new ways to market your hair salon or spa? If so, you may want to consider Facebook Advertising (now Meta Advertising). Facebook Ads is a powerful marketing tool that can help you reach a large audience of salon clients in addition to Google Ads. In this guide, we will show you how to create effective Facebook Ads for a hair salon, an individual hair stylist, and spas. We will also provide some tips on how to run your first ad and get the most out of your campaigns. If you are ready to take your salon business to the next level, read on!
The basics of Facebook Ads for Hair Salons And Spas
For businesses to remain competitive, having an effective digital marketing strategy is imperative. With over 2.85 billion users on Facebook, it's a great platform to utilize as part of your beauty salon marketing plan. This complete beginner guide can help you reach the right audience fast! We will go through how exactly to create a digital marketing funnel to bring a steady flow on new clientele! Having an extremely popular Facebook page can even open doors for clients outside of where you are located too – imagine how successful your business could be then! But first, let's go over the vocabulary.
Vocabulary in Facebook Ads
Ad Copy
This is the text in the ad to persuade people to buy a product or service. When writing ad copy for Facebook, it's important to consider the tone, structure, and phrasing of the advertisement. The language should be creative and engaging while also being concise. Don't forget to tailor the language and imagery of your ad copy to appeal to the audience you target.
Audience
This is a group of target people you want to reach with your ad. You want detailed targeting with your audience, meaning you reach people in a specific location or with certain interests and ages. If you already have your salon clients' database with names and emails, you can use it to build the perfect audience and ad targeted to people who are more likely will like what your salon offers.
Impression
An impression is a measure of the number of times that an ad is displayed on Facebook. An ad impression occurs each time an ad is shown to a user on Facebook, regardless of whether the user interacts with the ad.
Conversion
A conversion is an action that a user takes in response to an ad. Results are important for measuring the effectiveness of an ad campaign, as they indicate how well the ad is performing at achieving its objective. Think about it as a result when someone buys your product/service from your Facebook ads.
Landing Page
An ad and landing page go together. Landing pages are designed to be concise and relevant to the user's needs, containing only the vital information needed in order to take action. This is the webpage the audience will visit after they click your ads.
Tools
Facebook Page
Facebook Page is a public representation of your salon on the social network that allows you to connect and interact with customers, potential clients, and other salon professionals. You can post salon updates, and notifications about special offers and promotions, interact with customers, showcase salon services and products, respond to messages, and more.
Facebook Business Manager
Facebook Business Manager is an online tool that allows salon owners to manage their business presence on Facebook. It provides a range of features, including the ability to create and run ads, measure performance, track customers, and more.
Meta Pixel
Meta Pixel is a small piece of code that should be placed on a salon landing page or website to track conversions. This helps salon owners see how effective their ads are and make adjustments if necessary.
Once your Meta pixel is installed and working correctly, you can use it to track conversions on your website. To do this, you will need to create a "conversion event" in the Facebook Ads Manager and specify the type of action that you want to track (such as a form submission or a purchase).
The 7 Steps Plan to run your First Successful Salon Facebook Ad
Below you will find a comprehensive overview of the steps we are about to take. Although some may not be clear yet, don't worry – I'll go into great detail on each one.
Choosing an objective and defining Facebook Ads strategy

Setting up the Facebook accounts

Finding your ideal audience on Facebook

Creating an offer landing page where you will convert visitors to clients

Creating a salon Facebook Ad that catches the attention

Launching your salon's first Facebook Ad campaign

Measuring results and adjusting your salon marketing campaigns to bring new clients
Choosing a campaign objective and defining Facebook Ads strategy
Choosing a campaign objective and defining a Facebook Ads strategy is a critical part of salon marketing. It's important to have clear objectives to ensure that the efforts and resources put into salon advertising are properly utilized. An effective salon marketing plan should include both short-term and long-term goals, with a focus on customer retention and growth. Here are the three questions you should think about when thinking about your salon's Facebook Ads strategy.
Who do you want to advertise to?
Are you aware of who the perfect customer would be for your salon? You should also consider their demographics and interests. With Facebook Ads, it is possible to target precisely that ideal audience!
For example, showing an ad for covering gray hair to young adults will never work. It doesn't matter how attractive the promotion or copy may be. Similarly, displaying an ad for a salon located in New York to someone living in Texas is likely not going to be successful.
When advertising on Facebook, you can be incredibly precise and target your local customers with pinpoint accuracy. Let's say you manage a hair salon in Cook County, Chicago, that specializes in Vegan products. You can target women ages 20-50 who live within one mile of your business and are already interested in vegan product offerings – all thanks to the wonders of Facebook!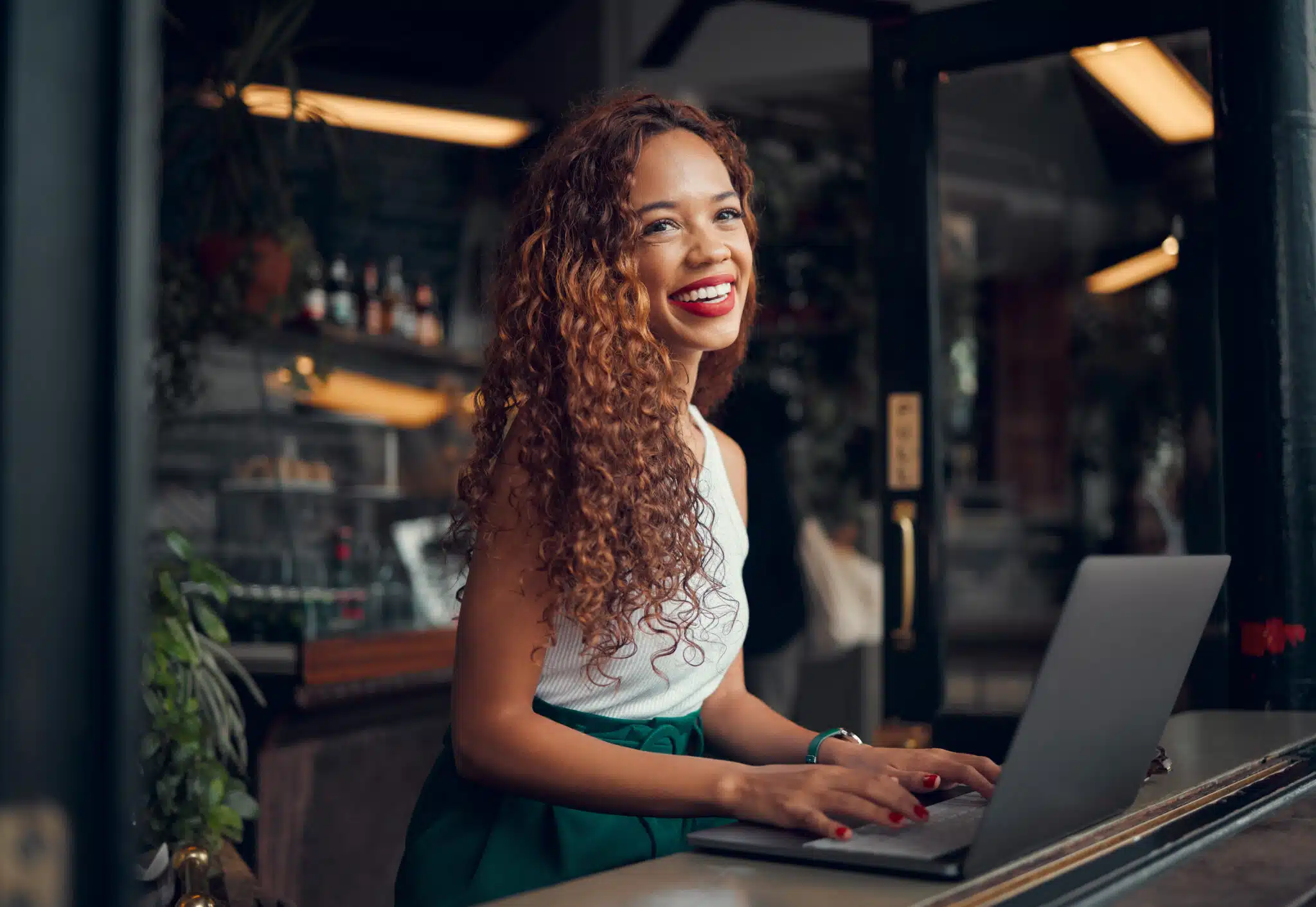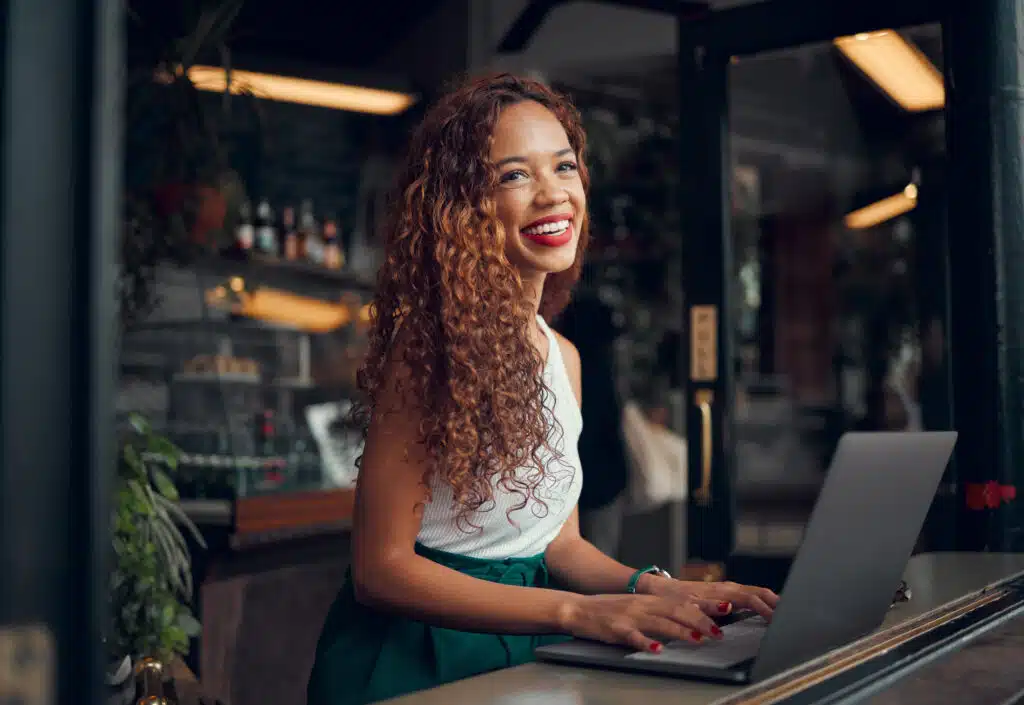 How to plan the ad spend?
Before you start running a Facebook ad, it's important to have a budget in mind. To begin experimenting with the Facebook ads campaign, I would recommend setting aside $5-$10 each day for 10 days ($50-$100 total) on the ad spend. From there, you can evaluate if this works and decide how much more your salon is willing to invest in order to reach maximum success! When an ad performs well on Facebook, the only real limit of investment is ultimately determined by how many customers your business can handle.
What is the offer?
Facebook ads are an incredibly powerful way to reach new customers and enhance their salon's visibility, but a good offer is essential for salon marketing success.
A great offer could range from discounts on salon services to free products or services for new clientele. It's important to consider the value of your offer and make sure it is appealing enough to draw in potential salon customers.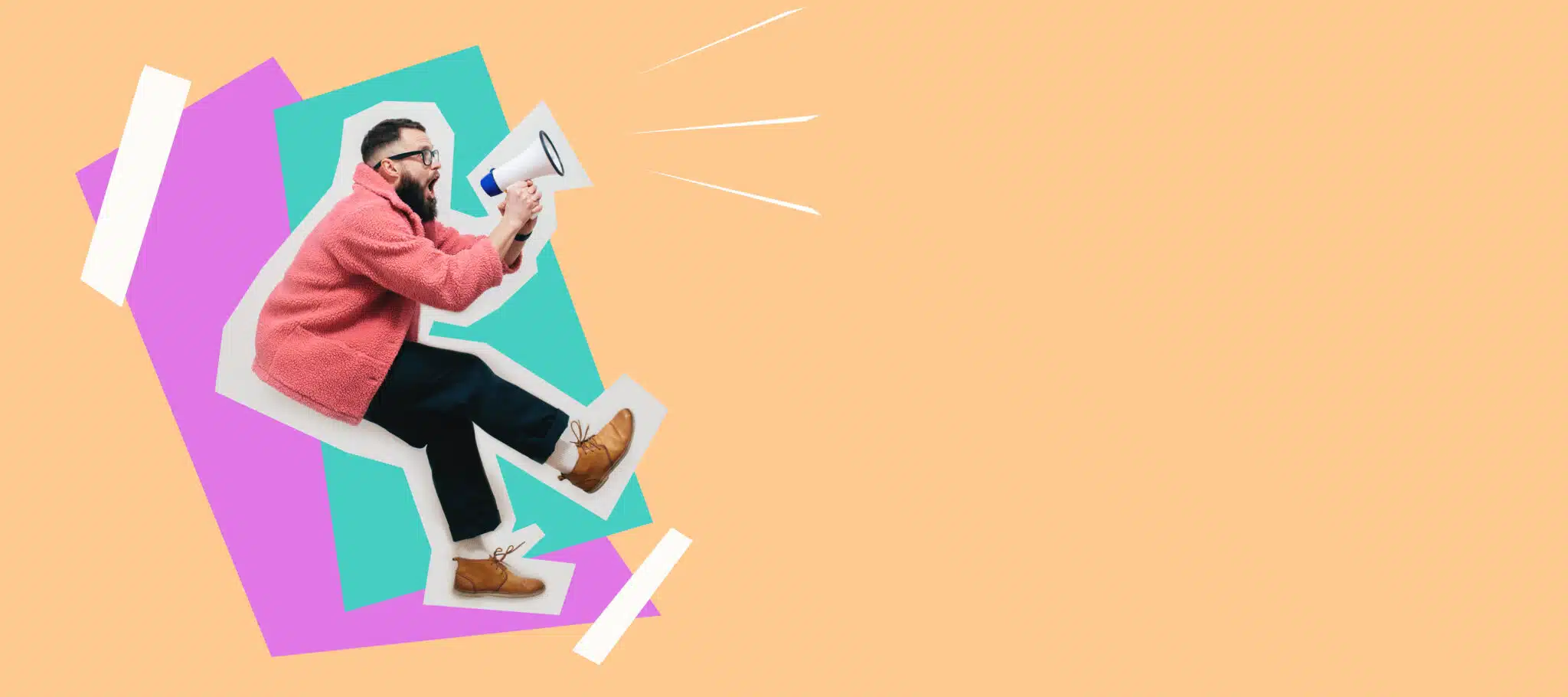 Another key element of salon marketing with Facebook ads is timing. Timing your offers to coincide with salon events, holidays, or other salon promotions can increase the impact of your Facebook ads campaign and potential salon customers.
In short with the right offer and ideal timing, your salon will obtain greater returns on its investment in Facebook ads campaign.
Setting up the Facebook accounts
Create Facebook Page for your hair salon
Creating a Facebook page for your salon is an effective and free way to reach potential customers. Here are the steps to get you started:
First, log in to the salon's existing Facebook account or create one if the salon doesn't have one yet. Once logged in, use the top right-hand corner to access the creation interface at facebook.com/pages/create/.

In the creation process, choose "Local Business or Place" as the page type and enter the salon's information, such as address and phone number.

Lastly, upload a profile picture for the salon that best represents it visually. Then upload an appropriate cover photo that is relevant to the salon's services and offerings.
Create a Facebook Business Manager account
Creating a Facebook Business Manager account for a salon is an easy and effective way to reach new customers with Facebook advertising. With this powerful tool, salon owners can create customized campaigns, track performance insights, and manage their salon's overall presence on Facebook. Here's how to get started:
Visit business.facebook.com to create your salon's Business Manager account. Enter the salon's business name, email address, and other required information.

Connect your salon's Facebook Page to the Business Manager account. This will allow you to access advanced features and performance analytics for managing campaigns.
Create a Meta Pixel and install it to your salon website
Installing the Meta Pixel to your salon website allows effectively measure, optimize, and build targeted audiences for Facebook advertising. Here are the steps to getting your salon's Facebook Pixel code up and running:
Log into your salon's Facebook Business Manager account, click on 'Tools' and select 'Pixels'.

On the Pixel page, click 'Create a Pixel' to start the process of adding your salon's pixel code.

Name your salon's pixel (e.g., "Janes Hair Stylist Pixel") and copy the provided tracking code into every page of your salon website.

Check to make sure the code is working properly by using Facebook's Pixel Helper, a Chrome extension that checks the accuracy of the pixel code.
Finding your ideal audience for your first Facebook ad
Locations to target
To ensure your ad reaches its intended audience, be sure to provide the precise address of your salon as the targeted location. Determine a viable radius from your salon that potential customers would be willing to travel within for their beauty services. You can enter multiple locations to target a single Facebook ad.
Gender & age
Tailor the demographics to your salon's needs, and determine which are most pertinent.
Optimizing the audience size
Getting more specific with your target audience is always a good thing. However, you do not want to narrow it down too far. It's better to be slightly expansive rather than overly restrictive when targeting customers on Facebook. The platform will also use its intelligence algorithms to boost the reach of your ad campaign for maximum effectiveness.
Creating an offer page to convert visitors to clients
Landing pages are an important part of any website. They are the first impression new clients get when they visit a business's website and can have a huge impact on conversions. There are two main types of landing pages used by beauty salons: informational landing pages and online bookings pages.
Informational landing page
Informational landing pages are usually created by landing page builders like WordPress, Wix, Zyro, and others. It allows your salon business to provide information about the salon, such as the salon name, services offered, photos of work done by the stylists, and customer testimonials. These landing pages are designed to drive engagement and build trust in the business before clients make a booking.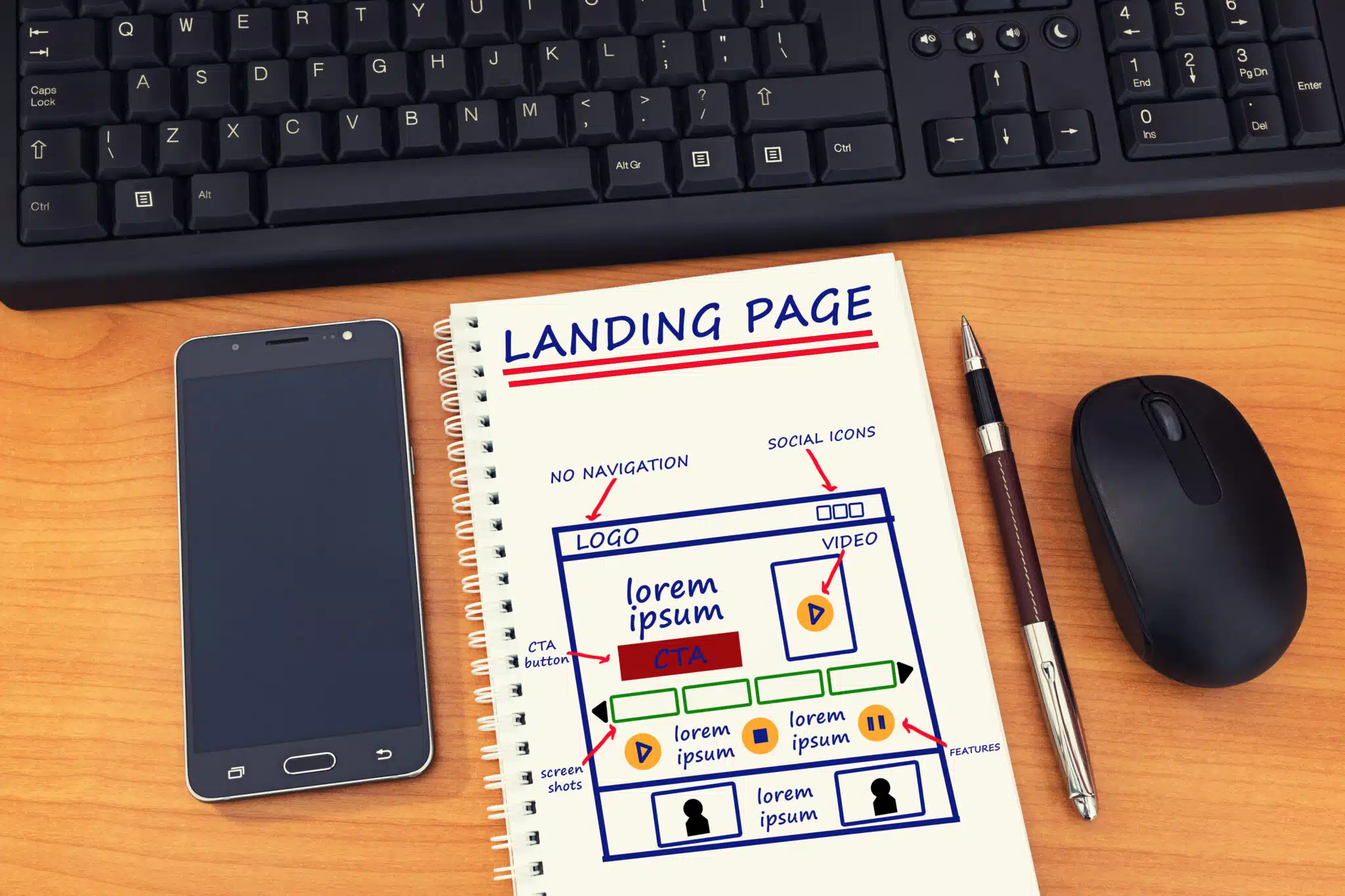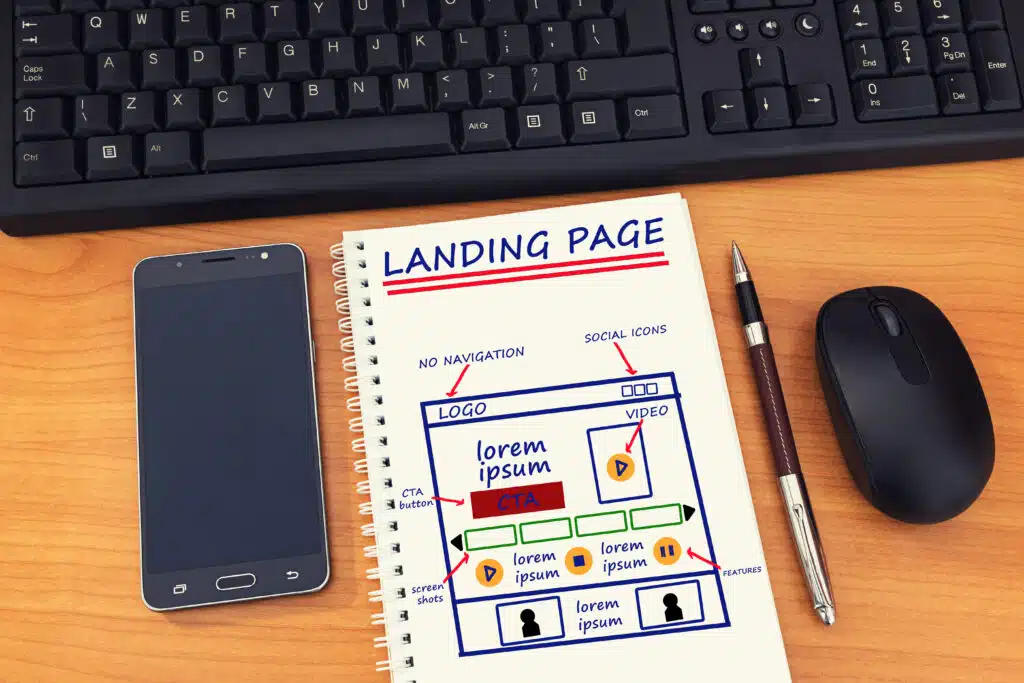 Salon landing page example
Let me share several ideas on a specific page type you may find useful:
A landing page that features a call-to-action button for booking an appointment, with a form for entering contact information and selecting the desired service.

A landing page that showcases the salon's services, with descriptions and pricing for each service and photos of the salon's facilities.

A landing page that includes customer reviews and testimonials, as well as information about the salon's team and their qualifications.

A landing page that features a promotional offer, such as a discount or a free trial, for new customers.

A landing page that includes a newsletter sign-up form, allowing customers to stay informed about the salon's promotions and events.

A landing page that includes a FAQ section, answering common questions about the salon's services, opening hours, contact info, and policies.
Online booking page as a landing page
Online booking pages can be a great way for new clients to book your salon services quickly and easily online after clicking on your Facebook ad. To book a service, the client will need to enter their contact details, desired services, and appointment time.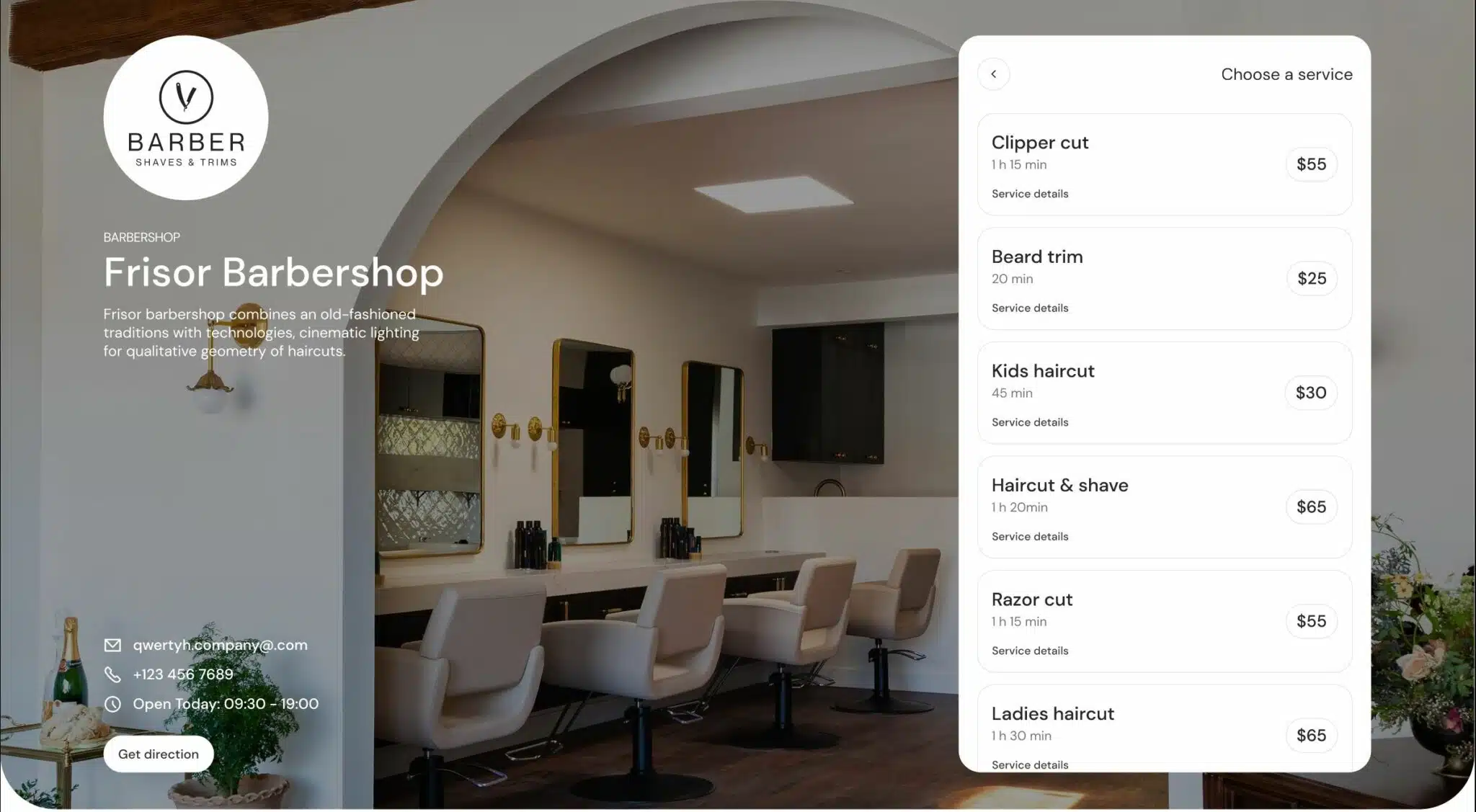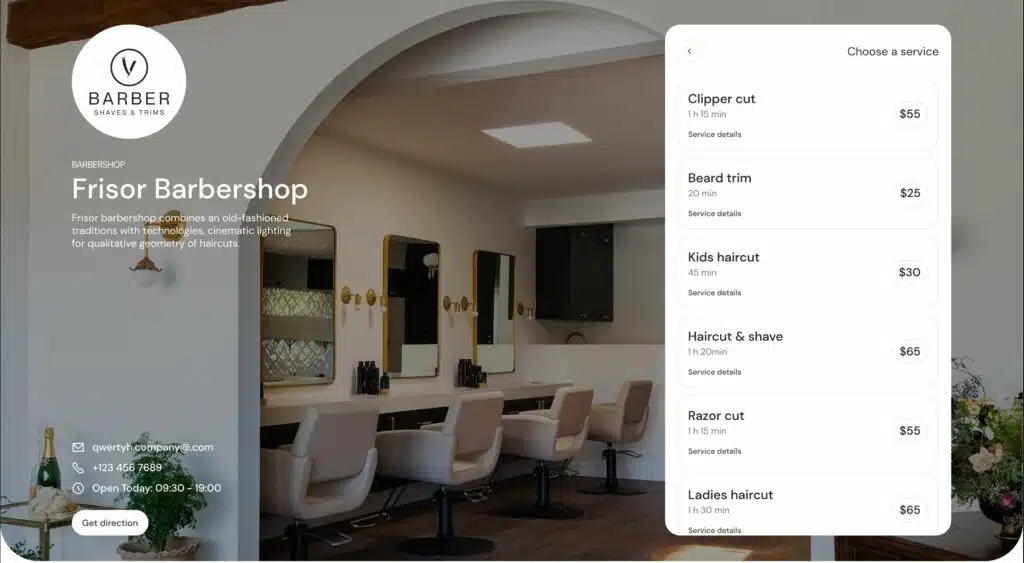 Once they have selected a time, they can confirm their appointment with available staff. This saves time for the client and salon staff alike by eliminating long phone calls or long lines at the front desk.
For existing clients, online booking pages can help them quickly and easily rebook their favorite services. If this sound interesting, you can signup for a new account with Appointible and get a free Online Bookings Page before continuing reading.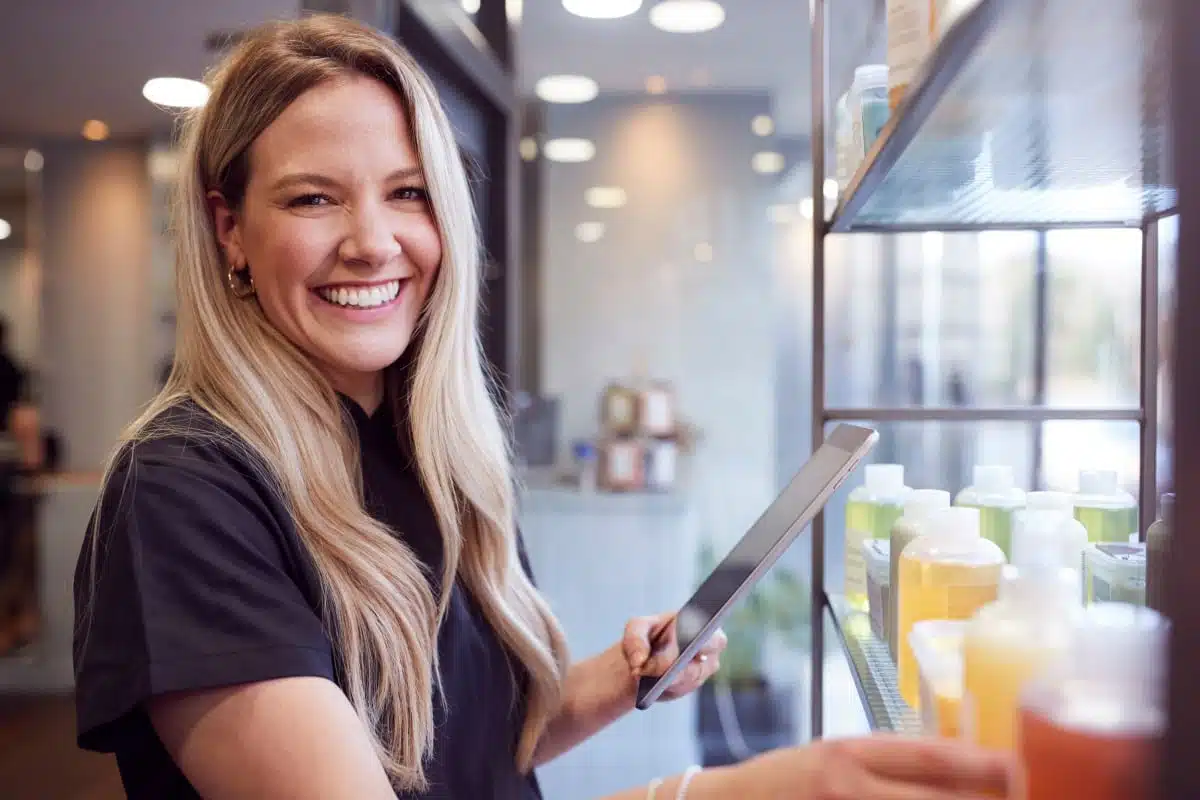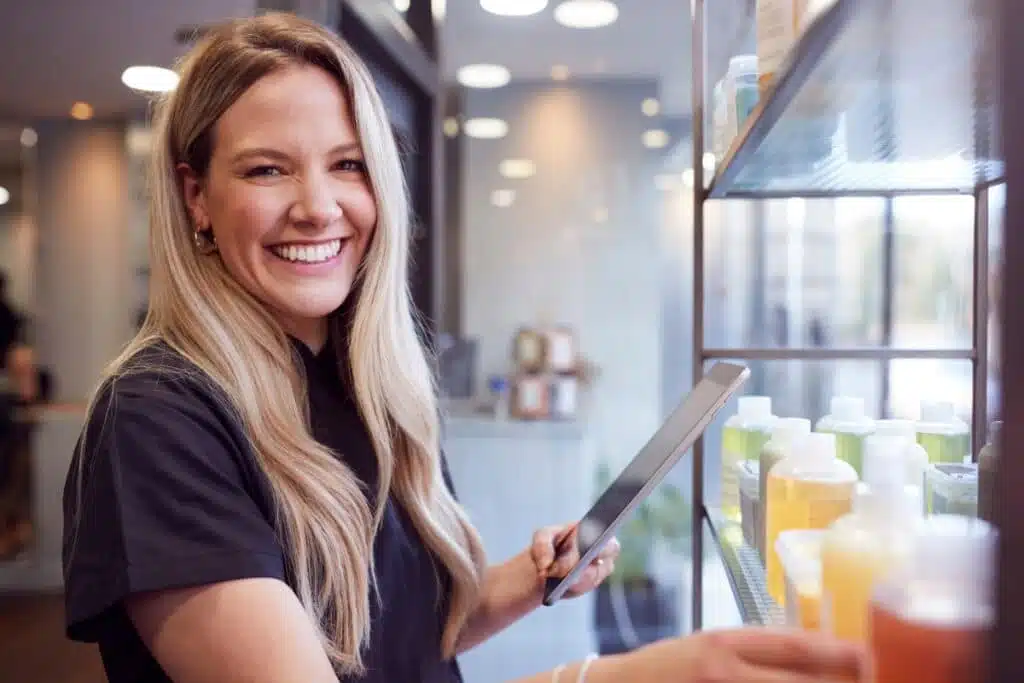 Creating a Facebook Ad that catches the attention
Now you know your ideal client target and have crafted an irresistible offer sure to draw in new loyal clients. You also have an effective landing page that will help convert visitors into new clients.
Despite all of this, there is still one essential piece missing – the actual ad copy and the visual part you want to place in front of people to catch their attention.
The ad visual part
When selecting an image or video for a Facebook ad, it's important to take into consideration the message you want to convey. The visual should be engaging and eye-catching, while also accurately conveying the message of your ad. Consider using colors that will stand out, as well as images that are relevant and not overly busy, and experiment with multiple images.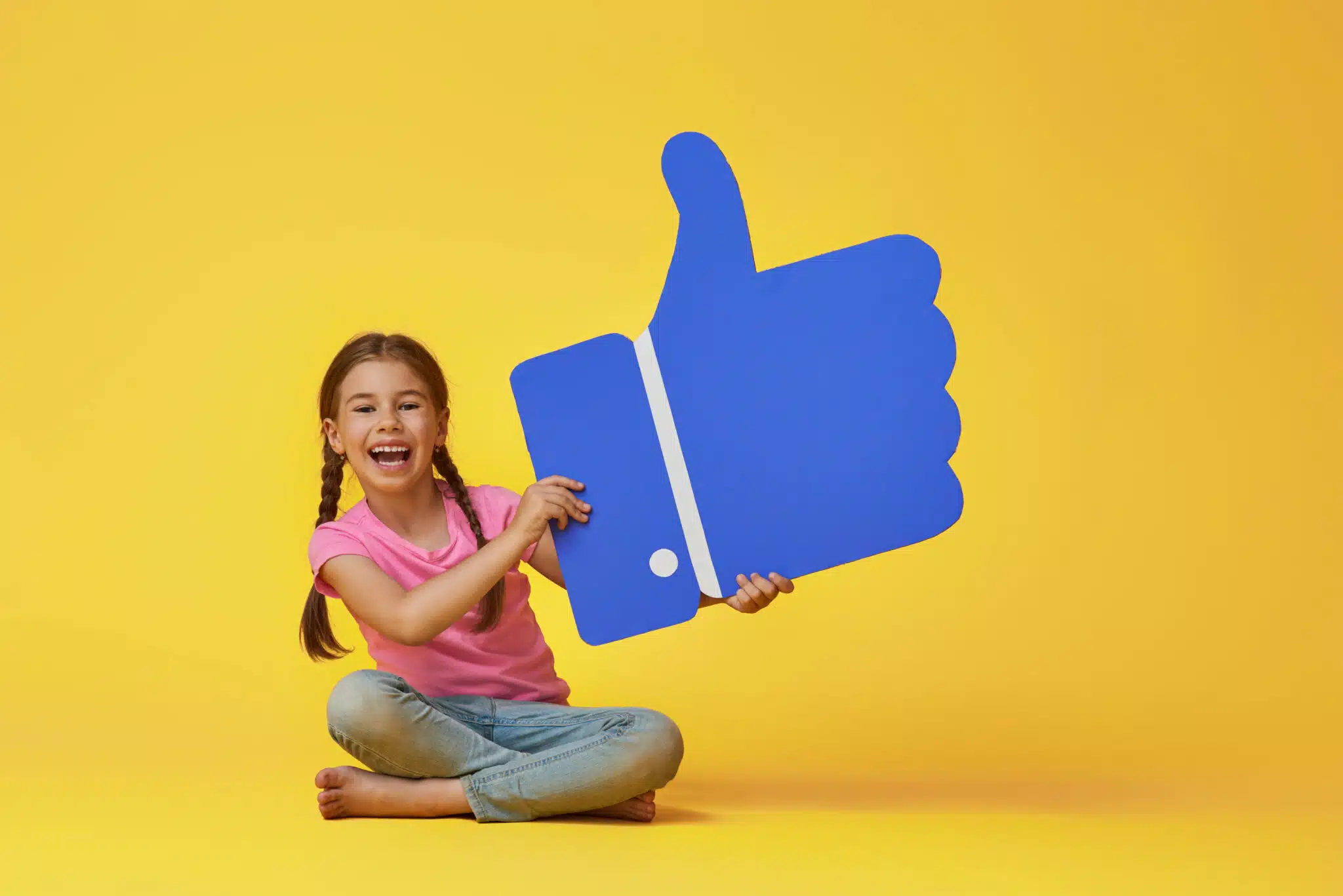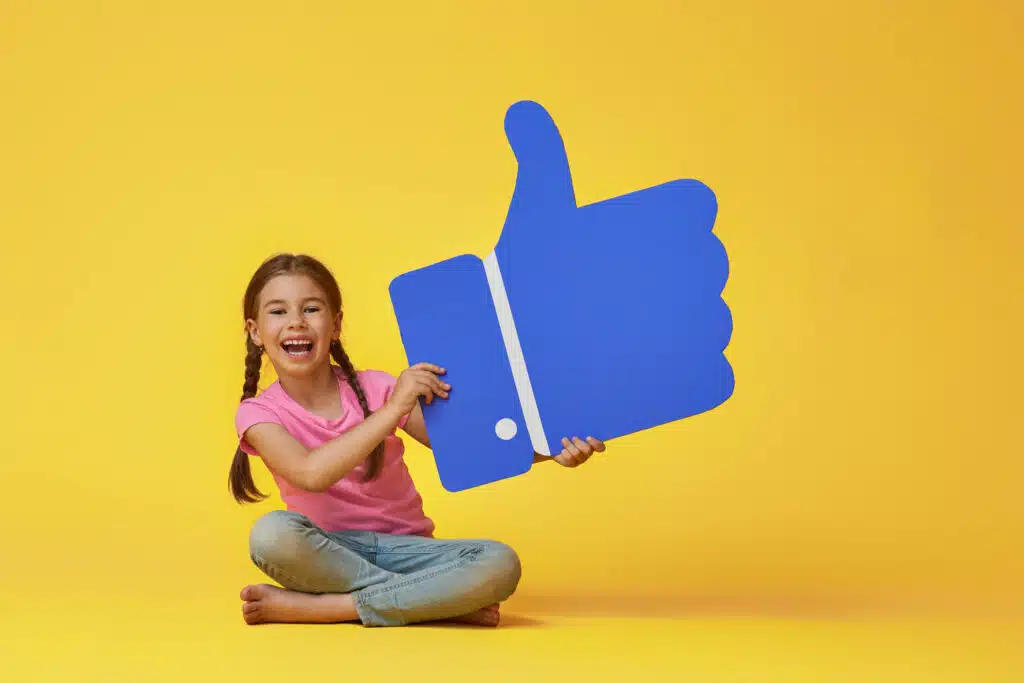 When should you use video content instead of image ads? Images are great for conveying information quickly and easily, but when you want to add a bit of flair and emotion to your ad, using video can really help.
Video content can draw attention to important points more effectively than static images, which makes them an excellent choice for ads that focus on storytelling or demonstrating how a product works.
Additionally, videos are often more engaging than images, which can help to create more interest in your ad and increase the chances of people taking action. A tool that is a must-check is Canva. It will help with the Facebook advertising visual part as it comes with ready-made Facebook ads templates that you can use as a starting point for your ad.
The ad copy
You've managed to capture the attention of your audience with an eye-catching image, now it's time to use persuasive language in your ad that will really seal the deal. The words you choose are critical for converting those prospects into customers!
For maximum impact, use an informal tone in your language and add emojis for extra flavor. Begin by addressing the targeted audience group so they feel like it's tailor-made just for them. The goal of your opening line should be to keep readers engaged enough that they read on!
The ad call to action
When creating a Facebook ad for any type of landing page, it is essential to have a call-to-action link on the ad (CTA) and to determine the best call-to-action name that will encourage visitors to take the desired action.
Learn More: This CTA button encourages users to learn more about the business and its products or services.

Book Now: This CTA button allows users to book appointments or make reservations at the business.

Contact Us: This CTA button allows users to contact the business directly through a phone call or email.
Launching your salon's first Facebook Ad campaign
Now that the target audience and budget are clear, the ad copy and the ad visual are defined, there are only several steps left to run your salon Facebook Ad.
First, you need to log in business.facebook.com and navigate to Ads Manager. There is three level structure of a campaign, ad sets, and ads.
Step 1: Choose an objective for the new campaign. When setting up a new campaign, the first step is to select an objective that best fits your desired outcome. Some of the options available are: reach people, send people to your website, boost engagement on your page, increase conversions on a website, and maximize the number of video views. You want to select "Send people to your website".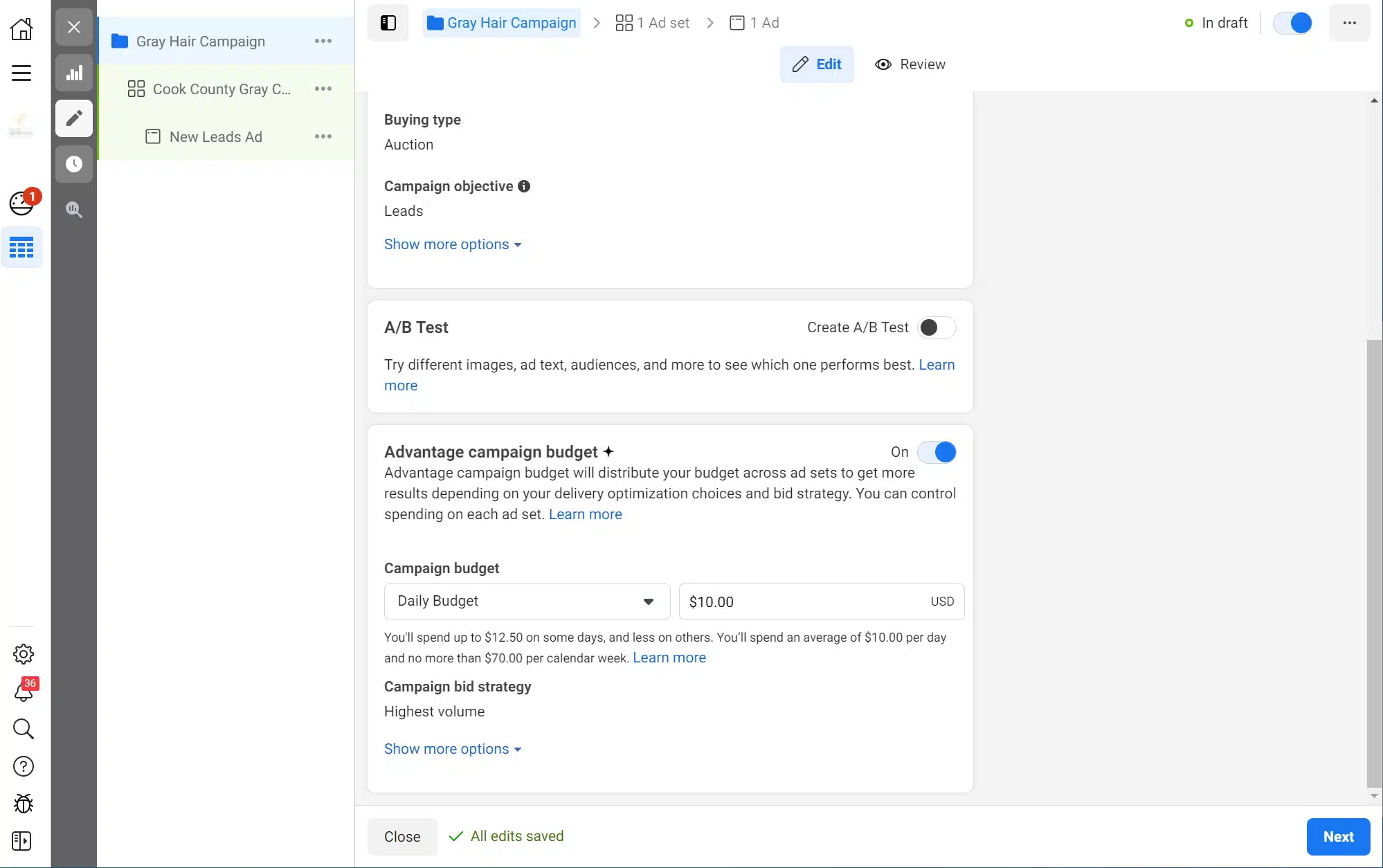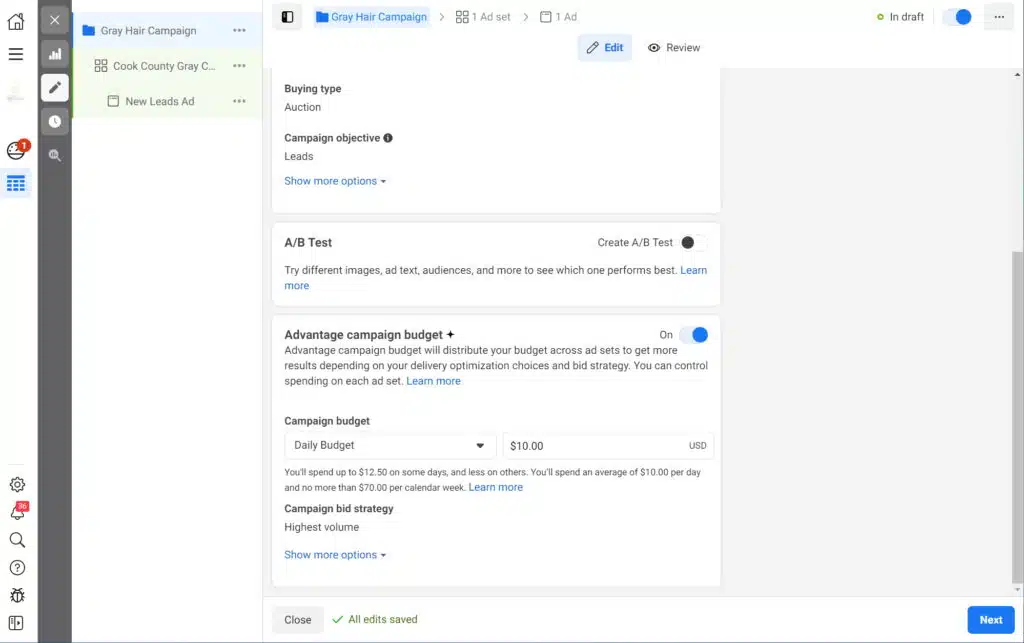 Step 2: Set up the ad set. After selecting an objective for the campaign, you can then create an ad set that includes things such as target audience and location settings, budget, ad format, and placement. We already discussed these above.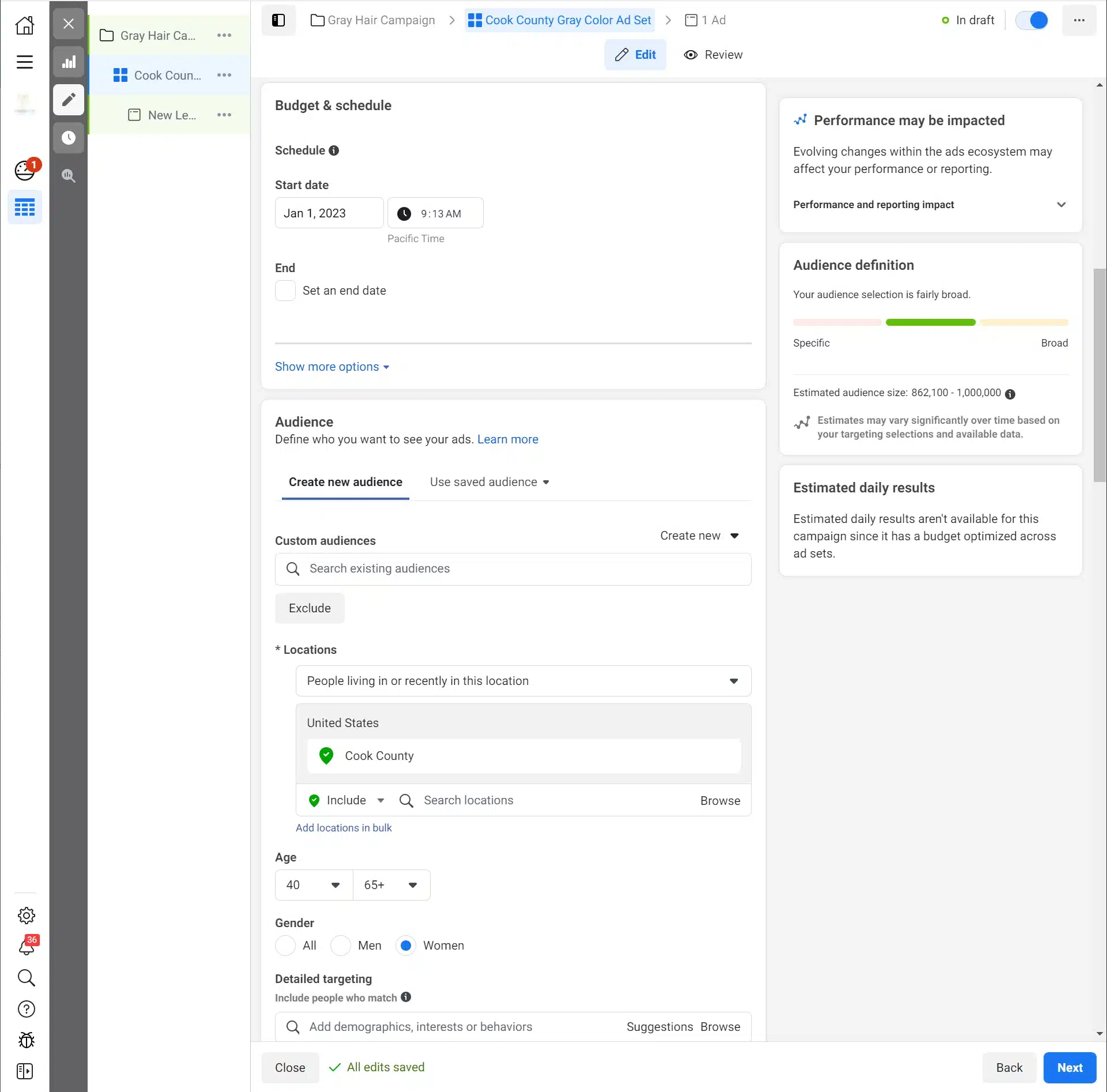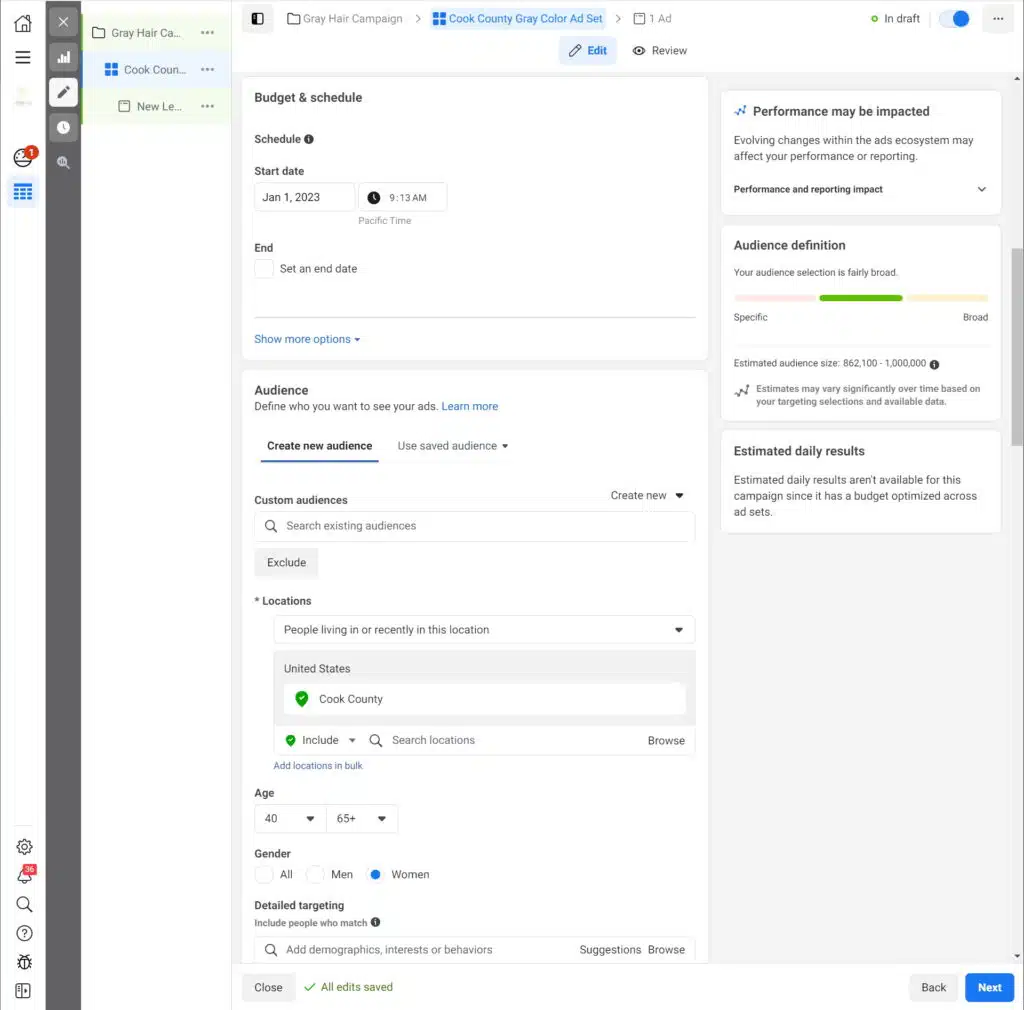 Step 3: Create the ad. Once you've set up the campaign and ad set, it's time to create the actual ad. You can choose from different types of ads such as a single image or video ad, carousel ad, stories ad, and more.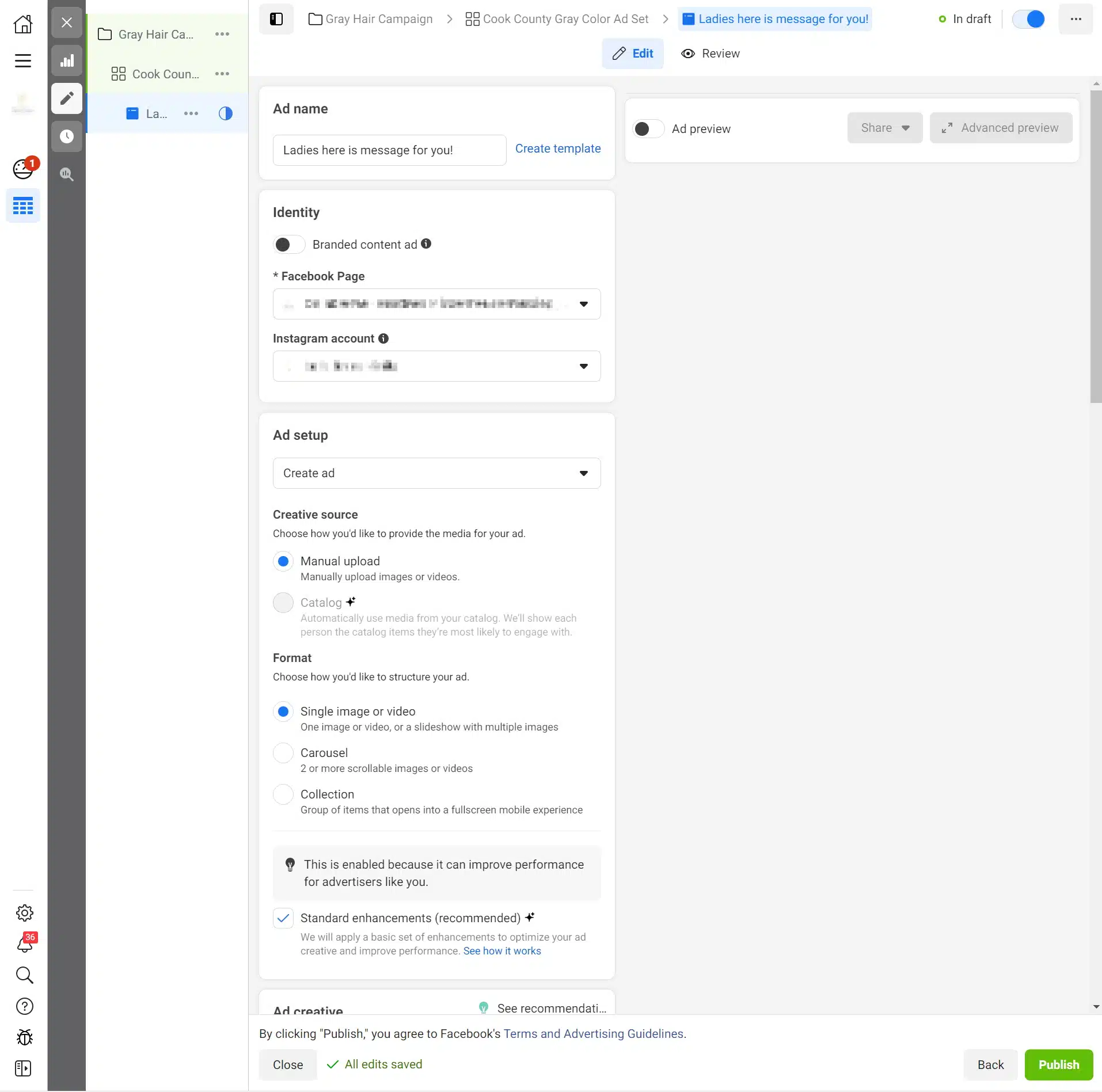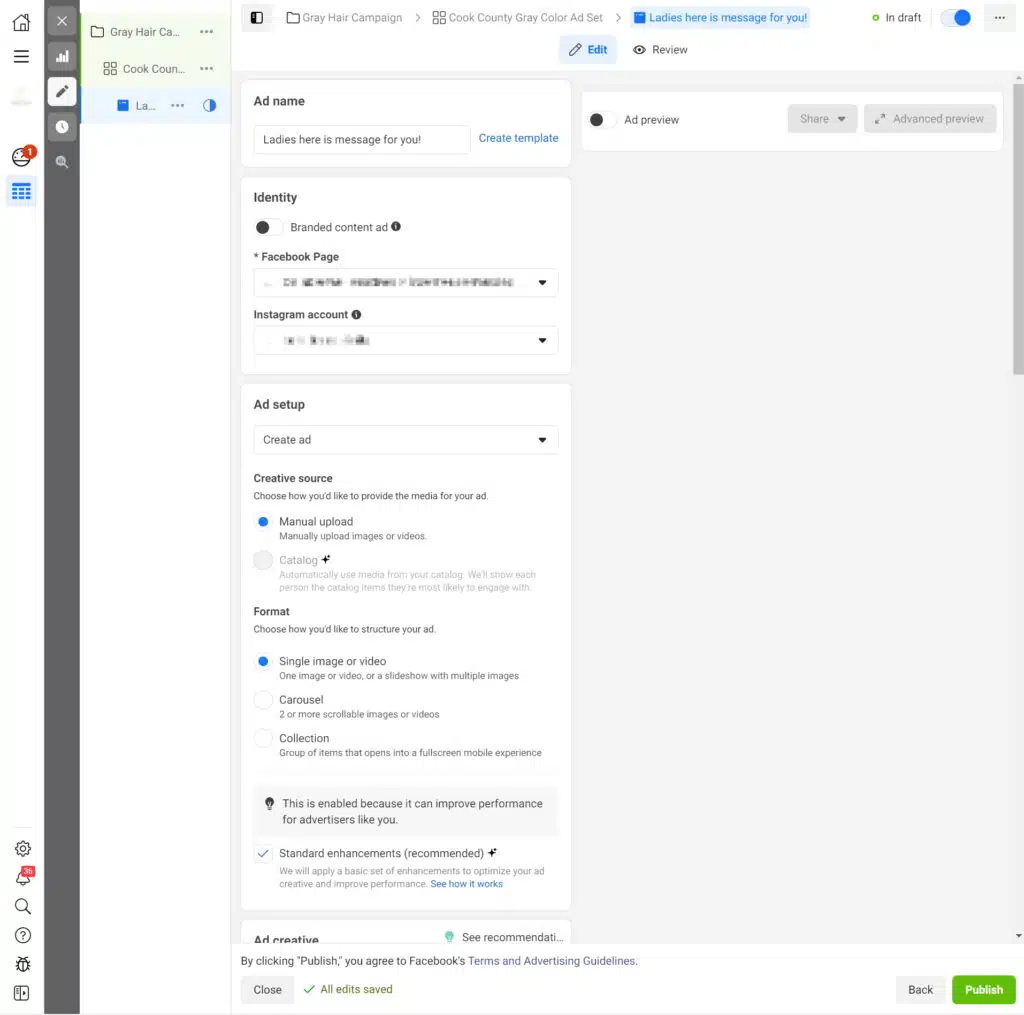 Select a single image or video and upload the visual and the ad copy.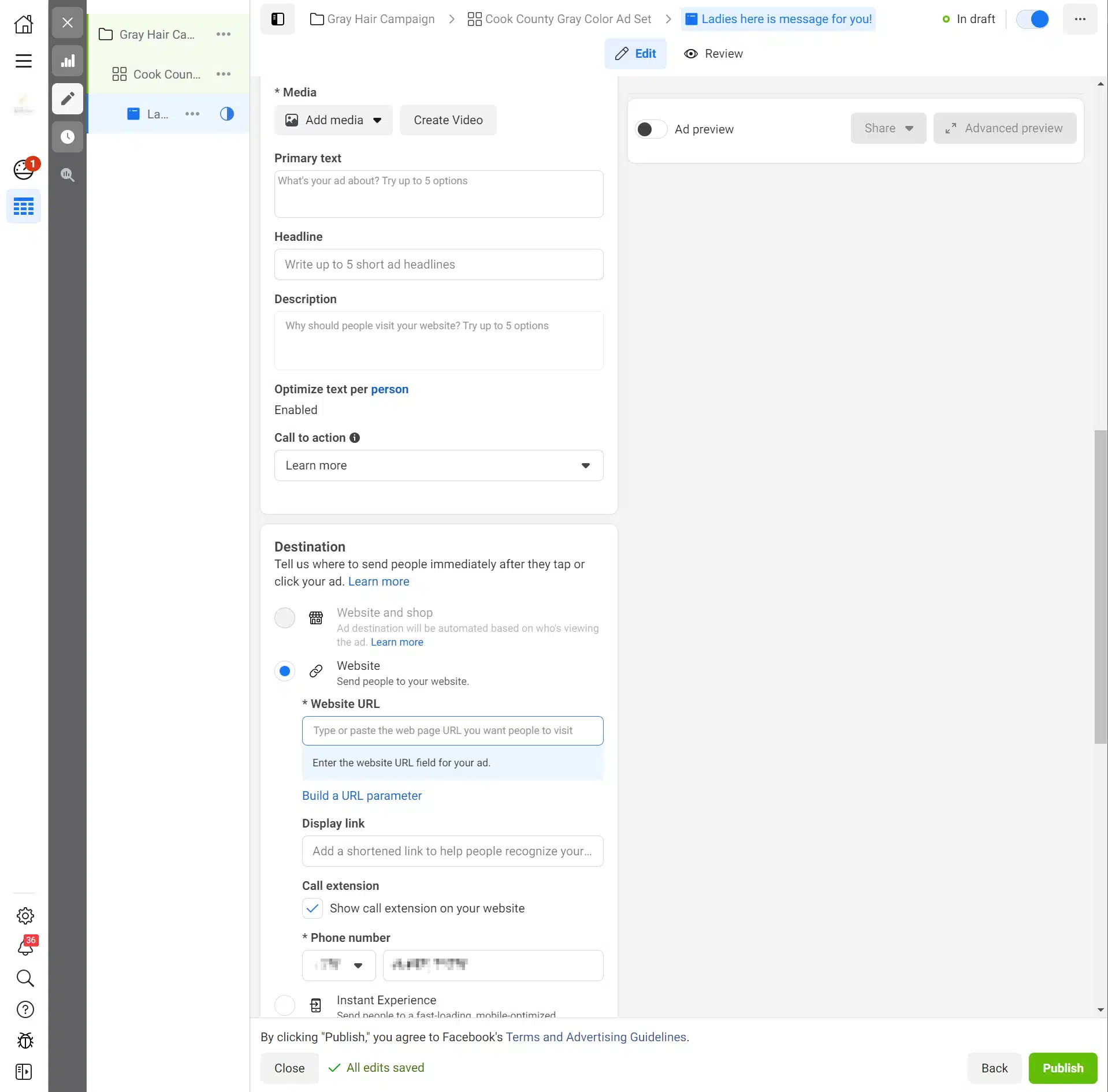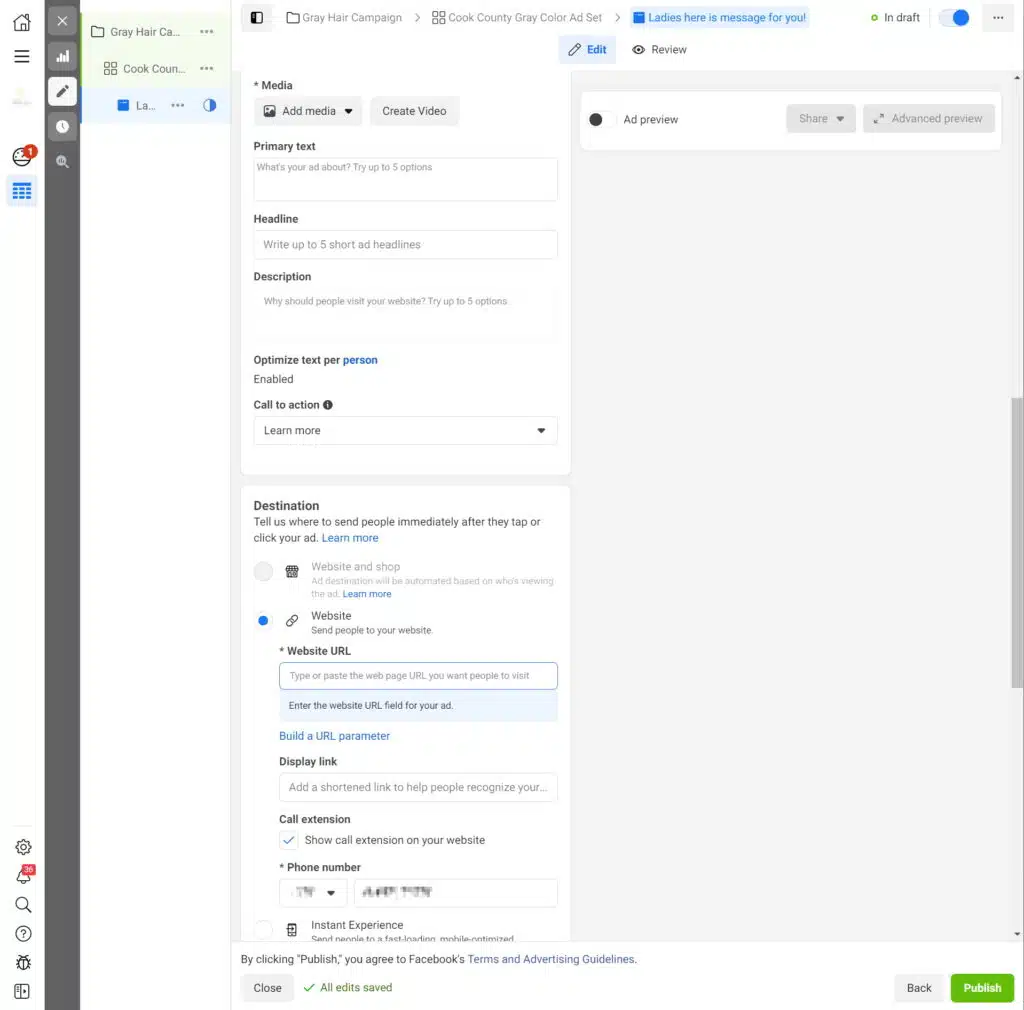 Step 4: Once the campaign, the ad set, and the ad are ready, it is time to publish the new Facebook campaign. This process starts with reviewing all the settings to make sure everything has been set up correctly and accurately. Then just click the "Review and Publish" to send the campaign to Facebook to review for compliance. Usually, it takes from several minutes to an hour or two when publishing a brand-new campaign.


Measuring results and adjusting your salon marketing campaigns
Congratulations! Now your Facebook promotion is up and running. Unfortunately, it's difficult to achieve an immensely profitable ad in your initial attempt. This is simply the truth. However, don't give up hope just yet! With dedication and perseverance, you can make it happen.
Once you have created and launched your ads, it is important to monitor their performance over time. This includes tracking metrics such as reach, clicks, impressions, and conversions. This will help you determine the success of your ads and if any adjustments need to be made.
Facebook Ads Reporting
You can then use the Facebook Ads Reporting tool to see how many conversions your ad campaigns are generating and to optimize your ad targeting and ad spend to improve the performance of your ads.
To do Facebook Ads Reporting, you will need to take the following steps:
Go to the Facebook Ads Manager and select the ad account you want to view reports for.

Click on the "Reporting" tab to access the Facebook Ads Reporting tool.

Use the filters at the top of the page to select the time period, ad account, and campaign that you want to view data for. You can also use the "Breakdown" drop-down menu to segment your data by various factors, such as location, demographics, and device type.

Use the "Columns" drop-down menu to select the metrics that you want to view in your report. You can choose from a variety of metrics, such as reach, impressions, clicks, and conversions.

Use the "Export" button to download your report data as a CSV file, or use the "Create a Custom Report" button to create a customized report with the specific data that you want to view.

Use the Facebook Ads Reporting tool to analyze your data and identify trends and patterns in your ad performance. You can use this information to optimize your ad targeting, budget, and creative elements to improve the performance of your ad campaigns.

Use the "Insights" tab to view more detailed data about your ad campaigns, such as the demographics of the people who are interacting with your ads and the specific actions that they are taking. You can use this information to further refine your targeting and optimize your ad campaigns.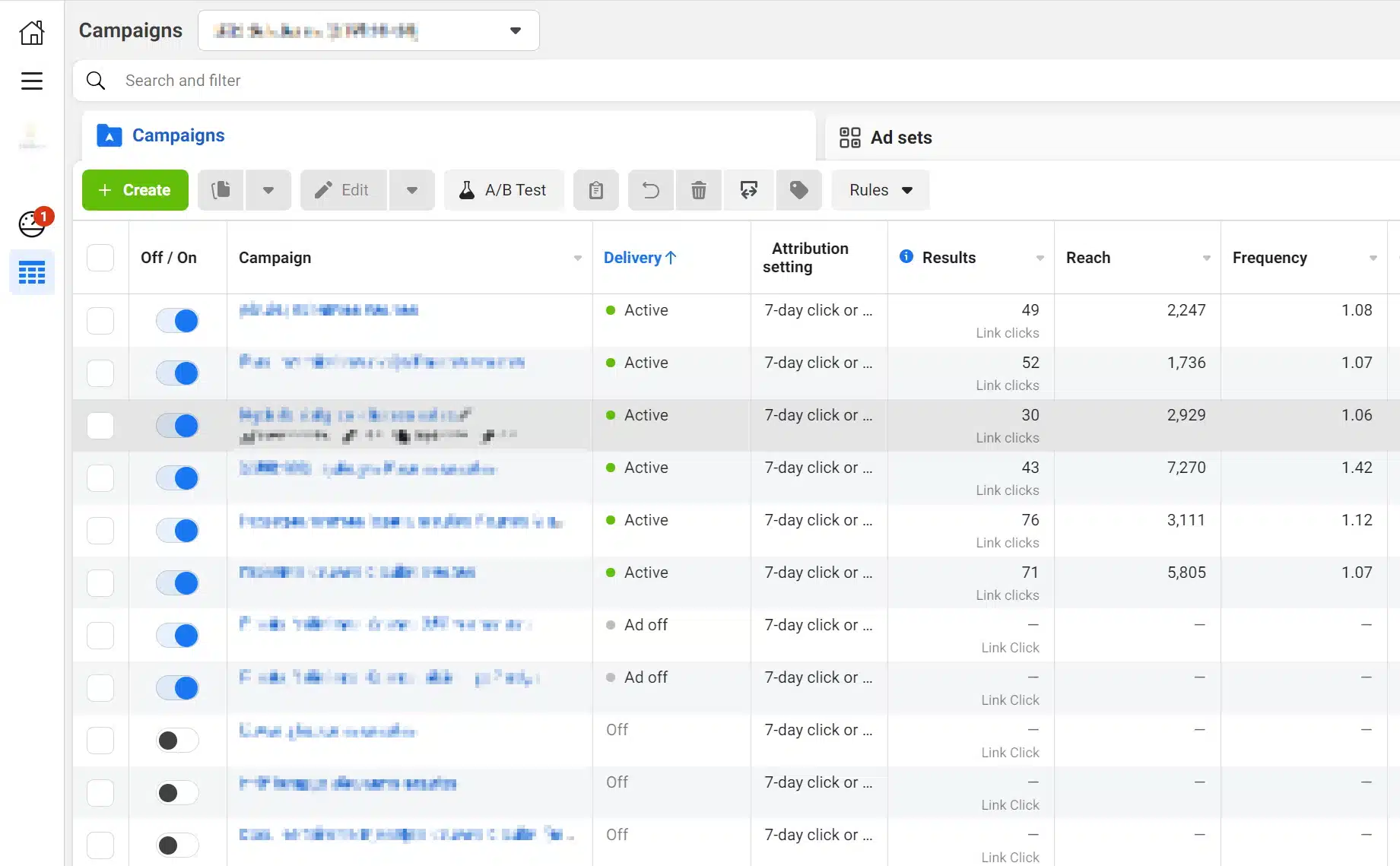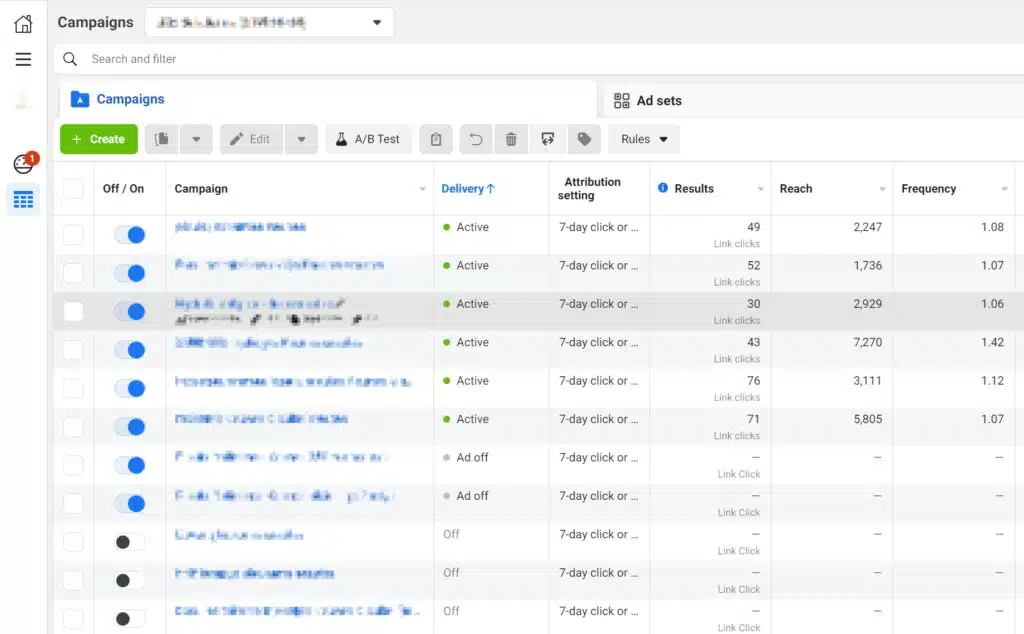 Facebook Ads A/B Testing
A/B testing (also known as split testing) is a way to compare the performance of two or more versions of an ad to see which one performs better. A/B testing can help you determine which elements of your ad, such as the headline, the imagery, the detailed targeting, or the call-to-action, are most effective at driving conversions and engagement.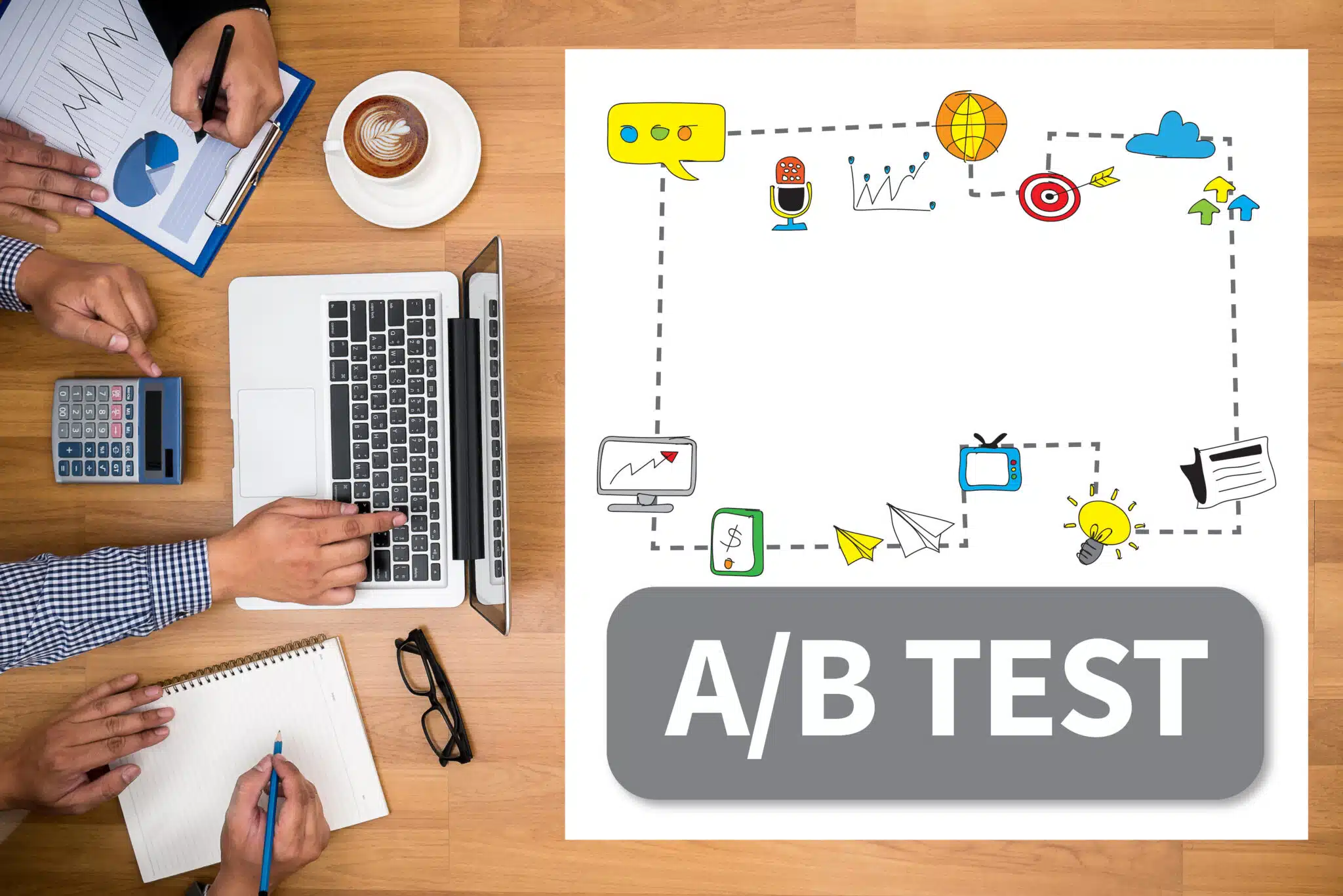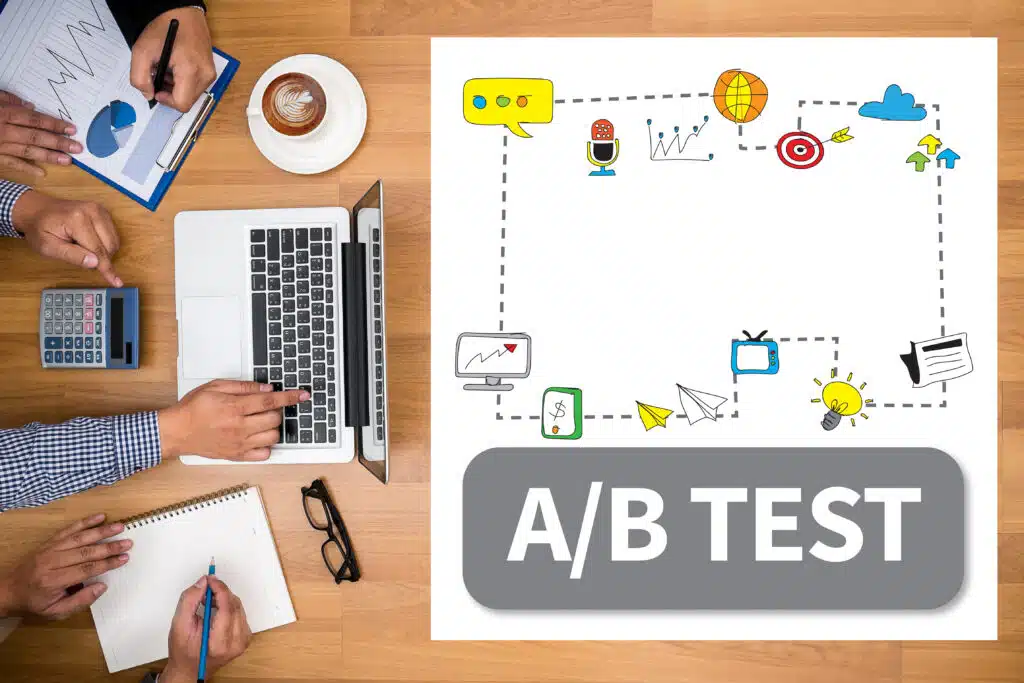 To run A/B testing in Facebook Ads, you will need to follow these steps:
Go to the Facebook Ads Manager and select the ad account that you want to run A/B testing for.

Create a new ad set and select "Split Test" as the optimization for ad delivery.

Create at least two versions of your ad, and make sure to change at least one element of each ad (such as the headline, the imagery, or the call-to-action).

Set up the targeting and budget for your campaign, and specify how long you want the split test to run.

Once your campaign is set up, Facebook will automatically run the split test and show each version of your ad to a randomly selected portion of your target audience.

Use the Facebook Ads Reporting tool to track the performance of each version of your ad, and compare the results to see which ad performs better. You can view data such as reach, impressions, clicks, and conversions to see how each ad is performing.

Once the split test is complete, choose the winning ad as the primary ad, and pause or delete the losing ad.
By running A/B tests regularly, you can continually optimize your ad campaigns and improve the performance of your ads.
Recommendations
With constant monitoring of your campaigns, you can ensure that you are getting the most out of them. Get ready to try out various versions and settle on the one that brings in the greatest return on investment.
Make sure to put Facebook to work for you! Upload several images and let the platform choose which one performs best. Additionally, create different target audiences and launch the same ad towards them; then compare results from each demographic segment. Doing this can help optimize your advertising efforts through a better understanding of user preferences on social media platforms.
Getting good with Facebook ads is all about iterating and testing. Take advantage of Facebook's testing capabilities to get the most out of your campaigns.
But don't be rash when it comes to switching up ads. Allow Facebook the span of at least a week before you decide whether your salon's ad is operating or not. When running an advertisement on this platform, its algorithms will gain more info and gradually improve – thus, take some time for them to do their job correctly!
Conclusions
Facebook ads can be a great way to promote your salon business, but it takes time and effort to get them running correctly. By monitoring your ads' performance over time and tweaking them as needed, you can ensure that you're getting the most out of this powerful marketing tool. Keep in mind that Facebook's algorithms are constantly learning, so give your ad campaigns some time before making any rash decisions. With dedication and perseverance, you can make Facebook advertising work for your salon business! Good luck!
Other Resources
Here are some additional resources you may find useful:
Google Ads for your salon

Instagram Ads for your salon

Beauty salon marketing ideas

Get your Free Online Bookings Page